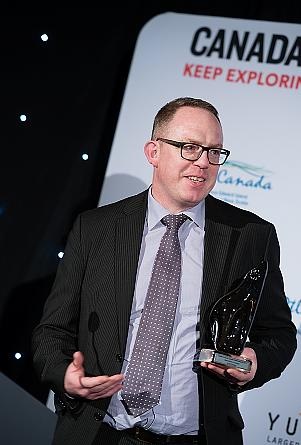 BGTW member Stuart Forster was presented with the British Annual Canada Travel Award for Best Online Coverage at an event at Canada House on Trafalgar Square in London.
The 27th edition of the prestigious awards ceremony, widely known as the BACTAs, was held on 23 February 2017.
Stuart was awarded the BACTA for the feature Polar Bear Safari in Manitoba, Canada posted on his blog Go Eat Do (www.go-eat-do.com), following a trip to Churchill during October 2016.
During that trip he came to within ten metres of a wild polar bear while trekking as part of group during a photo safari, led by guides from Churchill Wild, close to Seal River Heritage Lodge, 60km north of Churchill.
"The following day I was so close to a four year old female bear that I had to move my camera when she tried to lick my lens just outside of the lodge," reveals Stuart. "There was, though, a wire fence dividing us at that point," he adds.
Blown away on a blustery day
Storm Doris caused widespread transport disruptions, including severe delays to rail services to and from London on the day of the awards. Stuart rose early to take the first train of the day south, from Sunderland, on the morning of the awards.
"Thankfully my train to London King's Cross was not delayed by Storm Doris but I was blown away by being named the award winner," says Stuart.
"It's a huge honour to be presented with one of the BACTA's beautiful sculpted glass polar bear trophies. It's particularly fitting given the subject matter of my online feature," he adds.
"I'd like to thank the guides at Churchill Wild for providing a lot of information about polar bear behaviour and getting us close to the animals. Travel Manitoba and Destination Canada also deserve thanks for facilitating a memorable trip that has generated a lot of coverage and opportunities for fantastic wildlife photos," says Stuart.
Not one but two
This is the second year in succession that Stuart has been named as one of the three finalists shortlisted for the online coverage BACTA.
Guild member Kathryn Burrington will undoubtedly be hoping she goes to emulate Stuart's achievement of lifting a glass polar bear after making the shortlist this year. Her post The Wildlife of Clayoquot Sound was published on her blog TravelWithKat (www.travelwithkat.com).
On the evening a number of Guild members attended an event organised by Destination Canada. Also held at Canada House it provided four attendees with opportunities to win a pair of flights to Canada.
PRs representing Alberta, Atlantic Canada, British Columbia, Manitoba, Ontario and Yukon provided information about destinations across the country, showcasing highlights to members of the media and travel industry.