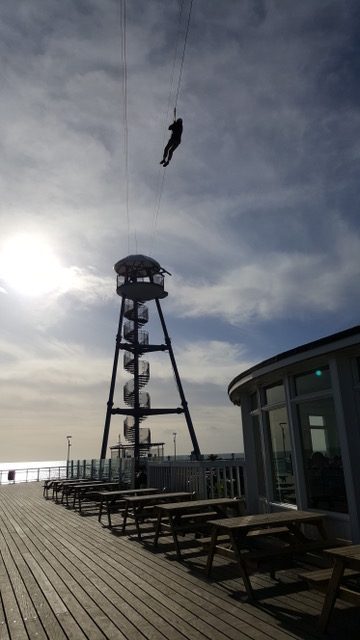 In Bournemouth, our esteemed member Peter Rosenberg had a communications problem, writes Roger Macdonald. His telephone number had been hijacked by Google with the result that the entire universe now expected to ring it and be given train times from Chester Station. Of course, this was not at all amusing, especially for Peter. It continued not to be amusing throughout the Guild press visit to this famous, indeed historic, seaside resort. Much to the bemusement (so to speak) of the town's public relations team, it led to Peter at inappropriate moments shouting down his mobile to Google staff who wouldn't, or couldn't, fix the problem. 
Bournemouth Tourism, in contrast, fixed everything superbly. In a move of unusual creativity by a local authority, their PR and communications officer, Grace Lovelass, turned out to be also an opera singer.  I sneaked a look at her mezzo-soprano showreel on the web and her voice is truly superb.  But while you could never imagine the likes of the late Luciano Pavarotti running a press trip, Grace is a natural. Especially at the dark arts of delegation. Nick Collins, her indefatigable and patient number two, got the short straw of organising one of the highlights of our visit, the PierZip ride. This line runs from a tower at the end of the pier, over the sea and back to the sandy beach. Five people in our party, so five tickets. Well, not exactly. Peter, still on the phone to Google, challenged my unconvincing excuse that someone had to take pictures of the rest of the team but he also wanted his photo taken on the ride. Vanity won out, so now we were four. The intrepid Guild riders, all kitted up for the big event, posed for pictures.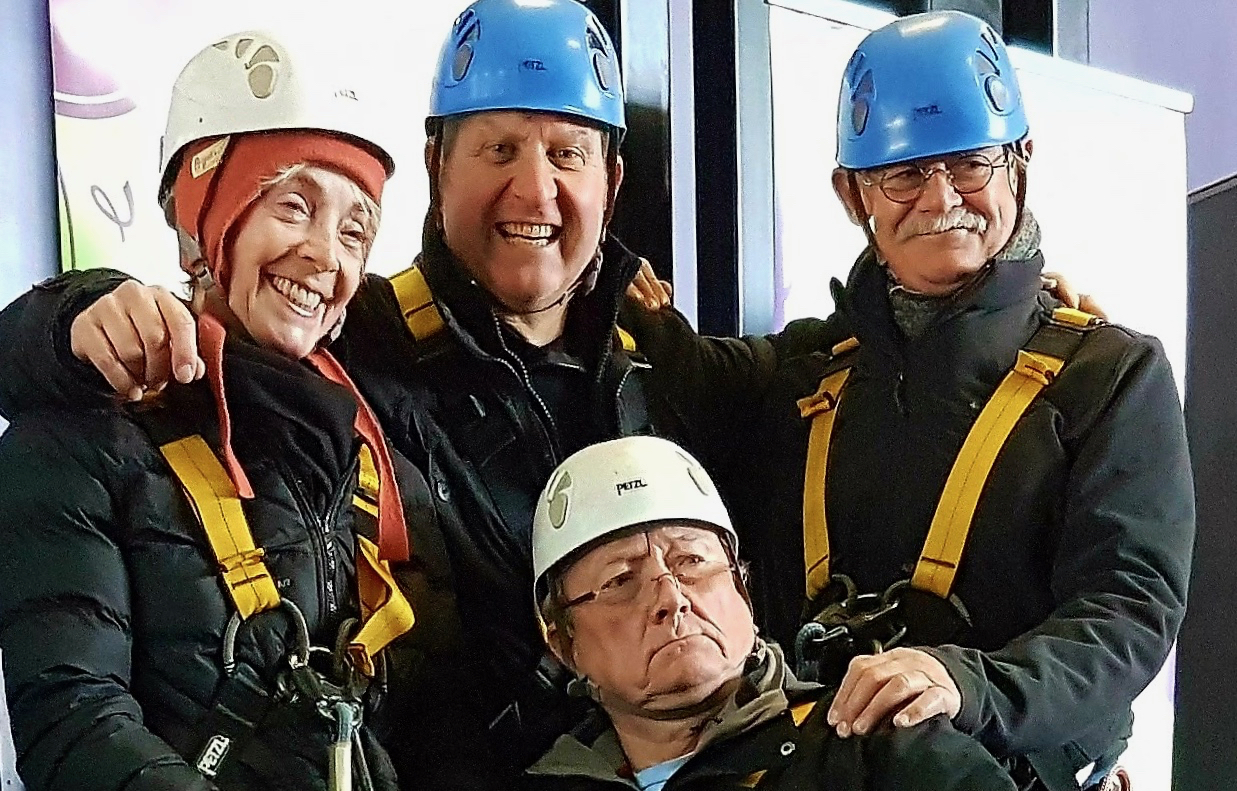 Bill Birkett looked like a seriously fit mountaineer alongside the quiet, confident elegance of Liz Gill, late of Fleet Street.  However, when Liz reached the top of the tower she decided that discretion was the better part of valour. John Bell signed the disclaimer – the one that says you can't sue us if we kill you – with surprisingly gay abandon for an ex-solicitor and even zipped twice.  (Did anyone realise that John actually commuted to Bournemouth for three years? I had no idea and I gave him his next job at BBC Breakaway.)
Lunch arrived at Key West Bar and Grill, fantastic views at the end of the pier, and with it Sian Ferreira, the third member of the Bournemouth Tourism team. Sian proved to be impeccably qualified for the job, highly articulate and what's more, in exactly the age group of visitors Bournemouth is keen to attract to the town. 
The Russell-Coates museum houses a spectacular collection of paintings, furniture and ceramics but it took an inspired tour by its youthful guide Ruaidhri O'Mahony for me to see its potential for younger visitors. Pity he let slip that the provenance, shall we say, of certain items is a little suspect and I am sure I saw beads of sweat around the collar when I solemnly announced that the highlight of the collection, La Sirene by Charles Landelle, was definitely last seen in the country house of my late and not at all lamented Aunt Agatha.
A more vibrant magnet for young people is Pavilion Dance South West, an imaginative dance centre with creative classes for all ages and a fully equipped theatre with 200 seats staging innovative dance performances. We were given first-night tickets for the season premier called May-We-Go-Round, a delicious, breathless mix of dance and comedic theatre, with all the closely-observed pathos of student romance by former uni flatmates, Chess Dillon-Reams and Cristina Mackerron. 
Bill was best on the hills – expect a Bournemouth Walks next year – especially the climb to the classic Highcliff Marriott, where we were greeted by the urbane and charming young bilingual French sales manager Hugo Feillens. Extra direct flights anticipated between Paris and Southampton may bring lots more French visitors to Bournemouth-sur-Mer.
John, of course, nearly got us lost on the way to camp six, better known as Poole Hill, for dinner at the award-winning Koh Thai Tapas. Not only was the Thai cuisine superb, but instead of a bill to divvy up, we found none existed at all. John, ever the lawyer, actually went to check.
I was woken by the sound of the lapping shore beyond my wonderful sea front window at the Marriott, followed by the ghastly realisation that Grace had gone opera and I had the short straw of getting everyone to the train. We broke the record for the most people and luggage ever to fit in a taxi made for two but sadly Peter's problems followed him to the last. A mix-up with his return ticket meant he had to take the train after ours, which apparently reached London more slowly than a stagecoach.  But at least it didn't stop in Chester.