Travel writer of the year
Aaron Millar
Sponsored by Travel PR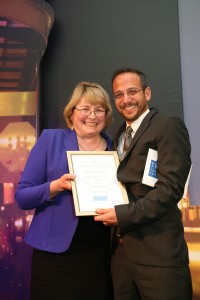 Sue Ockwell, Travel PR, presents Aaron Millar
with the travel writer of the year award
The wild, wild west comes alive in a portfolio of pieces written by Aaron Millar, the winner of the British Guild of Travel Writers'  award for travel writer of the year.
Aaron's portfolio included:
Splendid Isolation (Journeys)
Welcome to the Land of the Wild Horse (Times)
Rock n' Roll, Honky Tonk and Country and Western, Too (Times)
Jungles, Dance and Hope – the New Colombia (Times)
In the Land of the Lone Ranger (Times)
One of the judges described Aaron's contributions as: "Fresh enthusiastic writing, topical and engaging. Steps outside of the usual boundaries of travel writing to include politics, characterisation and music to appeal to a diverse audience. Chatty, humorous and colloquial style, with a grasp of the senses to provoke an emotional response in the reader. Good body of work, integrating research with experience. A real travel writer with a sense of purpose and adventure."
---
Best UK destination feature
Brian Jackman
Sponsored by Cutler Communications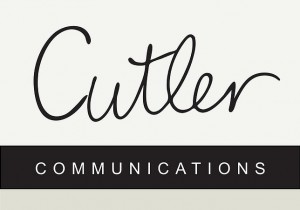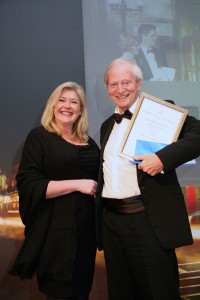 Nicola Cutler, Cutler Communications, presents Brian Jackman
with the award for best UK destination feature over 850 words
The award for best UK destination feature over 850 words was awarded to Brian Jackman for his piece titled Looking for Laurie under a Cotswold Sky, published in the Daily Telegraph.
The judges said: "Cider with Rosie, the lyrical portrait of Laurie Lee's Cotswolds boyhood, has become at enduring classic. This carefully crafted travel piece takes many of its cues from the great man's prose and threads them together to form a modern day guide to his home village, the writing infused with gentle nostalgia for a bygone age. A delight."
---
 Best European destination feature
Adrian Phillips
Sponsored by TravMedia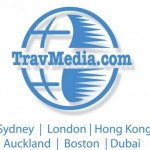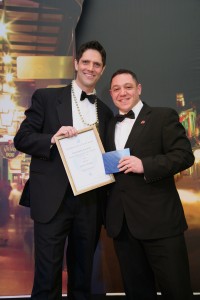 Howard Salinger, TravMedia, presents Adrian Phillips
with the award for best European destination feature
This award was given to Adrian Phillips for his piece titled A Corker of a Trip, which appeared in the Independent.
The judges said: "This beautifully written, informative piece about the cork-growing Alantejo region of Portugal is of the highest order. Among the many memorable images are the trees tugging up their jumpers to feel the breeze; the bark removed like a corset from a steady matron."
---
Travel Photographer of the Year
Frances Howarth
Sponsored by Tenerife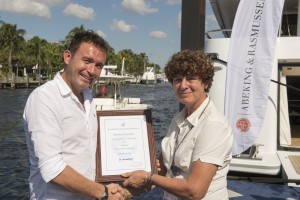 The British Guild of Travel Writers'
photographer of the year is Frances Howarth
Frances's portfolio included images of Chile, the Maldives and the Seychelles. It won the prize for its excellent content and high photographic quality.
The judges said: "Although the images are of diverse subject matter they are all excellent in content and of high photographic quality. The seascape in particular is dramatic and spectacular and would lend itself well to editorial use."
---
Best blogger of the year
Abigail King
Sponsored by IPW
(International Pow Wow)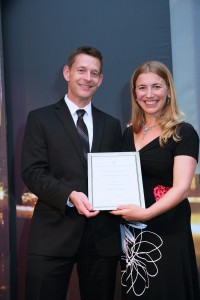 Malcolm Smith, U.S. Travel Association,
awards Abigail King with the award for best blogger
Abigail King won this award for her website, Inside the Travel Lab. This is the first time a digital award has been given by the Guild.
Abigail King was formerly a medical doctor who switched to travel writing and has an outstanding reputation as a blogger.  Her award-winning website is full of colourful travel stories and presents unique ideas for her subscribers and readers.
The judge said: "The quality of this writing makes me purr with pleasure. Good use of her own photography is embedded throughout and includes nice photo galleries. Clean, simple and easy to navigate. Good use of social flares to encourage sharing but not intrusive."
---
 Best overseas destination feature award
Kathryn Tomasetti
Sponsored by ANTOR
(Associated National Tourist Boards)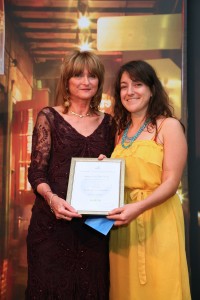 Alison Cryer, Representation Plus, presents Kathryn
with the overseas destination award
This award was given to Katherine for a piece titled 48 hours in Brooklyn, which was published in Delicious magazine.
The judges said: "Very obviously a food focused article rather than a generic 'New York visit Brooklyn' piece, nevertheless the writing is lively and entertaining with a high-quality standard of writing.  It brought the subject to life. It offered a fresh angle and made me reconsider whether I would go to Brooklyn, yes, as a result of this feature. It was travel writing pure and simple though well-paced and inclusive."
---
 Adele Evans memorial guidebook award
Rudolf Abraham
Sponsored by the Sultanate of Oman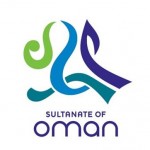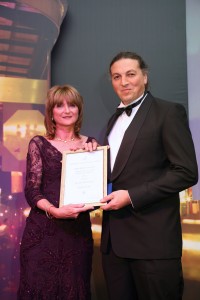 Alison Cryer, on behalf of the Sultanate of Oman,
presents Rudolf Abraham with the
Adele Evans memorial guidebook award
Rudolf won this award for his guidebook titled Islands of Croatia.
The judges said: "To my knowledge a walking guide has never won this award – and with hindsight I am not sure why. All the traditional components of a guide book are here: the history, the culture, and information on accommodation and transport. Perhaps not in exhaustive detail, but surely sufficient for most travellers?"
"Looking through this book I became entranced by the beauty of the Croatian islands, and immediately added them to my list of places to visit…sometime. Like all the best guidebooks, it is a manual, a 'how to book'. Mr Abraham comes across as pretty laid back, but his experience and knowledge of the islands is apparent. He introduces the reader to unexpected delights and provides a comforting companion to the thirty walks covering fourteen of the islands."
---
Narrative travel award
John A Harrison
Sponsored by Three Little Birds PR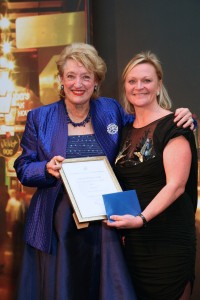 Mary Moore Mason receives the
narrative travel book award from
Sheila Manzano on behalf of John Harrison
The award for best narrative travel book was given to John for his book Forgotten Footprints.
The judges said: "Enjoyable read with plenty of detail and colour, a particular challenge when the continent written about [Antarctica] is devoid of any! Though the heavy weights of exploration to Antarctica do get a mention, it is Harrison's approach to highlighting the tales of individuals who played a significant part in the discovery of the continent, but are relatively unknown, that makes it so intriguing. The description of events and the personalities painted combined with anecdotes of his own travels to the region add to what is a fascinating narrative about the challenges and struggles of exploring one of the last frontiers."
---
Kenneth Westcott Jones memorial award
Tristan Rutherford
Sponsored by Virgin Trains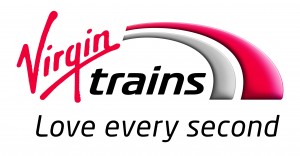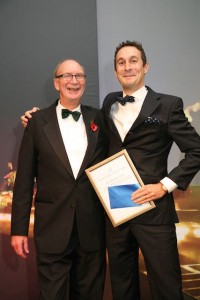 Roger Bray, on behalf of Virgin Trains,
presents Tristan Rutherford with
the Kenneth Westcott Jones Memorial Award
Tristan won this award for his article The Trans Asia Express, published in Brownbook Magazine.
The judges said: "Firstly, it makes us want to make the journey and engages you from beginning to end. We liked the concise yet informative style, which also managed to embrace a certain amount of humour.  This writing captured the essence of a great journey focusing not only on the scenery but the experience itself by painting a picture of all the characters. Presents a great case for slow travel and going into the unknown."
---
Best destination article award
Aaron Millar
Sponsored by Israeli Government Tourist Office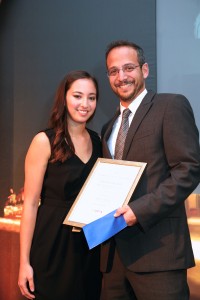 Jasmin Rushton, representing the
Israeli Government Tourist Office presents
Aaron Millar with the best destination article award
Aaron Millar won this award for his piece Splendid Isolation, which appeared in Journeys magazine.
Judges said: "This fascinating account of a walk along the old salt road in Liguria uncovers a little-known corner of traditional old Italy. The reader can see the dry stone witches' towers, hear the woody clatter of cowbells, and taste the wine and pasta. Let's go!"