Following on from our successful Tourism Awards selection evening at the National Liberal Club, it is time to pass the responsibility over to the full membership to decide who will be the winning project in each category. Submissions have been prepared by each nominating member to try and persuade you to vote for their project.
The Tourism Awards winners in each category will be announced at the upcoming BGTW Gala Awards Dinner at the Savoy on November 5th along with the winners of the Member Awards. In the meantime, please be make sure your votes are counted by casting your vote here by Monday 2nd October 2017.
Note: only BGTW members may vote; all votes submitted by other people will not be counted.
Best UK & Republic of Ireland Shortlisted Projects:
Dartmoor Artisan Trail – Nominated by Hilary Bradt
Palace House, National Heritage Centre for Horseracing & Sporting Art – Nominated by Gillian Thornton
The Piece Hall – Nominated by Stuart Forster
Best European Shortlisted Projects:
International Cave Painting Centre, Lascaux – Centre International de l'Art Parietal (France) – Nominated by Gillian Thornton
Kongernes Jelling – Home of the Viking Kings (Denmark) – Nominated by Gillian Thomas
Mondriaanhuis – Mondrian House (Netherlands) – Nominated by Stuart Forster
Best Wider World Shortlisted Projects:
Centre ValBio (Madagascar) – Nominated by Sarah Tucker
Mandari Panga Jungle Experience (Ecuador) – Nominated by Adrian Phillips
National Museum of African American History & Culture (NMAAHC) (USA) – Nominated by Kathy Arnold
Best UK & Republic of Ireland Project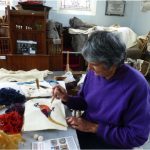 Dartmoor Artisan Trail
www.dartmoor-artisan-trail.co.uk
Dartmoor is a hub of creativity — artists, craftsmen, and food producers – and photographer Suzy Bennett was inspired to establish the Dartmoor Artisan Trail to encourage visitors to meet and connect with these artisans. For car drivers, there is no set route – it depends on time and personal interests – but walkers and cyclists follow a suggested route. Visitors can try their hand at creating something themselves as well as buying direct from the makers. It was described by The Daily Telegraph as one of the UK's best travel experiences of 2017, and is the only such trail in the UK.
Suzy thoroughly deserves to win this award. The trail is new, set up in April this year, it benefits rural businesses and the environment, and it gives visitors a new way to see Dartmoor, meet its people and learn new skills.
Finally, Suzy does not benefit financially from this project. She says: "It's been a labour of love. I did it because I felt compelled to record what was going on here and because photographically it was irresistible. And in a world of mass production, it's wonderful to see that things are still being made by hand, with passion, honesty and integrity."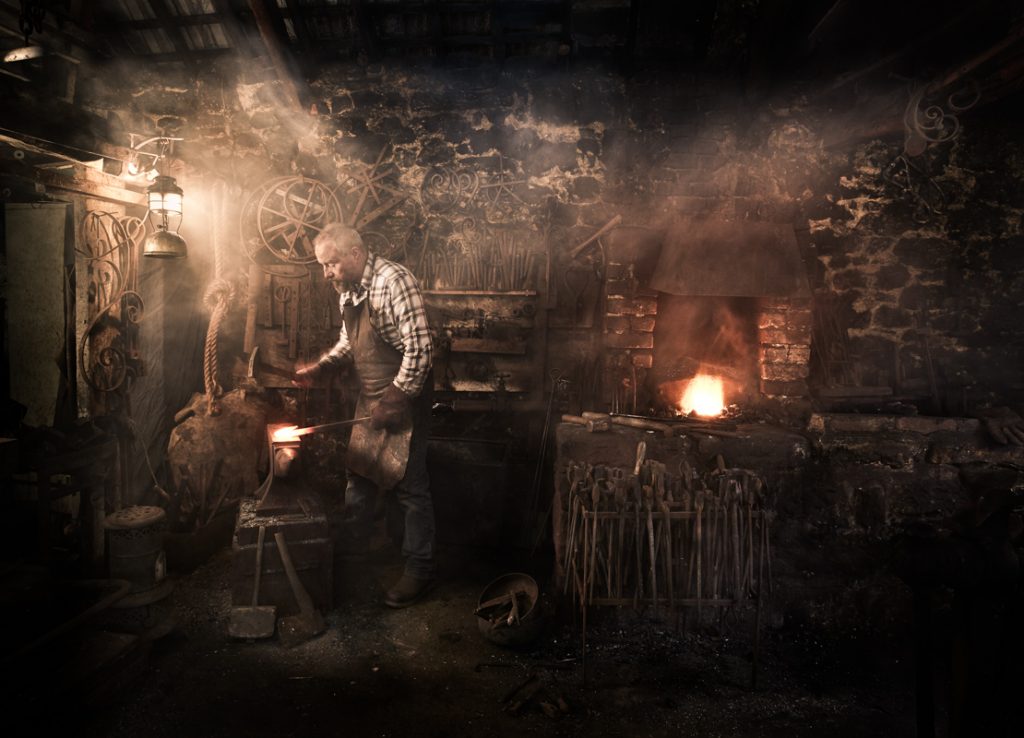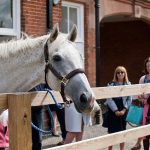 Palace House, National Heritage Centre for Horseracing & Sporting Art
www.palacehousenewmarket.co.uk
Horseracing is Britain's second most popular spectator sport and our fifth largest employer, but not until last November did we have a visitor attraction that did it justice. The modest horseracing museum on Newmarket high street has been replaced by Palace House, the new National Heritage Centre for Horseracing and Sporting Art which is key to the town's regeneration as a tourist destination, appealing to all ages and levels of interest. Palace House itself – once home to Charles II – is Britain's first gallery dedicated to sporting art, and not just racing art. Opposite, inside the Trainer's House, is the interactive museum, and behind it in the Rothschild Yard, the public can meet former racehorses being retrained for new careers by the Rehabilitation of Racehorses charity. Adult tickets cost £16.50 and it's easy to spend three or four hours there, especially if you relax in the Tack Room café which is also open to non-ticket holders. Funding has come from the HLF (£5.9M), the Wellcome Trust, Forest Heath District Council, Suffolk County Council and the racing industry. The project has created jobs for 50 employees and 100+ volunteers; the entire site offers step-free access; and it works closely with Discover Newmarket who offer public tours to the National Stud, training gallops, British Racing School and Tattersalls.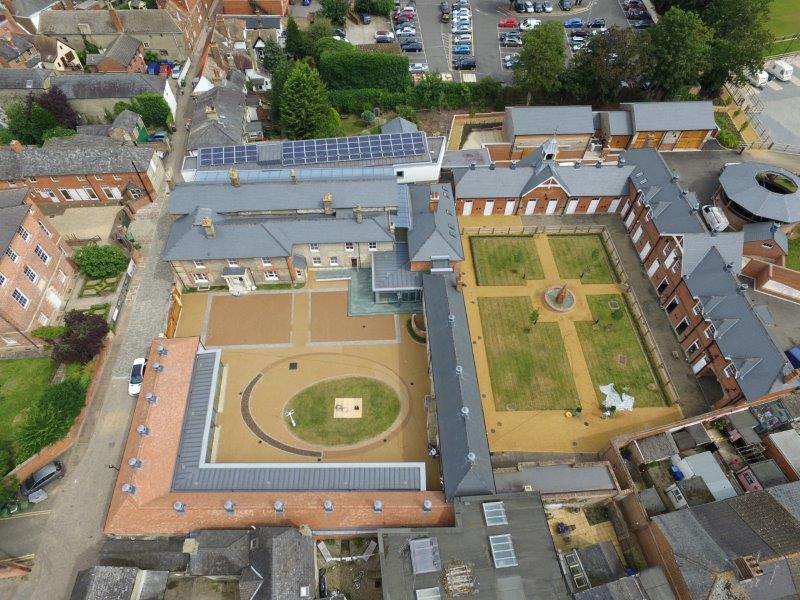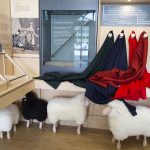 The Piece Hall
http://www.thepiecehall.co.uk
The Piece Hall, in Halifax, originally opened on 1 January 1779 and is the UK's last surviving cloth hall. Following a £19m renovation – including £7m from the Heritage Lottery Fund – lasting two years, the Grade-I Listed Building and the only commercial structure to have Ancient Monument status reopens to the public on 1 August 2017. It is free to enter and is envisaged as a core element in a £40m revamp of cultural and heritage attractions in central Halifax. The Piece Hall Trust, a charitable body, takes a 125-year of the site on 1 August 2017. 1.6m visitors are anticipated each year as The Piece Hall holds cultural and musical events and a film festival. Three of the spaces within the Georgian Hall tell the story of The Piece Hall's origins and history. A number of the units hold independent or boutique stores while others host gourmet food outlets, so the attraction is a major job provider. Also, the first intake of 35 volunteer heritage guides takes place at the beginning of August 2017. The restoration has been carefully undertaken by LDN Architects and ensures the historic building will survive for future generations to see and visit. It is now fully accessible and part of an area with a strong LGBT community. It's a remarkable piece of architecture and bold plans look set to promote it to broad audience.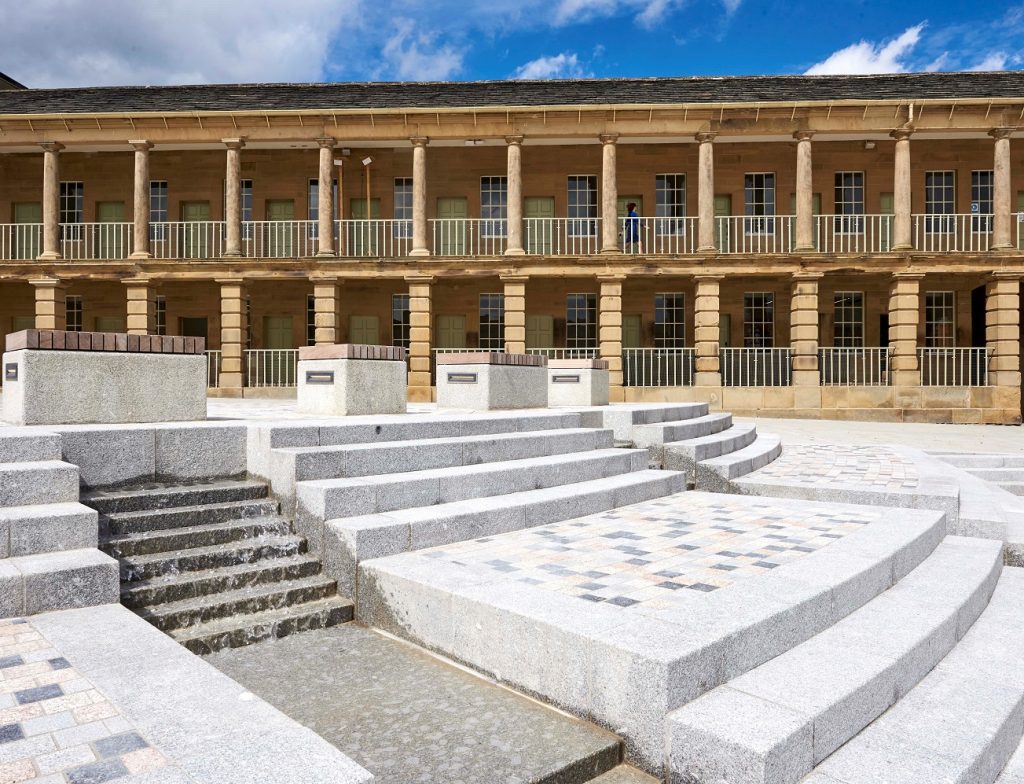 Best European Project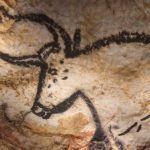 International Cave Painting Centre, Lascaux – Centre International de l'Art Parietal (France)
www.lascaux.fr
France is rich in prehistoric painted caves but there is only one Lascaux, discovered in 1940 by three teenagers and decorated with polychrome paintings 20,000 years old.  Sections were replicated at Lascaux II, and Lascaux III has taken replica panels on international tour.  Now there is Lascaux IV, a painstaking reproduction of the entire cave coupled with a high-tech discovery centre for global cave art.  The eco-friendly building with its plant roof mirrors the shape of Lascaux hill.  The cave visit is guided, the story built up by expert guides who 'follow' the teenagers' journey down to the entrance. Inside the cave – so real you forget it's a replica – you're encouraged to think what these paintings might mean.  Then visitors tour the interpretation centre individually with help from a tablet which allows them to interact with various displays.  Adult entry is 16€ and the site is accessible with ramps and lifts.  The project cost 60M euros + 6M for outdoor work, funding coming from the department, the region, Europe, the State and various companies.  Many jobs have been created and this popular but rural area given a new lease of life by a year-round attraction that fires the imagination of all ages and nationalities.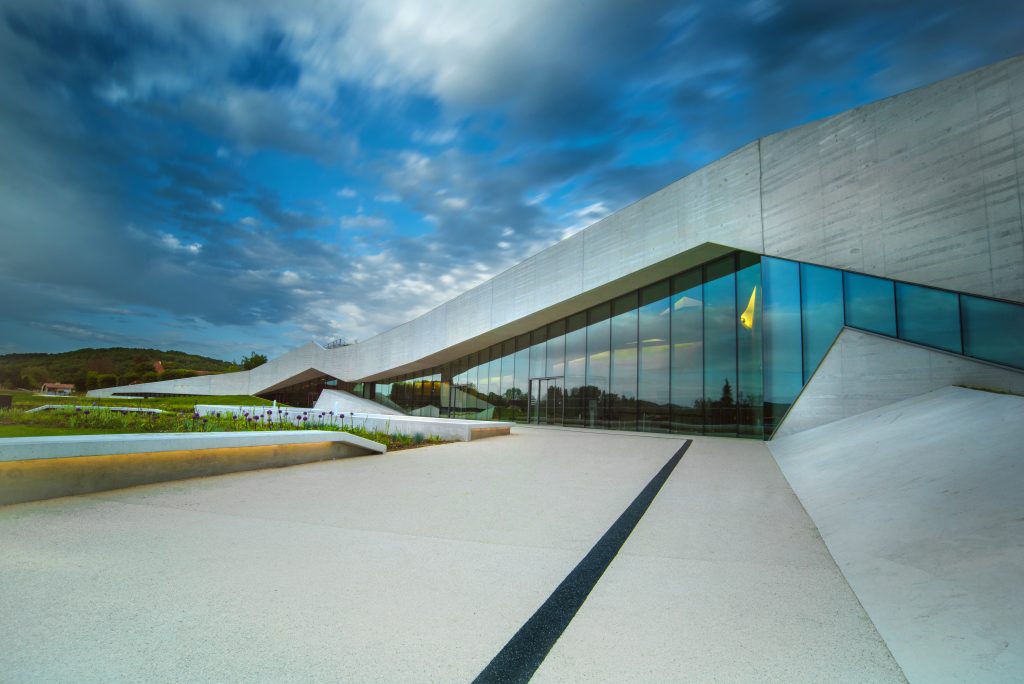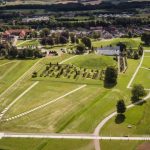 Kongernes Jelling – Home of the Viking Kings (Denmark)
www.natmus.dk/kongernes-jelling.dk
Denmark's Royal Jelling Experience Centre, Kongernes Jelling, opened in June 2015 in the village of Jelling, a UNESCO World Heritage Site. Built beside the 1000 year-old burial mounds of two famous Vikings, Gorm the Old and Harold Bluetooth, it is one of the most exciting museums you could hope to visit.
It succeeded in captivating me as much as my 6 and 8-year old grandsons and their mother. It vividly brings to life Denmark's bloody Viking history through highly imaginative special effects and interactive displays, cleverly using sounds and lights, holograms, pictures and artefacts.
For instance in the Bonfire Room you sit around a fire to listen to Viking adventure stories – including how Bluetooth got his name. To illustrate royal successions, animated etchings are projected onto the walls entertainingly showing heads being crowned or axed. Weapons are illustrated with stomach-turning noises and spurting blood. On the roof terrace, digital binoculars enable you to roll back the views over 1000 years.
It offers several 4-hour options for schools, even including ones for 3-6 year- olds. Built at a cost of £7.5 million, it expects to attract 230,000 this year. Admission is free. Not surprisingly the local community is delighted with it all.
So what better recommendation for an award than a project that succeeds in fascinating such an age range as me and my grandchildren!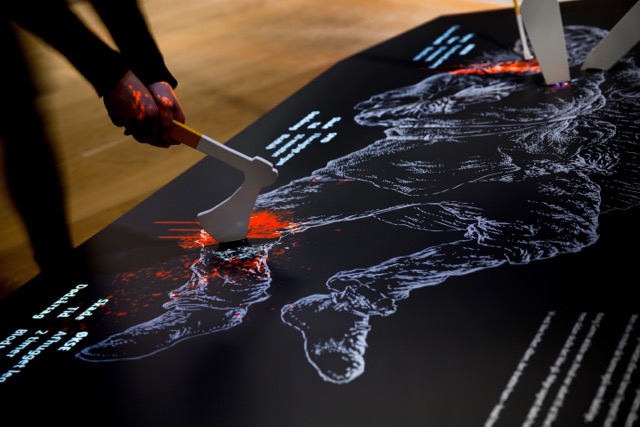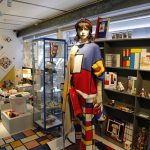 Mondriaanhuis – Mondrian House (Netherlands)
www.mondriaanhuis.nl
The Mondrian House was the birthplace of artist Piet Mondrian (Mondriaan), a founding member of the De Stijl art and design movement. The influential Dutch movement began with the publication of the magazine 'De Stijl' in 1917. The house was renovated and reopened in 2017 on Mondrian's birthday, 7 March.
It provides an informative overview of Mondrian's life, the significance of the De Stijl movement, holds a cafe that people can visit without paying to enter the exhibition area, and an art shop.
Displays are modern, attractively laid out and make effective use of multimedia. Mondrian's works are shown to music in a 5-minute display across on 13 video units while another room conveys Mondrian's mindset during the creation of his masterpiece, Victory Boogie Woogie.
The project cost just €950,000. Funding came from sources including the Mondriaan Fund, KF Hein Fund and VSB Fund. It's bringing significant tourism to Amersfoort.
For children activities include a scavenger hunt and workshops. Lessons are given to primary school children and teaching material has been developed for teachers.
Mondriaanhuis is accessible to wheelchair users, who can bring a helper free-of-charge, via an access ramp, inside there's a lift. Visitors with registered guide dogs can visit. Adult entry costs €10.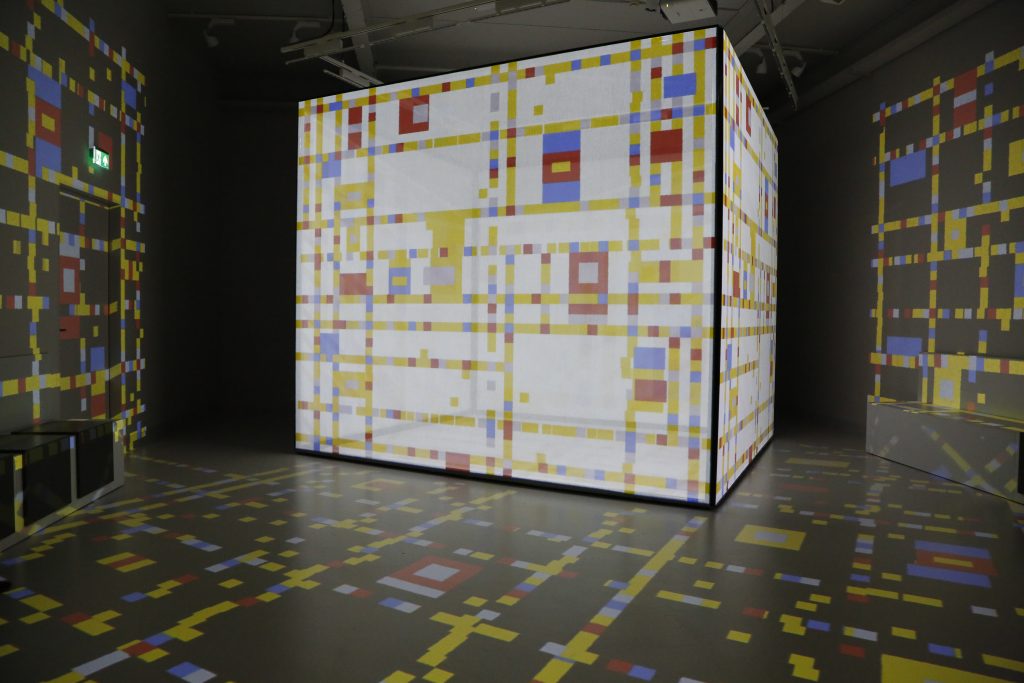 Best Wider World Project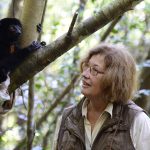 Centre ValBio
www.centrevalbio.org http://radiogorgeous.com/podcasts/madagascar-with-sarah-tucker/
Anthropologist Patricia Wright has trained locals who live in and near the Ranomafana National Park to be guides – to understand and share their unique knowledge of the rainforests. This makes the experience for the tourist uniquely authentic as you are shown around the rainforests by locals who live with the animals on a daily basis and understand and are able to explain with honesty and clarity, the political, environmental and social issues unique to the island and area. The guides here are exceptional both in terms of knowledge but also in their use of wit and quirky drama, making the experience doubly engaging – entertaining as well as informative.  It is a genuinely unique safari experience.  Patricia has drawn on her vast network of anthropologists and scientists to give the guides the best start and has also recently started a 'lemur radio' using the guides to share their knowledge to the locals as well as tourists.
Funding is only through donation as well as entrance fees which are minimal. The social impact on the community has been phenomenal as it has given much work to the locals as well as educating them in how and why they need to preserve the rainforest.  It was she who contacted David Attenborough, initiating the BBC Madagascar series in 2011, and highlighting the plight of the rainforest and the lemurs.  I know David Attenborough would speak of her highly if she was nominated on the 5th.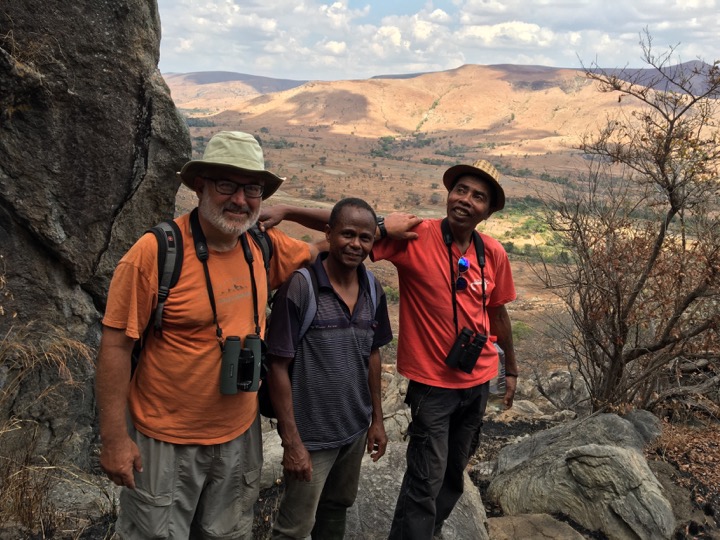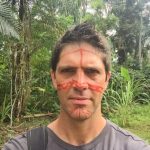 Mandari Panga Jungle Experience
www.mandaripanga.com
This is a project with a clear aim: to prevent oil companies from destroying a rainforest community in Ecuador.
The Mandari Panga tribe lives on the edge of Yasuni National Park, one of the world's most biodiverse regions. But oil exploration has dramatically reduced the Amazon forest around them, and the villagers face fierce pressure to sell drilling rights.
So far, they've held out. But for how long? Fredy Gualinga has established a tourism project that provides a different path for his people. He's built nine thatched platforms for tents near his family home deep in pristine rainforest, from where he leads tours on foot and by dugout canoe.
It's thrilling. There's nobody else for miles about – just toucans, tarantulas and giant river otters.
The project relies entirely on its own wits, with no external funding or glamorous promotional support. Fredy works tirelessly, training villagers about guiding and conservation, while his mother-in-law – recognised by UNESCO for preserving the art of Amazonian cooking – teaches schoolchildren ancestral recipes. Food is all sourced locally, and profits targeted at education.
What the project offers is simple: for tourists, the rarest chance to experience untouched rainforest; for the community, the chance of a brighter future.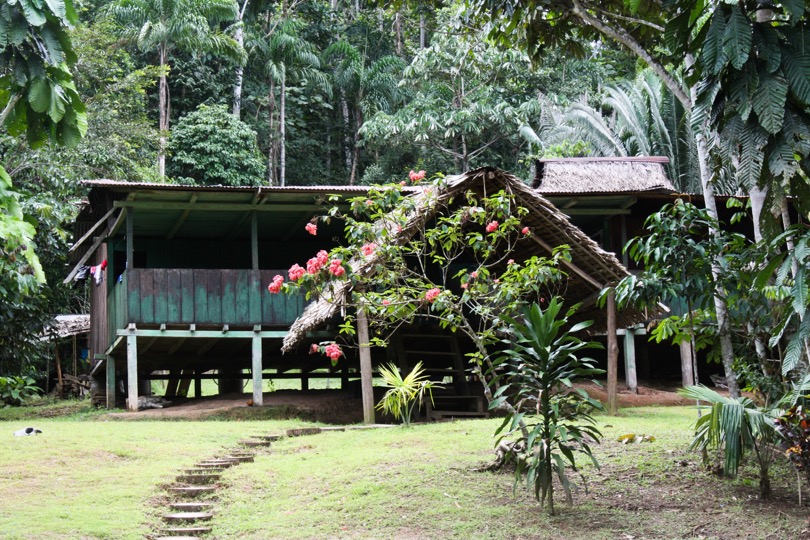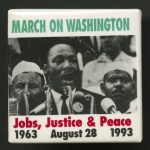 National Museum of African American History & Culture (NMAAHC)
https://nmaahc.si.edu
The newest museum on the Mall in Washington DC tells the story of the USA – but through an African-American lens. Nowhere else covers this scope, from the 15th-century slave trade through Segregation and Civil Rights to President Obama and Black Lives Matter. Exhibits featuring black achievements in sport, music, art and drama are easy viewing.
Harder is a Ku Klux Klan hood and the coffin of Emmett Till, the Mississippi teenager, whose 1955 murder galvanised the Civil Rights Movement. Reflecting everyday discrimination in my lifetime is the railway carriage, whose "coloured" section has cramped toilets and no luggage racks – despite black passengers paying the same as whites.
Learn about heroes, such as escaped-slave Harriet Tubman, who returned to the South to lead others to freedom. Watch Dr Martin Luther King Jr's uplifting speeches. Many of the rarest exhibits were donated by ordinary families. This enormous museum is free, and has been packed since opening. For black Americans, it validates their lives, history and culture. For foreigners, it is a unique view of the USA. For white Americans like me, it provides a new understanding of our shared history.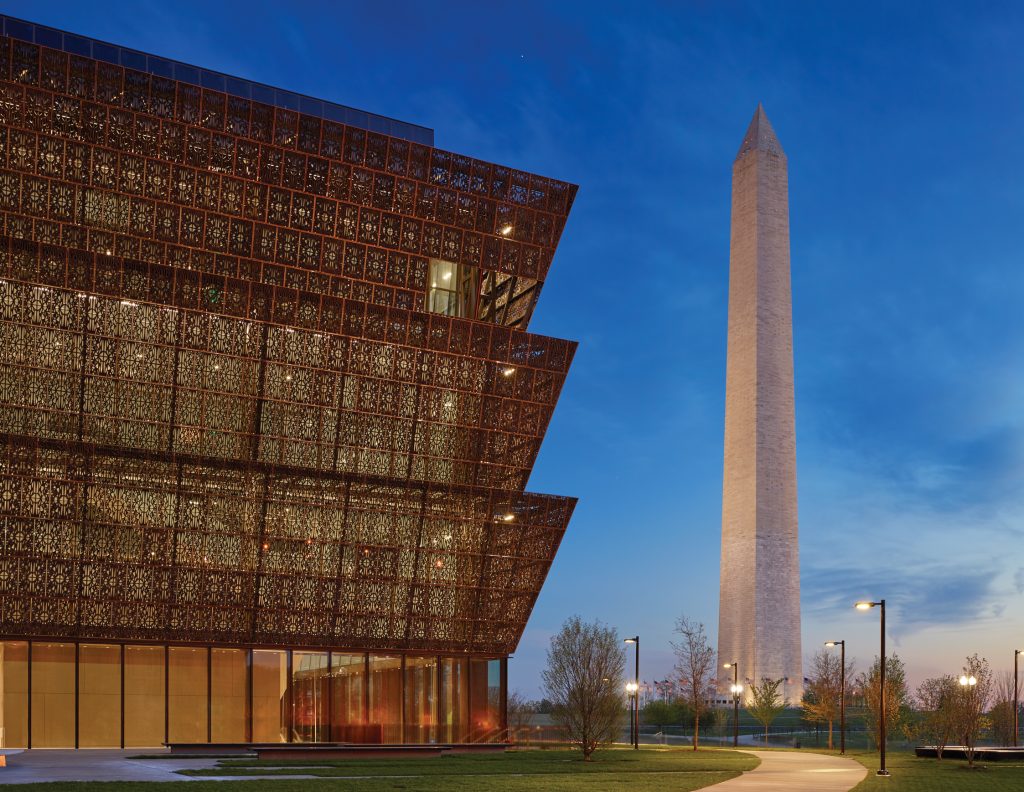 Good luck to all projects!