Date/Time
Date(s) – 05/11/2017
6:00 pm – 11:00 pm
Location
Savoy Hotel
Calendar
iCal


The British Guild of Travel Writers (BGTW) is pleased to announce the Annual BGTW Awards Dinner will be taking place at The Savoy on the eve of World Travel Market 2017.
Buy whole tables, or tickets for individual places at the BGTW's annual Gala Awards Dinner, held this year on Sunday 5th November, the eve of World Travel Market, at the Savoy Hotel.
The BGTW Awards Dinner is generally acknowledged as the networking event of the year and is a superb opportunity to host journalists and industry colleagues at a glamorous, black tie event.
Tickets cost £180 plus VAT. Buy a table for 10 or 12 or as many individual tickets as you like. The price includes a Champagne reception and three-course dinner with wine, coffee, and petits fours, followed by the Guild's awards and sponsor showcase. The evening starts at 6 pm and finishes at 11 pm, after which there is a cash bar until 1 am.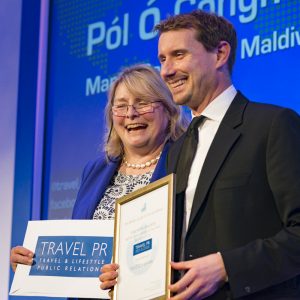 Guests are very welcome to purchase tickets making up less than a full table of 10. We will do our very best to place you and your party on a compatible table. We will accept specific requests via email to secretariat@bgtw.org but cannot make any guarantees that these will be met.
Please note: VAT is charged because the service is provided in the UK.
E-tickets will be issued for this event.
Follow us on Twitter, like us on Facebook and sign up for news (see below) to keep up to date with our latest events.
Please contact the Secretariat via email on secretariat@bgtw.org for further details on the event.
Please note tickets are non-refundable although they are transferable.