Date/Time
Date(s) – 20/03/2017 – 22/03/2017
All Day
Location
Jerusalem
Calendar
iCal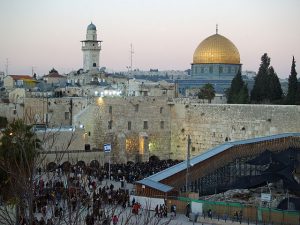 TBEX is the largest conference and networking event for travel bloggers, online travel journalists, new media content creators, travel brands and industry professionals. Each year, TBEX partners with host destinations in North America, Europe and Asia Pacific to bring the travel industry's most creative minds together to learn, network and do business.
The first TBEX (then called "Travel Blogger Exchange") was held in 2009 after an email was sent to six friends. Now each TBEX conference attracts 600-1000 delegates from around the world, making it the best opportunity for DMOs, travel brands, PR firms and their clients, to engage with the most influential travel bloggers and leading digital content creators.
This one, in Jerusalem, Israel, will be the first TBEX International (falling as it does outside the existing regional TBEXs: North America, Europe, Asia Pacific).
Photo: The Western Wall and Dome of the Rock in the Old City of Jerusalem – David Shankbone, CC BY-SA 3.0