The lovely German city of Erfurt won two Guild Tourism Awards in four years – first for its unveiling of an ancient synagogue and second – in 2014 – for the Andreasstrasse Memorial and Education Centre , which commemorates resistance to the rule of the German United Socialist Party (SED) in the state of Thuringia from 1949 to 1989. Liz Gill went in search of its secrets.
For a small city Erfurt certainly punches above its weight. Its cathedral bell, for instance, the 500 year-old, 11 ton 'Gloriosa' is the largest free swinging bell in the world and so powerful that it is now tolled only at Easter and Christmas, for fear the ancient tower which houses it might crack under more frequent peals.
The city's other big hitter, however, was human. For it was here that Martin Luther began, first as a student and then as a priest, began the journey which was to culminate in The Reformation and change the course of European history. His story and its wider context is told in English and with admirable clarity in the Augustinian monastery which has also recreated his cell and other aspects of his life. Apparently Luther knocked on its door after vowing to God that if He saved him from a terrifying thunder storm he would become a monk.
Erfurt, the capital of Thuringia, was founded in 742 by St Boniface, It expanded in the Middle Ages into a powerful and important commercial centre, perfectly positioned at the crossing of important trade and pilgrimage routes and prospering partly from its cultivation and sale of woad dye.
Its historic heart escaped the worst of World War II bombing but after the Yalta talks its residents found, with no choice in the matter, that they were citizens of the new German Democratic Republic. The fact that it was veiled for so long by the Iron Curtain meant that, even after the unification of Germany it still tended to be off the radar of potential visitors. Many residents have vivid memories of the day the then West German Chancellor Willy Brandt, in town for a historic summit with his eastern counterpart, appeared at a window on the square opposite its main railway station, an event commemorated in huge white white letters on the facade of the relevant building with the words "Willy Brandt ans Fenster".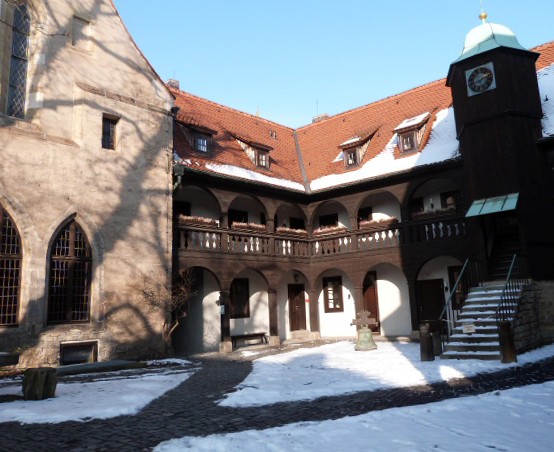 The city surely deserves to be better known. With a population of only around 200,000 – the equivalent of, say, Luton, it packs a lot into a relatively compact area. There are some beautiful buildings including half timbered medieval houses, the hilltop Petersberg Citadel with its maze of underground tunnels, the neo-Gothic town hall and the magnificent Cathedral of St Mary with its superb stained glass windows. Dismantled and stored during the war, the windows later suffered from air pollution and are now being  cleaned microscopically, with lasers, each one taking a year to restore.
The Old Synagogue, dating from the 11th century and one of the oldest to have survived in Europe, lay hidden by surrounding masonry for over 500 years until its re-discovery a couple of decades ago. In the years before World War II it became a dance hall and it seems certain that prominent NAZIs spent evenings there, oblivious to the building's history.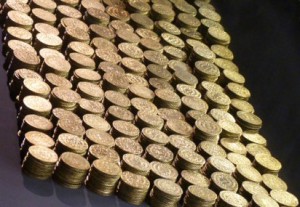 It now houses an extensive collection of mediaeval Jewish treasures unearthed during archaeological excavations nearby –  among them an intricately worked wedding ring, one of only three in the world.
Another must-see is the Kramerbrucke, the longest bridge of its kind in Europe. It is lined on both sides with shops and places to eat, which so effectively block out any sight of water it is only when you get to the end that you realised you've crossed the river. Living or having a shop there is confined to artists and craftsmen so there are some delightful small boutiques selling wood carvings, porcelain, leather goods, antiquarian books and, perhaps most importantly, handmade chocolates.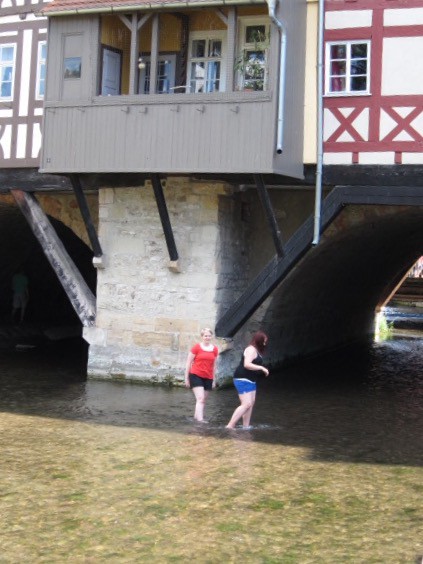 For although Erfurt contains enough museums, galleries and historic landmarks to satisfy even the most ardent culture vulture it is also caters for less cerebral pursuits. Led by guides who were both relaxed and well organised, our group managed to fit in duck for lunch and wild boar and wine for supper as well as coffee and cakes in between. This was fine, we told ourselves this was fine – because while it had been dazzlingly sunny it it had also been very cold and we were walking everywhere.
See www.erfurt-tourismus.de for more information about Erfurt. Visit the www.flygermania.de for details on the most direct way to fly between London and Erfurt.
Words by Liz Gill
Photos by Roger MacDonald and Roger Bray illustrate this feature.