Everywhere you turn in downtown Yangon you'll find a crumbling government office or huge commercial building dating back to the beginning of the 20th century.
The fast and furious development of the city, from small riverside town to international hub, saw the construction of Asian colonial buildings in a range of interesting architectural styles, from the formal, symmetrical beaux arts Classical that dominated 1900 to 1925 to Queen Anne, neo-Gothic, Art Deco and even early Modernism. Humidity, monsoon rains, invasive vegetation, termites, ants and destructive developers are doing their best to obliterate them, but for now, they stand firm. The six listed here make for a great walking tour of Yangon's downtown area:
Ministers' Office (a.k.a. The Secretariat)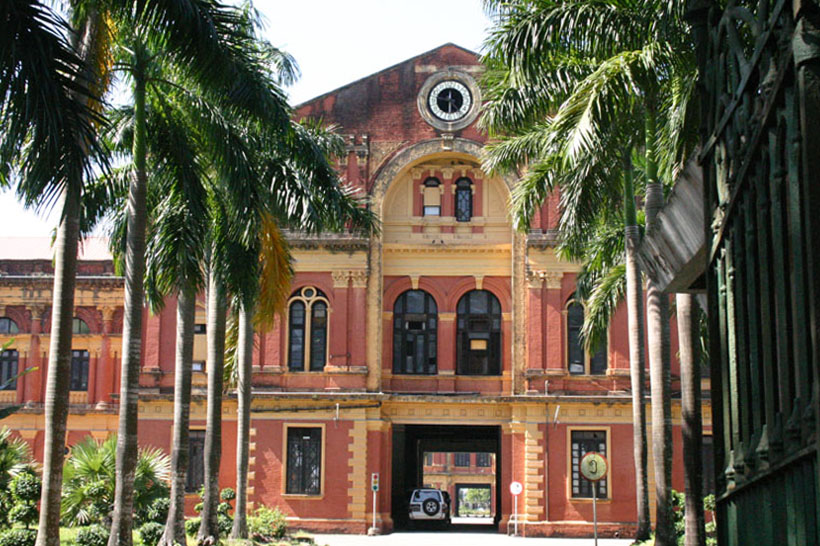 Covering nearly 15 acres and built between 1809 and 1905, this vast red-brick Victorian edifice at 300 Theinbyu Road is the former seat of the colonial government, and the site of national leader General Aung San's assassination on 19 July 1947. San was murdered here with six ministerial colleagues. Many locals have fonder memories of it: in theevenings theextensive gardens would be opened to the public who would come to play games, picnic and enjoy the cool evening air.
City Hall (Junction of Mahabandoola Road and Sule Paya Road)
The first blending of archetypal European and traditional Burmese architecture was designed in 1925by Sithu U Tin, who used traditional motifs as peacocks and serpents andthe ornamentation of Bagan's temples to create a much-loved example of 'mongrel architecture'. U Tin had form: his elegant Burmese Pavilion at Wembley's British Empire Exhibition in 1924 was widely praised.
Inland Water Authority (50 Pansodan Road)
This lovely example of 1930s architecture was built by the Irrawaddy Flotilla Company, which in the 1920s claimed to have 'the largest fleet of inland steamers operating in the world.' The doors and windows, deeply recessed behind Doric columns, were designed to ensure constantly shady and cool interiors.
Myanmar Economic Bank No2 (27 Pansodan Street)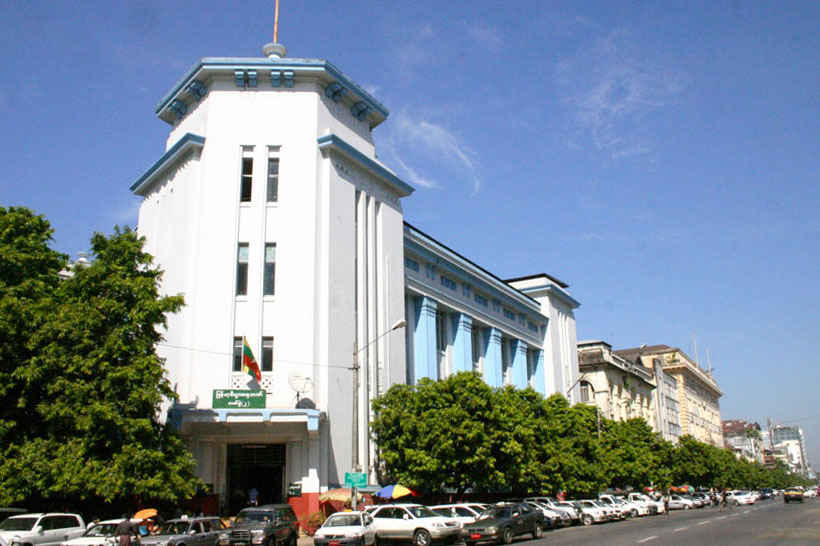 Of the three Myanmar Economic Banks in Yangon, Bank No2, built as the Chartered Bank between 1939 and 1941, stands out for a pagoda-inspired entrance tower and classic Art Deco tropes. It was as modern in its construction as its appearance would suggest, with the city's first underground car park and a lock for every day of the year.
Nearby, at 26/42 Pansodan Street, the Agricultural Development Bank is another great Art Deco building from 1930, with a huge curved portico, imposing bronze door and decorative green tiling.
Central Post Office (Corner of Strand Road and 80 Aung Kyaw Street)
Notable for a delicate Art Nouveau portico held up bycast iron posts, cream stucco, Classical symmetry and pretty arched windows, the Central Post Office, from 1908, is one of the few buildings you can just walk into. Do so and you'll feel like you've gone back in time, with fixtures, fittings and signage dating back to the 1930s, when the building was largely rebuilt following an earthquake. Former president General Ne Win worked here during the 1903s as a post office clerk, covertly aiding in the struggle for independence by intercepting government communications.
Burma Railways Company
The delicate, filigreed awnings over the windows of this two-storey U-shaped building humanise its scale. Constructed as the headquarters of the state-run Burma Railways, its dilapidated state is unsurprising, given its age; built in 1877, it's one of the city's oldest remaining administrative buildings.
Colonial dining in Yangon
House of Memories (290 U Wi Za Ra Road, tel: +95 1 534 242) has excellent Burmese food in a mock-Tudor colonial home that once housed an office for General Aung San.
Acacia Tea Salon (52 Saya San Road, tel: +95 1 554 739) is an elegant tea salon and café in a beautifully restored colonial mansion.
Monsoon (85-87 Thein Byu Road, tel: +95 1 295 224) is an evocative restaurant, bar and shop housed in a three-storey colonial shop-house.
Colonial accommodation in Yangon
The Strand Hotel – Grandeur, glamour and all mod (including a gorgeous spa) are just some of the features of  this stately old timer, built in 1901.
Alamanda Inn – Colonial fittings, Burmese crafts, mozzie nets and free wifi, in a small but sweet former private home.
Classique Inn – A stunning three-storey mansion on the outskirts of central Yangon, which is no bad thing if you want to escape the pace of the city.
References
The Historical Walks in Yangon map, by the Myanmar Heritage Trust, and 30 Heritage Buildings of Yangon,  by the Association of Myanmar Architects are available from Bagan Bookhouse at 100 37th Street, Yangon.
About the author – Yolanda Zappaterra

Yolanda Zappaterra travelled independently to Mynamar from London, where she works as a travel and arts writer. You can get in touch with her via yz@liketv.com.