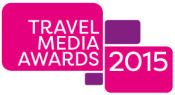 Guild members are prominently represented among the finalists in the inaugural Travel Media Awards. They include:
NATIONAL CONSUMER TRAVEL FEATURE OF THE YEAR
Jeremy Seal for 'Back to Iran' in Ultratravel
Andrew Eames for 'Ice 'N' Easy' in The Sunday Times Travel Magazine
TRAVEL AND TOURISM PHOTOGRAPHY AWARD
Nigel Tisdall for 'Canada Northwest Passage Cruise' in the Financial Times
TRAVEL BLOGGER AND VLOGGER OF THE YEAR
Stuart Forster – go-eat-do.com*
TRAVEL BROADCAST PROGRAMME OF THE YEAR – TV, RADIO, ONLINE
Swimming in Iran, BBC – From Our Own Correspondent by Amy Guttman
TRAVEL GUIDE BOOK OF THE YEAR
Bradt – North Devon and Exmoor by Hilary Bradt
TRAVEL TRADE FEATURE OF THE YEAR
Stuart Forster for 'Take me to the River' in ABTA Magazine
YOUNG TRAVEL WRITER OF THE YEAR
Lottie Gross, Rough Guides
In addition Guild members are editors of Selling Travel is a finalist in the TRAVEL TRADE PUBLICATION OF THE YEAR category. They include Jo Austin, Alan Orbell (retiring) and very new member Steve Hartridge.
The awards are organised by Travega and APL Media, The presentation ceremony will take place on November 9 at the St Pancras Renaissance Hotel.
*Meanwhile Stuart's  go-eat-do.com has also been shortlisted for the Independent Blogger of the Year award, one of the categories at The Comment Awards.