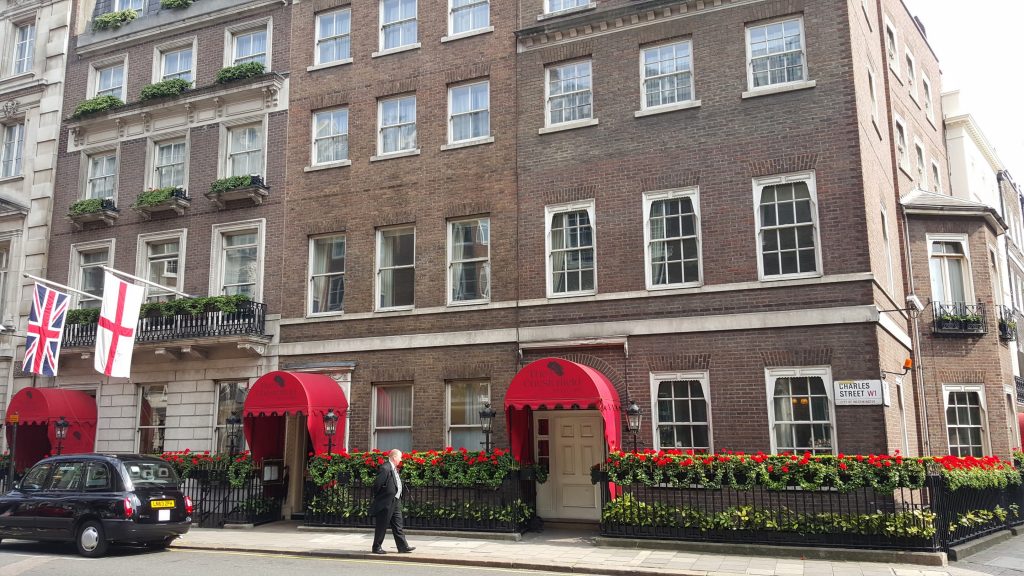 The Guild has always had a good relationship with the Red Carnation Hotel Collection and the BGTW Board's August meeting was graciously hosted by one of their premier London hotels, The Chesterfield, Mayfair, a luxurious but discreet oasis in the heart of Mayfair.
"All those very sharply dressed men in suits standing around just along the street there, with a small collection of black limos….?"
"Ah, yes. One of our Arabian neighbours. He always has a heavy security contingent"
"So, I guess you must have your fair share of celebrities, rock stars, & film stars staying here?"
"Sometimes. Not major 'names', but I couldn't say who."
The Chesterfield's Matthew Woodhead is the very soul of discretion. And now they had some travel celebrities (!) for the day.
The hotel does have a small meeting room downstairs (8/10 max, no windows) but their most elegant option for meetings is the Library, where they hosted us. If AV is needed they can set up a screen and projector. Tea, coffee and refreshments are delivered on demand. They also have an event space that can be configured for conferences, dinners and other events for up to 150 people.
The Board were also treated to a delicious lunch – with our own dedicated menu – in Butlers Restaurant, a light and simple goat's cheese or heritage tomato salad to start with, followed by hake with cockles for a main course.
One celebrity they are happy to promote is Red Carnation's charismatic president & founder, Bea Tollman, whose presence and style can be found everywhere from the Bea Tollman Honeycomb Ice Cream dessert served at lunch, to the individually Bea-designed rooms and suites in the hotel (93 guestrooms, 14 suites), where all the fabrics, colours, fittings and artifacts have been personally chosen or approved by her.
The Chesterfield is one of the growing number of hotels in London & elsewhere (we found one in Cardiff the other day) supporting urban bee populations. We're just surprised their four rooftop hives haven't been named Bea-hives!