TOURISM AWARDS 2016
(Scroll down for Members Awards)
TIME TO VOTE!
On Tuesday Sept 13, some 35 Guild members saw presentations, asked questions and then voted on the projects that they reckoned fulfilled the Guild's criteria for the 2016 tourism projects.
Now we have 9 finalists – 3 in each of our 3 geographic categories – for the entire membership to vote on.
The finalists are listed below (NOT in any particular order). Please read the copy; look at their website; ring the proposer for more information if you like, and then, when you are ready, vote for each category using the online form.
---
BEST TOURISM PROJECT UK & IRELAND
The Borders Railway, Scotland (Proposed by Vivien Devlin)
https://www.scotrail.co.uk/scotland-by-rail/borders-railway
Sunday 6th September, 2015 was an historic occasion with the return of a passenger train service from Edinburgh to the Scottish Borders. The longest new domestic railway in Britain for more than a century was built at a cost of £294 million, completed within budget and on time. It has taken nearly fifty years to reinstate part of the classic Waverley Route which linked Edinburgh and Carlisle for 107 years until it was axed in 1969 as part of the Beeching Report. The loss of the main line service had a profound effect on the rural communities affecting employment, woollen industry, transport and tourism.
Almost 700,000 people have travelled on the Borders Railway during its first six months, 22% more than forecast. Visitor attractions, tourism, local businesses and employment have all benefited, and by reducing commuters' car travel, also the environment. From the various Stations, enjoy hiking, biking, golf and fishing; visit woollen mills, Abbotsford, Sir Walter Scott's former residence, Melrose Abbey, Borders Book Festival. Stay, eat and drink at traditional pubs and Inns touring around on hop on/hop off buses. A popular initiative are vintage Steam trains excursions during summer weekends offering a memorable day out.
Exe Estuary Trail, Devon (Proposed by: Jan Fuscoe)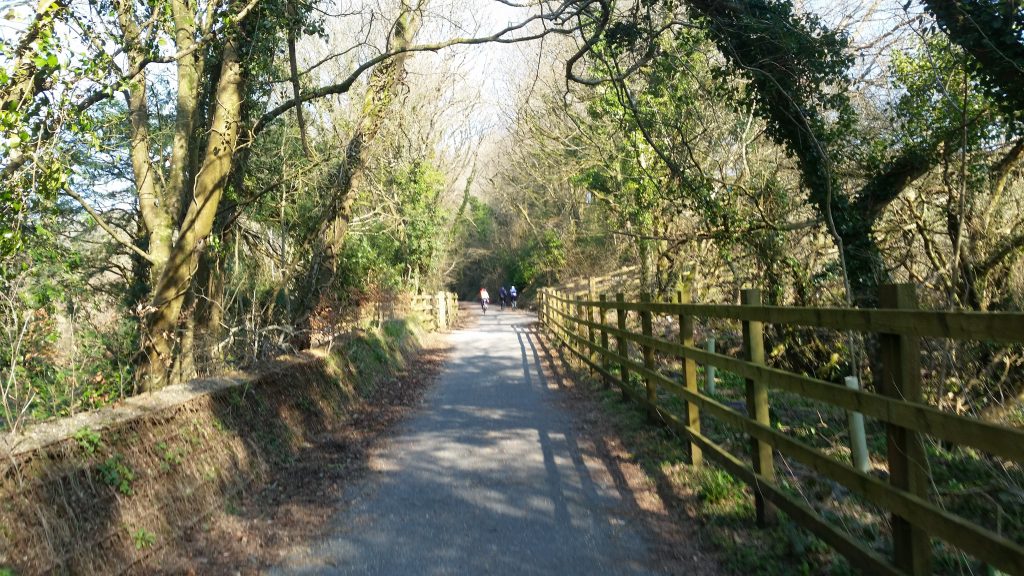 http://www.exploredevon.info/activities/cycle/exe-estuary-trail/
This unique cycling and walking trail is a rare example of what can be achieved with enthusiasm and good working relationships between diverse partners, while always considering the environment and the wide range of people who should be able to use it. Devon County Council worked with the National Cycle Network, Sustrans, the RSPB, Natural England, Network Rail, even the Ministry of Defence, to create a beautiful, user-friendly path through nature, which features boardwalks, spectacular bridges, lagoons, bird-viewing facilities, innovative structures to screen birds and public works art through work with the local community.
As well as protecting the diverse environmental habitats along the Exe Estuary, the trail has provided a sustainable solution for local commuting as part of the Local Transport Plan, removing car journeys at peak times. It's free, accessible to families on bikes, those with pushchairs or with mobility difficulties, and connects with several railway stations and cross-estuary ferries, providing a variety of opportunities for recreational journeys.
As the route meanders past a number of pubs, shops, cafes and accommodation, it's even boosted business. The health benefits are considerable as the trail provides an accessible opportunity for physical activity, reducing health inequalities.
Surf Snowdonia, Conwy, Wales (Proposed by James Stewart)
http://www.surfsnowdonia.co.uk/
What do you do with a derelict aluminium smelter in a dying North Wales village? Build a 300m lagoon for the world's longest man-made wave, of course. Surf Snowdonia in Dolgarrog is not just the UK's first artificial surfing lake, it's genuinely innovative. Clever tech' (think a snow plough) generates 3 distinct waves from knee to head-high for beginners, improvers and experts.
All can hire kit and book lessons to ride a wave every 30 seconds – take that, Neptune. There's also a cool cafe and shop, a kids' aquatic assault course, plus family camping pods. Prices start at £20/hr adults. As impressive are its ethics.
SS provides local employment and works with disadvantaged/autistic kids to promote confidence and happiness. It has also worked with paraplegic group Cerebra; it's no exaggeration to say it has opened surfing's positive thrill to a new audience. Yet this goes beyond tourism. It has already hosted the world's first pro surfing event on an artificial wave. The International Surfing Association highlighted SS to win surfing's inclusion in the 2020 Olympics.
That's bonkers coming from a Welsh village. Almost as bonkers as Dolgarrog now plausibly ranking as a surf culture pioneer alongside Hawaii and Malibu!
BEST EUROPEAN TOURISM PROJECT
Cité du Vin, Bordeaux, France (Proposed by Mary Anne Evans)
La Cité du Vin Bordeaux has pioneered a different approach to exploring the world-wide story of wine. New technology takes you on a journey from 6,000 BC to today in a 3,000m² exhibition space, giving a real sense of fun and discovery. A World Tour takes in Europe, the New World, Bali, Thailand, Japan and Mexico; you step inside stainless steel, oak and glass structures to learn how wine is made; sniff the fragrances in different wines; watch a cinema-style screen of a banquet where figures like Voltaire, Churchill, Napoleon and Colette tell stories of long-gone wines. Bacchus and Venus; real winemakers talking passionately about their trade; religion, sex and morality are all brought in.
The collaborative venture, mostly privately funded, involved vineyards and winemakers world-wide; this is not just about Bordeaux and French wines. It employs 200 locals; the building ticks all the right eco boxes (17 requirements in France), and is the heart of the exciting regeneration of the former manufacturing area. There's a library, wine shop, bar, café and top-floor restaurant with a stunning view, garden and pontoon for trips to vineyards outside Bordeaux. More than a wine museum; this really is a new experience.
Chaplin's World, Corsier sur Vevey, Switzerland (Proposed by John Malathronas)
Chaplin's World™ is a multimedia adventure honouring the work and career of Charlie Chaplin located at Corsier- sur-Vevey on the shores of Lake Geneva. It comprises a multi-floor "Studio" focusing on Chaplin's movie career, the villa where he lived for 25 years, where you learn about the man, a restaurant and a souvenir shop.
The studio has thirteen different rooms, some with reconstructed sets from Chaplin's most iconic films. The exhibits are interactive: you are encouraged to touch, play, take selfies and even dress up as The Tramp or The Great Dictator.  Complementing our view of the artist is the villa, full of intimate pictures from the family vaults, original furniture and personal effects. Finally, you can stroll through four hectares of parkland with stunning views of the Alps.
It took sixteen years and 60m CHF to build Chaplin's World™ but in the end they got it right. It's funny and entertaining. It's educational, demonstrating the detailed artistry of a twentieth century genius. It's also a place where all three generations of a family can have fun together.
Chaplin used to say that "A Day Without Laughter Is A Day Wasted". You won't waste your time in Chaplin's World™
Coming World Remember Me, Ypres, Belgium (Proposed by Tina Ediss)
http://www.comingworldrememberme.be/en
"Coming World Remember Me" is a project running in a workshop in Ypres. It will be huge land art installation, a bit like the Tower of London Poppies.
Thousands of people will take part by moulding 600,000 clay sculptures to represent those who lost their lives in Belgium during the First World War. The project's four main goals are to remember, to help, to reflect and to connect – as well as creating a respectful artistic memory for the victims of the Great War.
Each sculpture is about the size of a large fist and is in the shape of a crouched person. Each one will be identified by a dog-tag with the name of one of the victims – plus the name of the person who created it. In this way, different generations and nationalities will be united in the commemoration. There are also mobile workshops visiting schools and associations.
In April 2018, as the 100th anniversary of the end of the First World War approaches, the installation will be laid in the former no-man's land around Ypres. Creating your sculpture costs 5 Euros, monies go to charitable projects and to help children currently trapped in war situations.
BEST TOURISM PROJECT – THE WIDER WORLD
Limalimo Lodge, Simien Mountains National Park, Ethiopia (Proposed by Lottie Gross)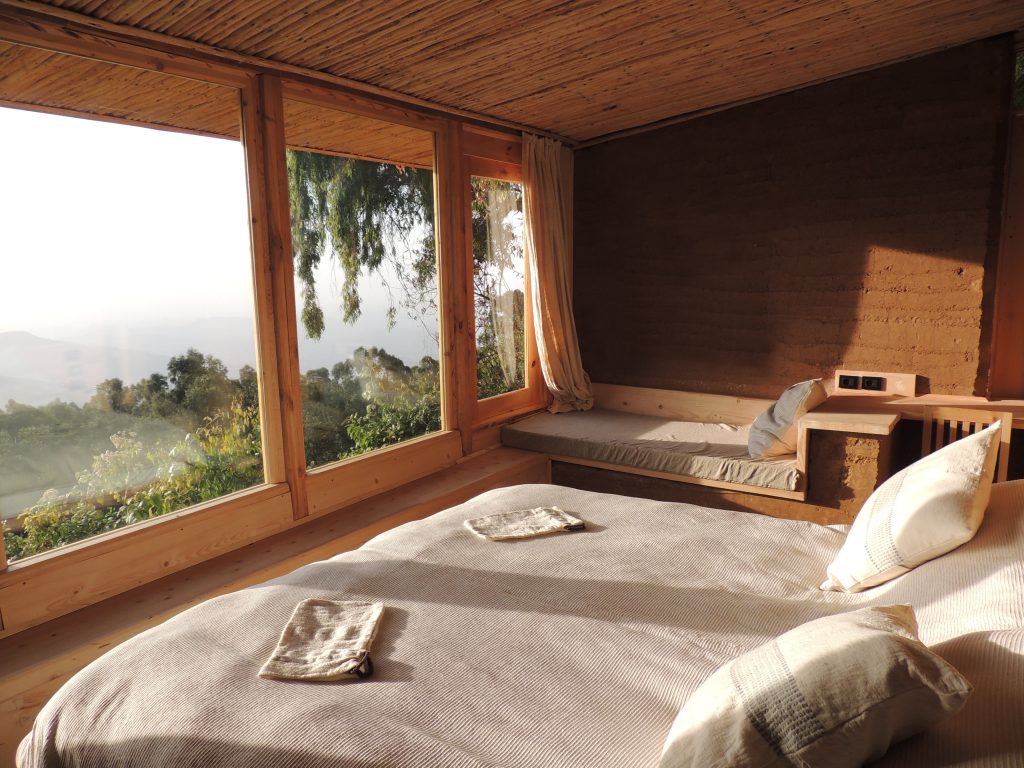 This beautiful luxury eco lodge is one of only two lodges in the stunning Simien Mountains, providing not only a sublime place to stay for tourists, but also jobs for local people. This beautiful luxury eco lodge is one of only two lodges in the stunning Simien Mountains, providing not only a sublime place to stay for tourists, but also jobs for local people. This joint venture of two Ethiopian mountain guides (Shif and Meles) has created new jobs in the local Limalimo community – when I visited in 2015 the vast majority of construction team were locals and there was an even split of men and women doing the heavy lifting (a ratio they planned to continue in staffing the lodge once complete).
They've also trained up and employed locals to become receptionists, cleaners, waiters, cooks and more. The lodge itself has been brilliantly executed, using an eco-friendly rammed earth method of building for the walls, and local craftsmen and women for the fixtures and fittings (they sourced the vast majority of furniture, linen and decor from Ethiopian artisans). They also use solar power as much as possible.
But all the good doesn't stop there–they have initiatives to plant their own veg that can't be bought at the local markets, and to replace the eucalyptus trees (which since being introduced in the country in the 20th century have been damaging the natural habitat of other flora and fauna) in the area with native species. Overall, it's a beautiful place to stay and a true cut above the rest in terms of Ethiopian accommodation.
Mountain Music Trail, West Virginia, USA (Proposed by Kathy Arnold)
http://mountainmusictrail.com/
Half the size of England, West Virginia has a population of 1.8 million. One of the USA's poorest states, it is rich in natural beauty–and cultural heritage. And that's what the Mountain Music Trail is all about. This is a grass-roots effort to preserve music, dance and folk customs in 5 counties along Highway 219. The 150-mile- long trail links musicians, artists, instrument makers and galleries selling locally-made crafts, plus villages, restaurants and places to stay. All are on the first-rate website–which also has an easy-to- follow map and a calendar of live gigs and festivals. So, it's easy to plan a visit to this region, only 3.5 hours from Washington DC. Here in Appalachia, what is called 'Old Time' music is mainly an oral tradition: fiddles, banjos and songs handed down from early settlers (Scots-Irish, German, English, African).
So what makes this different?
Unlike multi-million dollar US projects, with corporate and government money, this local initiative is funded by businesses and musicians along the Trail, plus grants from non-profit organisations. The Trail uses tourism to preserve its musical heritage AND to keep rural communities alive.
It's what the Guild awards are all about.
Sinai Trail/ درب سيناء: Gulf of Aqaba to St Katherine, Egypt (Proposed by Ben Hoffler)
A trip to the Sinai probably won't rank too high on many travel wish lists these days; five years of political turmoil, revolution and front page bad news have made sure of that. This project though, the Sinai Trail, seeks to change that; encouraging people to take a walk, quite literally, on Egypt's wild side.
The Sinai Trail is a first for Egypt; its debut in the world of long-distance public hiking trails, and a rare piece of good news for the country. Being based in the Sinai, and working on this project, I've seen it develop over the last two years; growing from an idea inspired by several pots of Bedouin tea (as most good ideas do in Sinai!), to a fully-fledged, 200km trail managed entirely by local communities, which hikers are walking every month. Its free, bilingual trail resources, developed with NGO funding, are helping to make Egypt's wilderness more accessible for responsible tourism than ever. The trail is also creating jobs and opportunities for local communities. Perhaps most importantly of all – though as an inveterate desert dweller, I would say this – is the way it's documenting the Sinai's traditional Bedouin knowledge; a rich, still-largely unwritten chapter of our human past.
---
Ok, now the voting…
It's simple: Mark each project First, Second or Third in its category.
(Please do NOT try to vote more than once. We will be monitoring IP addresses for multiple entries, so please don't abuse the system)
---
MEMBERS AWARDS 2016
Members awards entries were closed on 8th August. Since then our team of independent judges have been  assessing them and collaborating online. The judging period ended a month later on Friday 9th Sept when as many of the judges as could attended a final session in a hotel in London.
Their verdicts and comments are now recorded and will be announced on stage at the BGTW Gala Awards Dinner on 6 November.
These are the categories for the 2016 awards…
Best Destination Article under 850 Words
Best UK Feature over 850 Words
Best European (non UK) Feature over 850 Words
Best Overseas (non European) Feature over 850 Words
Kenneth Westcott Jones Memorial Award for Best Transport Feature over 500 Words
BGTW Award for Excellence in Blogging
Adele Evans Award for Best Guidebook
BGTW Award for Best Narrative Travel Book
BGTW Travel Photographer of the Year
BGTW Travel Writer of the Year
Good luck to all entrants!