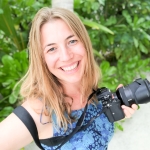 Abigail King is an award-winning writer and broadcaster who has worked with the BBC, UNESCO, the EU, NASA and more. She's the founder of Inside the Travel Lab, described by National Geographic Traveler as "Essential Reading" and Lonely Planet as "one of the best travel blogs in the world."

Abigail has broadcast live for Lonely Planet on more than 50 occasions in more than 15 countries. Locations include the chambers of Marie Antoinette in the Palace of Versailles, the highest mountain on the Arabian Peninsula, the darkness of the Arctic Circle and the twilight of the Book of Kells in Dublin.

Abigail King spoke at the High Level EU-China Summit on Sustainable Tourism at the UNESCO Headquarters in Paris and joined a panel to talk about responsible tourism for NASA-Hybrid CoE in Helsinki.