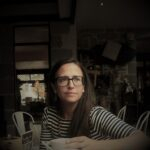 Award-winning travel writer*, Francophile and foodie.
Alex describes herself as a 'Notts lass turned Devon yokel, with a passion for the sea, the South West of England, France and Spain'. 
Writing about coastal adventures, slow and sustainable travel, nature-based tourism including walks, cycle routes and watersports, adventure travel, family breaks, foodie trips and campervan road trips.
Based in south Devon, Alex is a journalist, destination marketer, copywriter and freelance travel writer with experience promoting Nottinghamshire, the South West Coast Path, Exmoor National Park and the UKs family of 14 National Trails. 
Alex has written numerous walks features for local, national and international media titles, as well as appearing in documentary films talking about the wildlife, nature and geology of the south west coast.
In 2017, Visit Exmoor and Exmoor National Park commissioned her to write the editorial content for 'Eat Exmoor', a campaign to promote the area as a top foodie destination in print and online. It won the BGTW Award for Best Tourism Initiative, nominated by Bradt Travel Guide's CEO Hilary Bradt and received by the Marketing Manager for Visit Exmoor.
A confirmed Francophile, Alex has been writing about France as a freelancer for regional and national publications including FRANCE Magazine, French Living and Voyage Magazine since 2016. Her account of a summer spent travelling the length of the Atlantic coast of France with her young family in their campervan, won the Best Family Break Feature in the French Travel Media Awards 2017.
A mum of two wild things, Alex confesses that she's; 'living the South Devon dream on the edge of Dartmoor with the sea in sight', together with a labradoodle, torbie cat and a campervan man turned part-time travel photographer.
Inspired by the words of Joan Miro: 
"To be truly universal, you must start with the truly local." 
*Best Family Break Feature, FTMAs, 2017
https://www.clippings.me/alexg
a
[email protected]