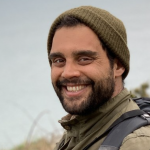 Ash has built a career by trying to challenge the conventions of travel journalism, with work that focuses on the interplay of travel, current affairs, identity, privilege, race, historical narrative and the environment.
He has written for all of the UK's leading travel sections, including The Times and Sunday Times, The Independent, Daily Mail, Wanderlust, GQ, BA Highlife, and more.
He has a monthly column, Lost & Found, is in the Saturday Telegraph Travel section and his piece about the importance of diversity in travel journalism was recently nominated for the Travel Media Awards Consumer Feature of the Year.
Ash regularly reports for BBC Radio Four and the World Service (From Our Own Correspondent and Open Country) and co-hosts The First Mile travel podcast. His series Edgelands (about an 8500km journey along Russia's European border) topped iTunes' "Travel & Places" podcast chart.
Ash is currently studying in MA in Strategic Communications at Kings College London, and he is a Visiting Lecturer at City University London's School of Journalism, teaching Lifestyle Journalism on the MA course.