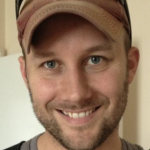 My daughter got me into travel writing. When she was born at the end of 2014, opportunities for travel went the same way as sleep, so I started writing up some of my old trips; writing to remember.
I learned about Bradt's annual travel writing competition and entered. Around the same time, I saw a Bradt call for submissions for an anthology on reluctant solo travel, so put a piece in for that too. Over a couple of months around the end of 2016 and the start of 2017 I found out that I'd been accepted for the anthology and had won the competition. With the competition win came an Edward Stanford Travel Writing Award (New Travel Writer of the Year, 2016), as well as a prize trip to Uganda. I entered a story I found in Uganda into the National Geographic Traveller (UK) annual travel writing competition in 2018 and also won that. I've since had further pieces picked up by Bradt – on their website, Travel Club e-zine and four anthologies on the spin – as well as contributing to pieces for The Guardian and The Telegraph, and had the Nat Geo piece shortlisted for the 'Best British Travel Writing of the 21st Century' anthology. Bubbling along in the background to all this is a novel I have been working on, set in Sri Lanka during the closing years of the civil war.
In addition to the writing, I've spoken on family travel as part of the Stanford Travel Writers Festival in London (along with Adrian Phillips) and in Manchester, and had been in negotiations to speak again at the 2022 festival, this time on travel writing competitions, before that became another victim of Covid. I'd held onto my amateur travel writer status whilst the kids were too young for school and Covid put a block on travel, but it's time now to go pro.