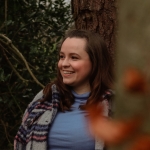 I am a Northants-based writer, journalist, photographer and content creator specialising in travel and its intersections with topics such as food, nature, culture, crafts, social impact, and sustainability.

Following a pandemic-induced pivot from my former jobs in theatre and two years of subsequent freelancing as a travel journalist and content marketer, I have now joined the team at loveEXPLORING full-time as Senior Staff Writer.

In the past, I have also contributed to publications such as TIME, Breathe, Adventure.com, The Independent, Matador Network and House of Coco. I have been a member of the BGTW since December 2022..