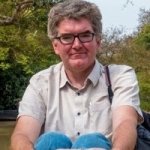 Ian Oliver is The Barefoot Backpacker, a British freelance travel writer and podcaster. Ian has been writing about travel for over 20 years, mostly in blog format but has also written short stories (fiction & non-fiction).
Ian has had non-fiction travelogues published in anthologies: one by Bradt Guides about travelling solo in South-East Asia, and one by The Yes Tribe about a hike across the width of Great Britain. In addition, Ian is working on writing a series of travelogue books that detail backpacking trips around West Africa, Central Asia, and Vanuatu; the first of these is planned to be published by the end of the year by Dilliebooks.
Much of Ian's everyday writing is done online at Barefoot Backpacker.com, with an average of roughly 2,600 visitors per month. For the last three years, Ian has also written and produced a travel-based podcast 'Travel Tales From Beyond The Brochure' which primarily discusses both places and concepts within travel (eg. solo travel, luggage, privilege within/of travel, influencer ethics, sexuality in travel, travelling local, etc).