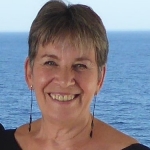 A non-fiction author for many years, her first books published in 2000 by Butterworth-Heinemann/Elsevier. Jacqueline has always written notes on her travels including several charity treks in Venezuela and Cuba. She started writing officially to submit reviews to Silver Travel Advisor nearly 10 years ago, did one of their Travel Writing courses and is now one of their Advisors.
Jacqueline's self-published a book on Walking the Wye Valley Way - 136 miles in 15 days - in 2016 and is currently working on a series of shorter E-books on using public transport to "Meander through Wales". She regularly write blogs and reviews on all aspects of travel, theatre and the arts, food and wine, including Guest Blogs for a range of different websites.

In 2021, Business Expert Press Ltd (BEP) in New York published her book "Targeting the Mature Traveler" and are due to publish her latest book "How a global Pandemic Changed the Way we Travel" in 2022.