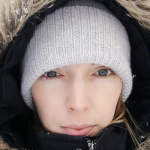 A freelance travel writer based in Munich. Originally from London, but her career has taken her across Europe, from the bustling streets of Berlin to the quiet lanes of a town in Piedmont. It was during her time in Italy, working for Slow Food, that Kate's interest in cheese-focused journalism fully matured.
Kate writes about food, culture and travel in Germany (particularly Munich and Bavaria) and Italy (particularly the north). Her work has been published in BBC Travel, Telegraph Travel, The Sunday Times, The Independent, Condé Nast Traveler, Lonely Planet and Fodor's, among others. She also has a blog about the food scene in Munich called Munich Bites.
Her Italian is conversational whereas her German is fluent – some Bavarian included.