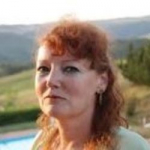 A distinctive voice is a writer's greatest gift yet travel-writing is often as soporific as a snooze by the pool. While never preachy, Lisa prefers real writing to pool-snoozing. At the heart of it all is respect for the story, wherever it lies. Follow her blog, Never Trust a Travel Writer, for a sense of the journey: www.lisagerardsharp.com.
Independent-minded writer based in Cannes, London and Liguria with Italy/France as core expertise (past residence in Paris, Brussels, Florence and Rome). In-depth travel writing embracing culture; controversy; quirkiness, cruise, art, heritage, hiking, slow travel, ski, luxury, fashion, food and wine. Also an interviewer, speaker, guidebook author, blogger, media trainer - and copywriter for tourist boards worldwide. Specialist destinations include: Italy; France (especially the Riviera); the Mediterranean; Ireland; California; the Canaries; and cruise worldwide.
Website and blog: www.lisagerardsharp.com. Note French contact details too as based in Cannes and London: Email:
[email protected]
, tel (+33) 494 19 38 22) and London (
[email protected]
). Email contact preferred in the first instance.