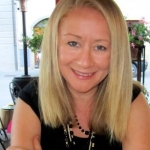 Renate is a specialist in quality content creation in the travel and lifestyle space. This highly experienced and well-travelled freelance editor and journalist has excellent publishing credentials and an international background, working in London, Sydney, Hong Kong, Toronto, and New York. Renate is now based in the North of England's Ribble Valley near Manchester and is frequently in the capital for work.
Renate encapsulates the essence of what's special about the places she visits, both in her creative images and descriptive writing style. She especially enjoys meeting the people that make places great to bring her travel pieces alive, passionate about revealing local insider tips about the destinations she visits and giving the reader a sense of 'being there'.
Previously editor of Food and Travel and more recently Journey magazine, Renate specialises in travel writing and photography, often with a foodie focus. You can see her work in: The Telegraph, The Times and Sunday Times, Sainsbury's Magazine, Supper, Compass, Journey, Cunarder, Visit Britain magazine, France magazine and Saga Magazine.
Renate describes herself as a 'quasi-Aussie' and has dual nationality after living in Australia for 14 years, where her work has also been published in The Sunday Telegraph, Renegade Collective, Qantas The Australian Way magazine, Vacations & Travel, Australian Traveller, Woman's Day, Spa Life, Sydney Morning Herald Traveller, Easy Jet, and box magazine.
Growing up with a German father, Renate's love of travel started early, spending summer holidays in Germany and a gap year in Berlin, while at London university. She's since travelled to over 50 countries and counting. Adventures include trekking in the snow, spotting wolves in Yellowstone National Park USA, paddling with reef sharks in Far North Queensland, cruising around Ayers Rock on a Harley Davidson in Australia, riding a camel across the desert at sunset in Dubai, camping on safari in Tanzania, sailing up the Nile, spa hopping in New Zealand and making her own wine in Portugal's Algarve.
Follow her on social media or get in touch by email as Renate is always up for new adventures and exciting story opportunities and collaborations.