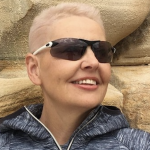 Tracey Croke is a travel journalist with a zest for roughty-toughty adventure, mostly known for galavanting on her mountain bike. She is a self-proclaimed world-class expert in following whims and getting lost.



Tracey has followed ancient elephant-migration trails on a mountain bike safari in Botswana, been dragged through a snowdrift backwards in the Arctic, hiked with nomadic tribes through the peaks of post-conflict Afghanistan and was on the first mountain-bike traverse of Kyrgyzstan's Talas Range, where she had to be rescued twice. Luckily, her woeful map-reading skills are overlooked as long as she brings back a good story.



Tracey had a well-spent midlife crisis qualifying in Journalism and media law at the London School of Journalism. Since, her articles and photographs have been published in national newspapers and magazines mostly in the UK and Australia. She is a contributing author to Ride: Cycle The World by DK Guides/Penguin. 

In 2020, Tracey picked up the gong for Best International Story at The Australian Travel Writers' Awards for Excellence and won Best Adventure Story twice (2020 and 2017). For three years on the trot, her work has been shortlisted in The NRMA Kennedy Awards for Outstanding Travel Journalism. Tracey's photo essay, "A Portrait to Keep" made the finals of The Walkley's Storyology slide night – part of Sydney's "Head On" photo festival. 

Insights and anecdotes of Tracey's adventures have landed her slots on the Telly, Talk Radio and at speaking events.

She sporadically youtubes under "The Trail Tart".