Sarah Siese and Stuart Render have been elected as joint-chair. Stuart, who has been a director since 2018, and who was acting chair during January, and Sarah, who joined the Board in 2022 but has previously served on committee under five different chairs, bring a wealth of experience to the roles.
"In a year where there's a need to bring the Guild back on course in the aftermath of the hiatus caused by the pandemic, having two knowledgeable Guild members leading the organisation, both with different but complementary skill sets, and supported by a first-class team of fellow directors, positions the Guild in a strong place moving forward," the joint chairs announced.
The BGTW would like to give an enormous thanks to the outgoing Board: Chair Meera Dattani; Vice Chair Antonia Windsor; Membership Director Kav Dadfar; and Sustainability Director Diana Jarvis for the amazing work they have done in 2022, as well as Sarah Siese and Stuart Render who have remained on the Board as joint-chair.
Following the success of the BGTW's AGM & Convention in Tenerife last year, this year it will hold its AGM & Convention in Malta on 17 March, where the new Board will unveil its plans for the forthcoming year, including its commitment to the Glasgow Convention on Climate Action in Tourism.
The last two years has seen a substantial increase in Guild membership.
Other key events for 2023 will include:
• A series of BGTW Talks Travel webinars ranging in topic from hard skills such as SEO, branded content and pitching to overarching travel themes such as decolonising travel writing, freelancing more effectively, and storytelling.
• The BGTW International Tourism Awards and Members' Excellence Awards, due to be launched in March.
• The BGTW Annual Gala Awards that will take place in London on Sunday 5 November, 2023, on the eve of World Travel Market London.
• Regular networking events both in London and across the UK.
The new BGTW Board, consists of: Sarah Siese, Joint-Chair and Partnerships Director, Stuart Render, Joint-Chair and Awards Director; Vice-Chair and Social Media Director: Sarah Lee; Director and Board Secretary: Dom Tulett; Membership Director: Kirsten Henton; Sponsorship Director: Renate Ruge; Director of Communications: Mark Bibby Jackson; and Events Director: Valery Collins.
Supporting the Board (Off-Board Executives) are: Frances Howorth and Kathryn Liston: Finance; Diana Jarvis: Sustainability Lead; John Ruler: Guild Archivist; Neil Taylor: Press Trip co-ordinator; Rachel Ifans: Social Media (Instagram); and Gillian Thomas: Associates Representative.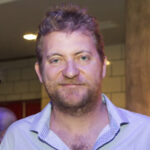 Mark Bibby Jackson is an experienced travel writer based in the UK who has set up the website Travel Begins at 40, as well as London Begins at 40 and Cambodia Begins at 40. In addition to specialising in over-40 travel, he also focuses on food, cultural and sustainable / regenerative travel. He has recently graduated in Climate-Friendly Travel from the ITS in Malta, and writes for eXist, the Climate Friendly newsletter produced by SUNx Malta, which he established and edited. He also specialises in Southeast Asia, having lived in the region for a decade, setting up AsiaLIFE Cambodia, ASEAN Forum and AsiaLIFE Thailand magazines. He is now the Chair of Destination Mekong. He has written for a number of publications in South East Asia including the Phnom Penh Post and Myanmar Times, as well as TNT Magazine, Low Season Traveller and Charitable Travel in the UK. He is the Diector of Communicatiins for the BGTW.