Ex-Guild chair Mary Moore Mason won the USA Association's coveted Contribution to the Industry Award as Editorial Director of Essentially America at the Visit USA Association Media Awards ceremony on 1 July.
Jonathan Thompson also won the General Consumer Magazine Feature for his piece in Tatler.
The event, held at the St Ermin's Hotel in central London, saw 11 travel journalists and media outlets honored for their outstanding contribution to USA media coverage over the last 12 months.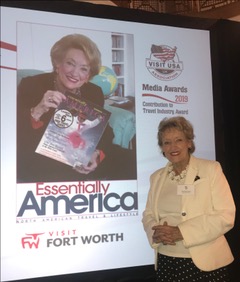 Essentially America is celebrating its 25th anniversary and 100th edition in 2019. The magazine was set up jointly by Mary Moore as launch editor and the late Maureen Miller, who served as publisher. Mary started her career as a newspaper journalist in the USA, then was briefly a travel writer for UK magazine International.
The full list of the 10 winners are highlighted below:
General Consumer Magazine Feature
Jonathan Thompson, Tatler
The New Pioneers
Consumer Travel Magazine Feature
Alex Allen
The Sunday Times Travel Magazine
Roads to Recovery
Travel Trade Press Feature
Ella Buchan
Aspire
Red delight
Regional Newspaper Feature
Carl Jackson – Winner
Reach PLC
Canyon Country – Monumental Memories
Broadcast Programme (TV, Radio or Internet)
James Martin
ITV
James Martin's American Adventures
Photographic Travel Feature
Oliver Hellowell
Down's Syndrome Association UK
Smoky Mountains assignment
Online Feature
Karlina Valeiko
loveEXPLORING
Northern Wyoming road trip: the top things to do, where to stay & what to eat
National Newspaper Feature
Nigel Richardson
The Sunday Telegraph
'I wept because I felt the bullets; I heard the cries'
Blogger/Vlogger of the Year
Abigail King
Inside The Travel Lab
Fly drive Florida – a two week itinerary & adventure
Contribution to the Industry
Mary Moore Mason
Essentially America
The Visit USA Association Media Awards were created 19 years ago to recognise and thank the media for their contribution to the promotion of the USA through their work. Entries and nominations are invited from journalists, publications and PRs and are judged on three main criteria:
The quality and factual accuracy of the writing
Whether the feature actually makes readers want to pack their bags and visit
Whether the feature give clear information on which of the Association's 200+ members can provide further assistance