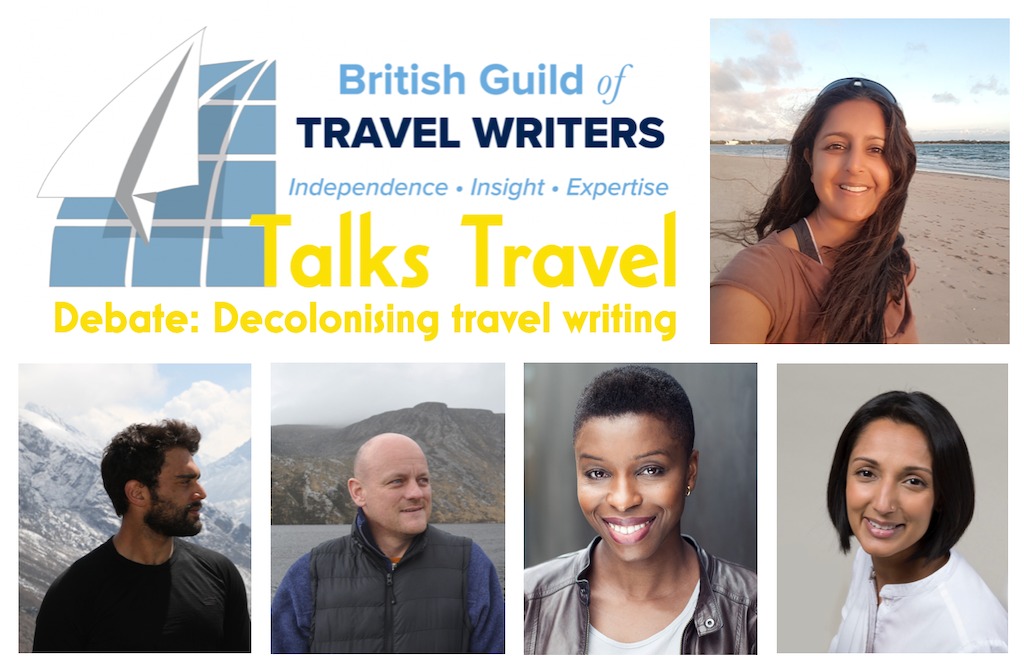 What does 'decolonise travel writing' mean in practice? The genre of travel writing really took off during European expansion including the British Empire, with stories usually told from a white, male, Western gaze.
In this debate, we'll discuss the outdated tropes, stereotypes, language and images that often permeate modern travel writing and photography, why we should be addressing this as an industry and how travel media can play its part.
The details:
BGTW Talks Travel: Decolonising Travel Writing
WHEN: Tuesday 14 July 2020
TIME: 12:30 – 14:00 BST
WHERE: Via Zoom
BGTW Talks Travel discussions are part of a series of online events to bring people together and help our members and other travel professionals move forward. By connecting leaders in the world and featuring the latest travel opinion and developments, we help keep you at the forefront, creating and innovating.
The Decolonising Travel panel*
Ash Bhardwaj is a filmmaker, travel writer, and broadcaster with numerous bylines and TV credits. His most recent adventure was a 8,500-kilometer overland trip, exploring former Soviet countries and their neighbours. (@AshBhardwaj)
Tim Hannigan is a British travel writer, tutor and author of three books of narrative history, with a focus on Southeast Asia. He also studies travel writing and contemporary nature writing as an academic, and investigated the ethical issues surrounding British travel literature for his PhD at the University of Leicester. (@Tim_Hannigan)
Monisha Rajesh is the author of the award-winning book Around the World in 80 Trains which charts her seven-month railway journey around the globe, inspired by her travels for her best-selling debut Around India in 80 Trains. Monisha has written for The New York Times, The Guardian, The Sunday Telegraph and Vanity Fair. (@monisha_rajesh)
Noo Saro-Wiwa is a freelance journalist and book reviewer for numerous international publications and the author of award-winning Looking for Transwonderland: Travels in Nigeria. In 2018, Condé Nast Traveler Magazine named her one of 'The World's 30 Most Influential Female Travellers'. (@noosarowiwa)
HOST: Meera Dattani is a freelance travel and culture journalist, co-editor of Adventure.com and guidebook author, with a special interest in wildlife tourism, sustainable travel, and heritage and diaspora tourism in India and East Africa. (@no_fixed_plans)
The event is free to all BGTW members. (Get in touch with the Guild secretariat to sign up.)
Non members are welcome to attend for a minuscule sum of £5 (including booking fee). Click below to get your ticket!
If you register for the session, you will also receive a recording/link to the discussion afterwards.
Consider making an additional donation
Your additional donation helps the Guild provide content like this free of charge for those who can't afford a ticket.
How do I join a BGTW Talks Travel discussion?
First you signup for the event via Ticket Tailor by following the button above. Then you will receive a zoom registration link which you will need to complete to be sent a Zoom url to join. We advise you do this in as soon as you buy your ticket to avoid missing the event. (You can sign up and download Zoom here.)
At the time of the webinar, simply click on the Zoom url in the email and you'll be taken to the Zoom website — you can join via the website or the desktop or mobile app.
Once the panel is ready to begin, you'll be admitted to the room. You'll be able to see and hear the panellists and our moderator, and type messages via the Zoom chat function. You will be not be visible to other participants. Your name will be visible if you join in the chat.
Questions? Let us know. Hope to see you there!
* Scheduled to appear