Six BGTW members were fortunate enough to be invited to visit The Coastal Land of Denmark on a fantastic trip (from 24 to 27 August) that explored the city of Horsens – and its prison – and the magnificent coastline and islands in this relatively unexplored region of the Scandinavian country. They even attended a stag party, birthday bash and funeral at sea, as well as eating the best burger in Denmark, courtesy of Ji-Mi.
Our thanks to Kasper Iverson of Visit Denmark UK and Line Vinum of Destination Kystlandet (The Coastal Land) for their great hospitality and navigational skills.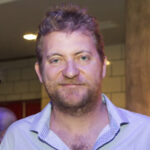 Mark Bibby Jackson is an experienced travel writer based in the UK who has set up the website Travel Begins at 40, as well as London Begins at 40 and Cambodia Begins at 40. In addition to specialising in over-40 travel, he also focuses on food, cultural and sustainable / regenerative travel. He has recently graduated in Climate-Friendly Travel from the ITS in Malta, and writes for eXist, the Climate Friendly newsletter produced by SUNx Malta, which he established and edited. He also specialises in Southeast Asia, having lived in the region for a decade, setting up AsiaLIFE Cambodia, ASEAN Forum and AsiaLIFE Thailand magazines. He is now the Chair of Destination Mekong. He has written for a number of publications in South East Asia including the Phnom Penh Post and Myanmar Times, as well as TNT Magazine, Low Season Traveller and Charitable Travel in the UK. He is the Diector of Communicatiins for the BGTW.