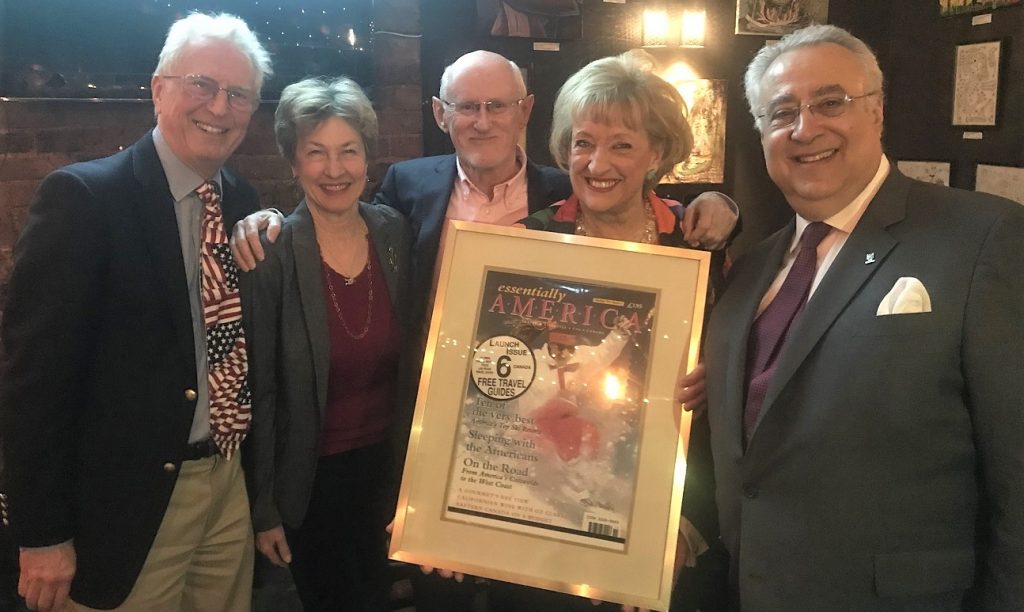 Mary Moore Mason, BGTW member and former chair, was congratulated for her 25 years as editor of Essentially America magazine at a London event, attended by 40-some UK travel industry leaders, on 31 January.
USA-based colleague Larry Cohen told the group, meeting in a private room in Notting Hill's Walmer Castle pub, that Mary Moore and the late Maureen Miller had been real pioneers when, in February 1994, they launched what has become the UK's only consumer publication exclusively covering travel to and the lifestyle within North America.
Now produced seasonally and distributed to 100,000 UK subscribers, readers of the London editions of The Daily Telegraph and at selected Heathrow airline clubs and gates, Essentially America is also now distributed in local language versions in Germany, China and Mexico.
Over the years Mary Moore has won a number of travel writing awards on both sides of the Atlantic as have several of her regular freelance writers.
Among those attending the event were Guild members Paul Wade and Kathy Arnold, who presented Mary Moore with a framed copy of Essentially America's first cover, and Neil Murray who regularly sub-edits the magazine.
Other presents given to the editor included a golden 'Oscar' presented by Francine Sheridan, the UK representative of Los Angeles Tourism.
In return,, the editor thanked the travel industry and her regular freelance contributors. "Without your help and expertise," she said, "we could not have produced Essentially America over all these years ." She also praised the magazine's new Chicago-based publisher Tobias Zerr for bringing to the publication his online expertise which, she said, is reflected in the publication's enhanced website (essentiallyamerica.co.uk) as well as for his ongoing dedication to the print publication.
The next issue, she added, is expected to be out on Saturday 9 March when it will be polybagged with many London editions of The Daily Telegraph.