Having enjoyed several narrowboat holidays with our teenage children, my husband and I were only too pleased when our daughter Bridget suggested an intergenerational trip with her two small boys. 'Tunnel ahead' shouted Grandpa at the tiller as he spotted the entrance of the 2042-yard Braunston Tunnel on our first voyage with them.
As the boat slowly began to edge into the darkness from a leafy cutting, Herc, aged 6 and Alexi, 4, were sitting at the front with increasing excitement. They flashed torches onto the dripping walls, squealing when the occasional blob of cold water dropped from the roof onto their heads. Soon they sighted another boat, also with children aboard, coming towards us. There was waving and shouting as we passed, both crews pretending to be zombies.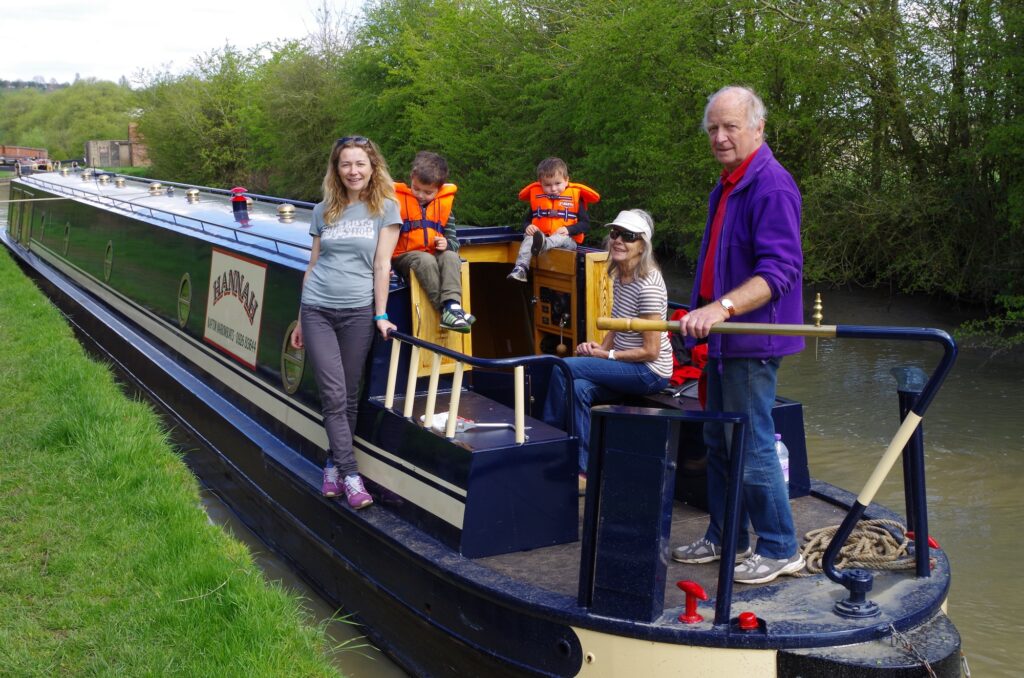 Together with our other daughter, Jacqui and her dog Willow, we had started our voyage at Napton in Warwickshire which gave us a choice of rural and not-too-challenging routes. With around 1500 miles of canals to explore, there are plenty of options, either from a hire base enabling you to do a 'ring' or simply turn round half-way, as we did on that occasion.
Narrowboats have immediate child-appeal, being only seven feet wide but anything up to 70 feet the maximum.. After jumping eagerly on board, the boys rushed down the long corridor, Willow in tow, past the ingeniously laid-out bedrooms and diminutive bathrooms to a compact galley-sitting area at the front. They soon claimed two cosy-looking bunks as theirs, loading them with cuddly toys, Lego and the bright red life jackets which the hireboat company had supplied.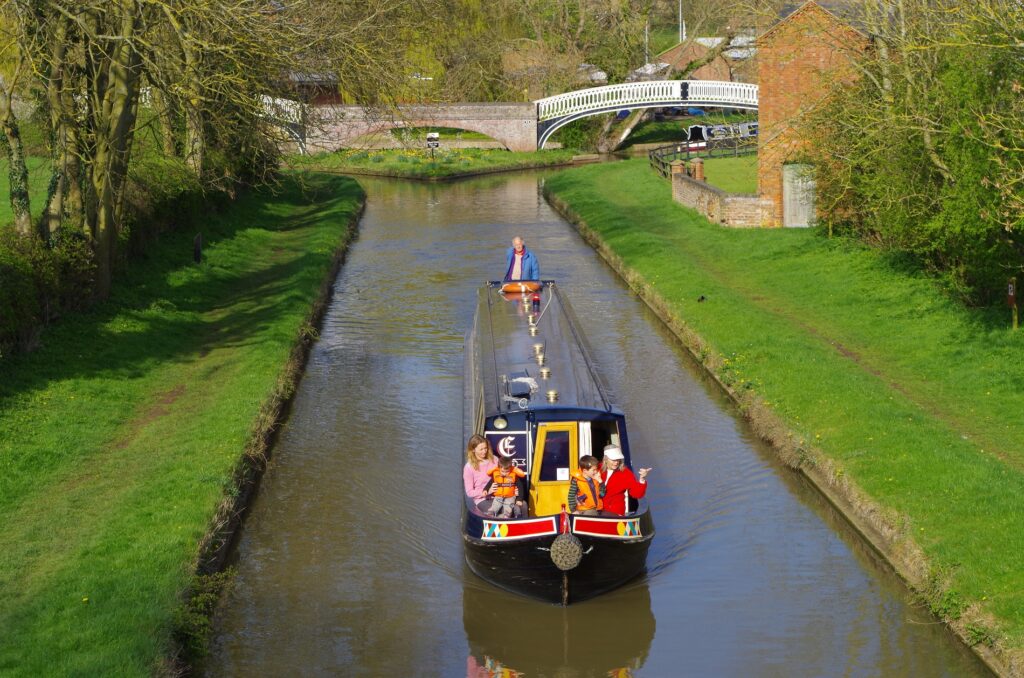 During the cruise we insisted – despite their protests – they were worn whenever outside. With essential supplies loaded into the fridge followed by a technical run-down from one of the staff, we enthusiastically left the marina heading first towards Norton Junction. This took us through quiet countryside, under old humpback brick bridges and past fields of bright yellow rape and frolicking lambs.
As we chugged slowly along – top speed allowed is 4mph – the boys were thrilled to spot a family of tiny ducklings to throw bread to and then a swan sitting on her nest. Even more exciting, the 'dad' swan flew rather crossly up to the boat, keen to chase us away. We arrived at the tunnel immediately after Braunston, a traditional canal village with old pubs, a handsome spired church and our first flight of locks.
Leaving Auntie Jacqui on the tiller, we all jumped off, the boys eager to help operate them. Locks are fun but need plenty of man-power so canalling requires enthusiastic adults too as each one has to be opened and closed by hand. You first must wind their paddles up and down with a metal windlass letting the water in or out before pushing the heavy wooden lock gates open or shut.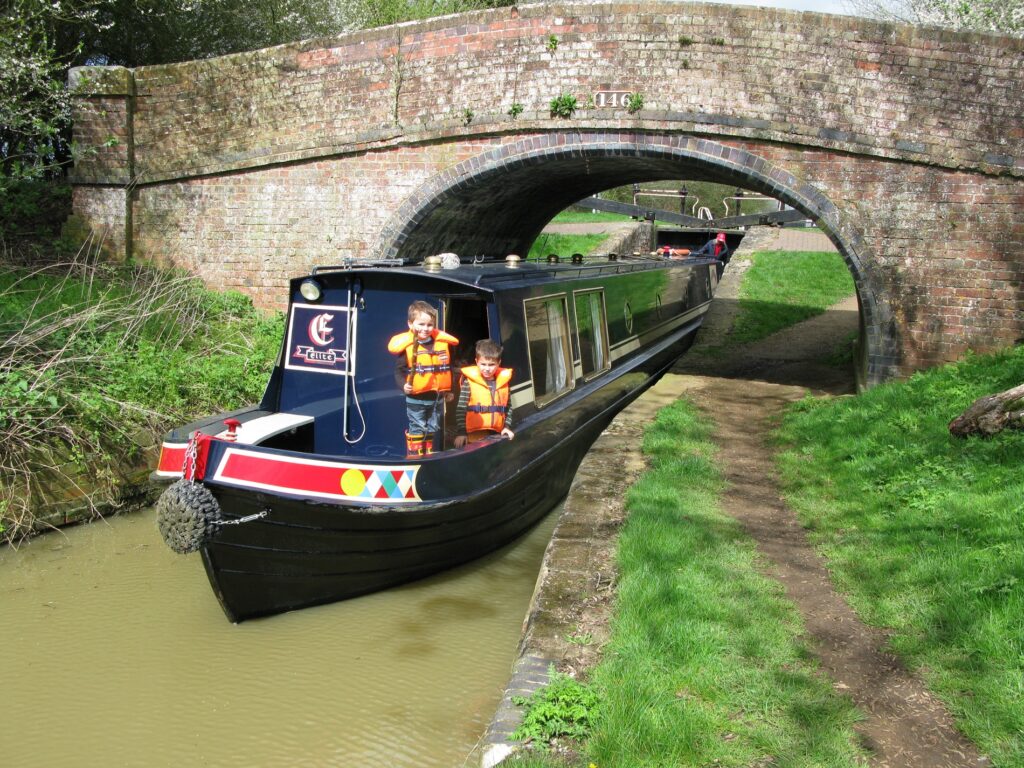 Alexi was particularly proud of being strong enough to push some of them by himself, soon realising how the water had to be level before they would move. A live science lesson. But some locks need more brawn than a small child or a grandparent may be able to muster. Reaching Norton Junction everyone was ready for a well-earned supper. But first we had the mooring routine. Mum had sneaked off for a quick tow-path run leaving the rest to tie up the back and front securely to metal rings on the bank, shut all doors and lock up.
Right beside the canal we were lucky that night to arrive at the New Inn, actually 250 years old with low timbered ceilings, old canal pictures around the walls and a plaque telling the sad story of the ghost of a young girl kept prisoner there, a detail we didn't point out to the children.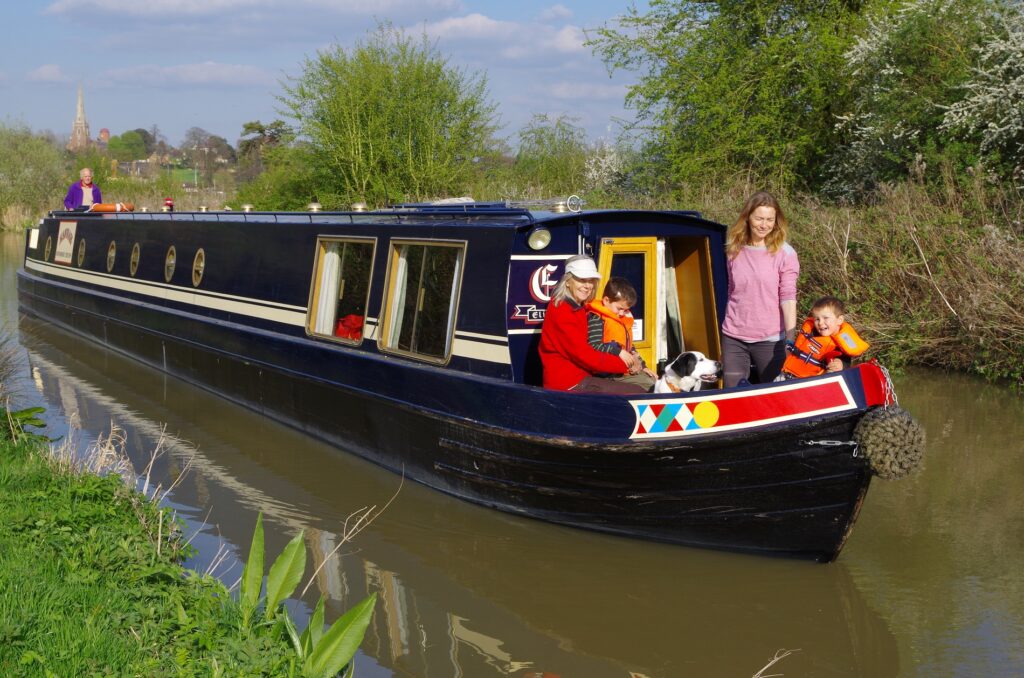 Next morning, having turned the boat round, a tricky challenge executed efficiently by Grandpa, we returned through the tunnel, to join the Oxford Canal for a leisurely cruise south towards Banbury. First we definitely needed teamwork for a flight of seven locks, though half-way up the boys decided to swap locking for Lego. Cruising the gentle countryside, the adults took turns at steering and admired passing views which included a herd of huge black buffalo which amazed us all.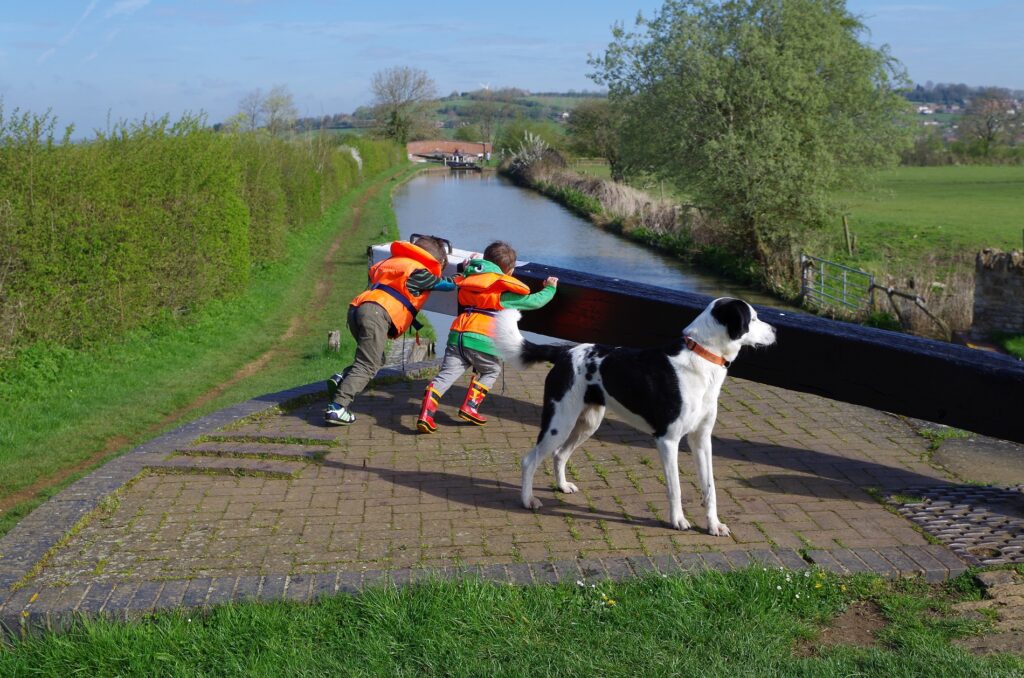 Sometimes the boys got off for a towpath walk with their aunt and Willow and after-supper 'strolls' became a favourite ritual, delaying bedtime. Tucked up in their bunks begging for yet another story, Herc complained. "I don't want to go to sleep because it means the day is over". The cruise was certainly a family operation.
Under Grandpa's close supervision the boys took turns in switching the engine on or off, turning the engine greaser tap and attaching the boat's long blue hose when we stopped to fill up the water tank. But on that trip they were not tall or strong enough to steer; that has had to wait till later. Mum's main job was watching out for village shops for things like milk and bread while mine ranged from locating the boys' trainers and lifejackets to picking up pieces of Lego from the floor.
No surprise then that Herc bought me a Galley Slave badge from a canal-side shop, choosing a Chief Engineer one for himself. One of the best things about family canal holidays is that you come across all sorts of unexpected 'attractions'. Mooring one evening in the pretty village of Cropredy, we discovered a large grassy playground complete with a zip-wire. Everyone wanted to have a go on that.
Before turning the boat around at Banbury we were all keen to sample a Banbury bun or two and also set out to find the famous cross, having practised the nursery rhyme on the way there. Disappointingly it is marooned on a traffic island though a huge bronze statue of the "Fine lady on a white horse" is nearby. Anticipating tears when finally we had to hand back the boat, we promised the boys an add-on visit to nearby Warwick Castle. We explored the battlements, saw a huge condor in flight and the boys had a jousting lesson, a memorable conclusion for everyone.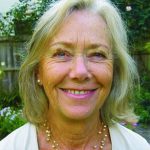 Long and wide-ranging experience in travel journalism for newspapers and magazines with particular emphasis on France, Germany and the UK. Now specialising in 3-generation family holidays. Married to Guild associate member John Harrison.