Looking for stocking fillers? This overview of affordable gifts for travellers may provide you with ideas for presents as Christmas approaches.
The pandemic has impacted the livelihoods of many people whose work relates to travel. Due to the impacts of the pandemic, many working in the travel industry lost their jobs during the course of 2020.
Inevitably, freelancer contributors to publications have been detrimentally impacted because of travel sections having fewer pages. Two of the country's most respected travel magazines closed this year.
Bearing in mind the ongoing uncertainty and fact that many people's budgets are limited, the upper limit for items listed on this guide of affordable gifts for travellers was set at £35.
Hopefully you'll find inspiration.
Face coverings made from recycled plastic bottles
The Professional Association of Diving Instructors (PADI), the world's largest diver training organisation, has launched a range of reusable face coverings. Priced at £17.20, the face coverings are made from plastic bottles that have been removed from the sea.
The polyester face coverings provide travellers with something to wear and contribute to the removal of plastic pollution from the planet's oceans. They are available in sizes for adults and children.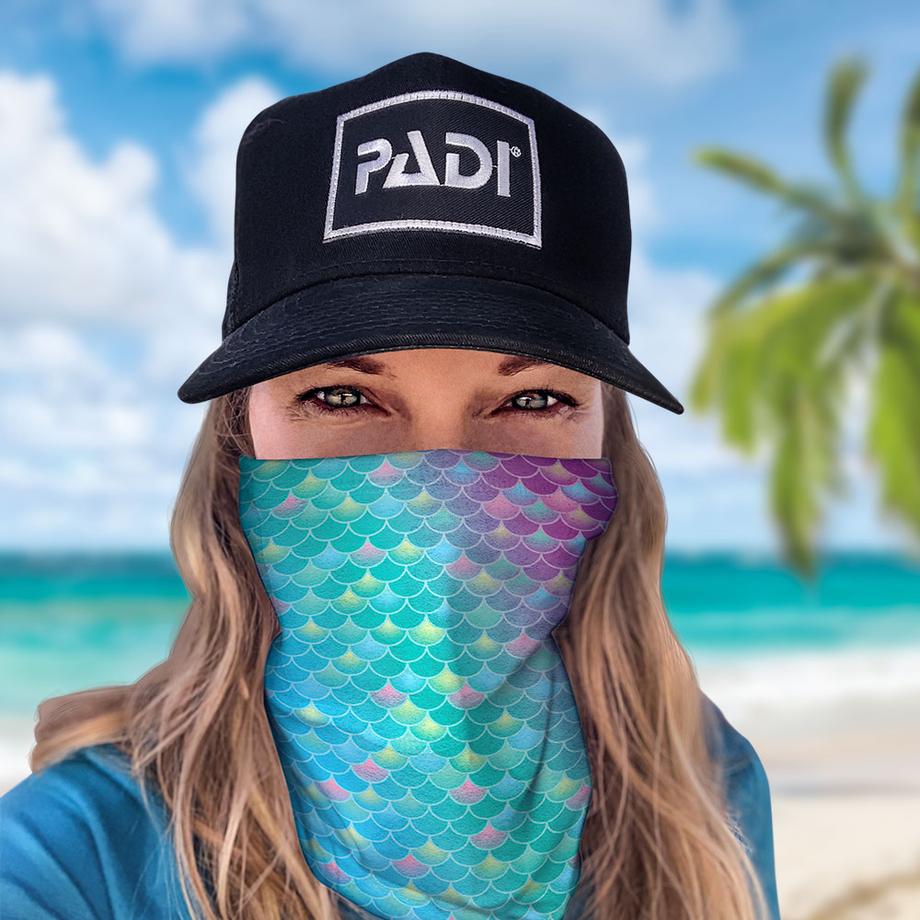 Sustainable bags and accessories
Groundtruth Global's RIKR range of bags and accessories include a camera bag, travel wallet, tote bags and a backpack. The collection is named after an old Nordic term for strength and is made from plastic waste recycled from waterways, oceans and landfill sites.
Each product in the tote bags range removes between eight and 24 plastic bottles from the environment. They range in price from a shopping tote with an interior pocket (£16) to a tote bag with and interior pocket, interior handle and shoulder straps (£33).
The RIKR card holder (£24) holds up to 12 cards and its production means that one plastic bottle is recycled.
Gift cards for self-catering UK getaways
Kip Hideways is a membership organisation that has boutique properties at 80 locations across the United Kingdom. The website is designed to showcase affordable, self-catering getaways for between two and six people. They include dog-friendly places to stay. Gift cards (£10) are a way of accessing 12 months' membership of Kip Hideaways.
Books providing travel inspiration
Books are always a great gift option. coffee table book
The second edition of Lonely Planet's Ultimate Travel List (RRP £19.99), a coffee table book, includes 500 places across the world, including 34 destinations in the United Kingdom. The top-ranked British experience is the Lake District while the world number one is visiting the lost city of Petra in Jordan.
DK Eyewitness Travel's Unforgettable Journeys (£25) is another hardback book providing travel inspiration. The beautifully illustrated book champions slow, scenic travel is destinations around the planet. They include kayaking in the Finnish Lakelands and walking the Camino de Santiago.
Look out for a forthcoming post featuring recently published books by members of the Guild.
A waterproof map case
The Ortlieb Map Case (£17.50) protects maps from water, dirt and ultraviolet light. The light, transparent case means that maps are readable from both sides and can be carried around the neck or tied to a backpack.
Further items suitable as gifts are available via The Trails Shop.
Hamman towels with multiple uses
Travellers often enjoy packing items that have multiple uses. Ebbflowcornwall's Hamman towels (£28) are lightweight and look good. Made from 100 per cent cotton, they can be utilised as a wrap, blanket, throw or shawl in addition to as towels. They are absorbent and dry quickly. They are 180cm by 95cm and feature hand-knotted fringing.
Premium hand sanitiser
Hand sanitiser never comes in wrong while travelling. Due to the pandemic it's been in demand more than ever over recent months.
Purdy and Figg produces hand sanitisers that are natural, eco-friendly and in recyclable blue or green glass bottles. The range of scents encompasses Original Citrus, Wild Woody and Charlotte's Floral plus a seasonal Frankincense and Myrrh fragrance. Created by an ex-NHS nurse and horticulturalist, Purdy and Figg's hand sanitisers are available in 50ml (£5.99) bottles, sets with three bottles (£16.99) and 250ml refills (£21.99).
Card games promoting learning
Looking for ideas that will keep children entertained while travelling? Diversity Deck card games are designed as educational family games to help youngsters aged four and over to learn about the environment and sustainability.
Priced at £9.99, each pack features 45 illustrated cards. Printed on recycled paper, the sets of cards are presented in hinged metal tins. The themes of the games include the likes of Earth's spheres, inspiring people and the biosphere. Sixteen different packs are available.
Hopefully you have enjoyed looking at these affordable gifts for travellers. Here's to the season ahead being memorable for the right reasons.