Right now, it feels like it's never been more important to get your pitch game up to scratch. From what makes a good pitch to why your idea doesn't get a reply, and the rules of 'chasing'/following up to bringing up the 'ouch' question of rates, this frank debate with four top UK travel editors will be a refreshing take on pitching tips, that goes way beyond the usual (albeit very important) tips of 'Read the mag first' and 'Check we haven't covered it recently'.

We'll talk about overwhelmed inboxes, how to get your pitch noticed, the tone of emails, taking 'pitching rules' with a pinch of salt, and, gasp, even what editors/publication can do better when it comes to working with writers. Essentially, all those questions that freelancers discuss among themselves, but don't, can't or are too worried to ask editors.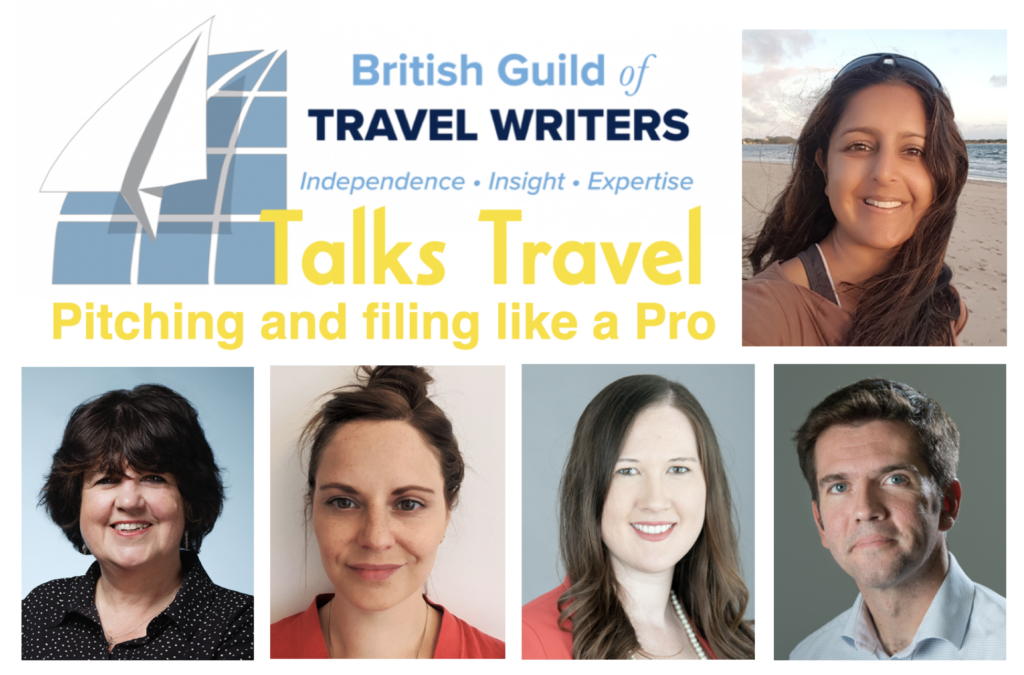 We welcome questions in advance so we can ensure the debate covers everything you've always wanted to ask. The Chat will be open and we'll leave plenty of time for a Q&A at the end.
The details:
BGTW Talks Travel: Pitching and filing like a pro
WHEN: Tuesday 8 September 2020
TIME: 14:00-15:30pm BST
WHERE: Via Zoom
PRICE: Free to BGTW members (contact the Secretariat) or £5 (including booking fee) for non-members, including post-event recording.
BGTW Talks Travel discussions are part of a series of online events to bring people together and help our members and other travel professionals move forward. By connecting leaders in the world and featuring the latest travel opinion and developments, we help keep you at the forefront, creating and innovating.
The Pitching like a pro panel*
Lyn Hughes, editor-in-chief, Wanderlust
Lyn Hughes co-founded multi-award-winning Wanderlust magazine in 1993 after coming up with the idea on a flight to South America. A fellow of the Royal Geographical Society, she's a renowned travel writer herself, a strong believer in tourism as a force for good, and her travel passions incorporate wildlife, wine and wild places.
(@Wanderlust_Lyn)
Katie McGonagle, features editor, Travel Weekly
Katie is features and supplements editor at the UK's leading travel trade magazine, Travel Weekly, commissioning and editing destination features, sponsored content, and specialist supplements on cruise, touring and adventure. She's also hosted regular webcast interviews, training webinars and launched a new online platform for hosting sponsored content.
(@katie_mcgonagle)
Nicola Trup, associate editor, National Geographic Traveller
Nicola is Associate Editor of National Geographic Traveller and Deputy Editor of National Geographic Traveller Food. She also freelances for publications such as The Sunday Times, i, The Guardian, The Telegraph, Time Out, Rough Guides and Lonely Planet. Previously, she was deputy head of travel for The Independent and London Evening Standard.
(@nickytrup)
Ben Ross, deputy head of travel, Telegraph
Ben is the deputy head of travel at Telegraph Media Group. He began writing about travel in 2001, becoming travel editor of The Independent newspaper in 2007 and head of travel for the Independent, the Independent on Sunday and the i paper in 2011. He joined The Telegraph in 2014, and is responsible for editorial content across both of the Telegraph's weekend travel sections.
(@benross01)

HOST:
Meera Dattani events director, BGTW
Meera is a travel journalist, co-editor of online travel magazine Adventure.com and co-founder of the Unpacking Media Bias newsletter. Working simultaneously as a freelance writer and commissioning editor over the past four years has given her a bird's-eye-view over the pitching-and-filing process.
(@no_fixed_plans)
The event is free to all BGTW members. (Get in touch with the Guild secretariat to sign up.)
Non-members are welcome to attend for a minuscule sum of £5 (including booking fee). Click below to get your ticket!
Can't make it on the day? If you register for the session, you will also receive a recording/link to the discussion afterwards.
Consider making an additional donation
Your additional donation helps the Guild provide content like this free of charge for those who can't afford a ticket.
How do I join a BGTW Talks Travel discussion?
First, you signup for the event via Ticket Tailor by following the button above. Then you will receive a Zoom registration link which you will need to complete to be sent a Zoom url to join. We advise you do this in as soon as you buy your ticket to avoid missing the event. (You can sign up and download Zoom here.)
At the time of the webinar, simply click on the Zoom url in the email and you'll be taken to the Zoom website — you can join via the website or the desktop or mobile app.
Once the panel is ready to begin, you'll be admitted to the room. You'll be able to see and hear the panellists and our moderator, and type messages via the Zoom chat function. You will be not be visible to other participants. Your name will be visible if you join in the chat.
Questions? Let us know. Hope to see you there!
* Scheduled to appear