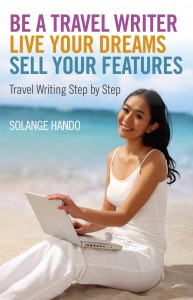 Why did I want to write a book? To be honest, I didn't.
Travel features are what I do but when someone asks you for a book, you don't say no. Barely a whiff of interest and before a full proposal was sent, the contract was in the post. Life moves in mysterious ways. Unknown to me, a commissioning editor from John Hunt Publishing attended a writers' conference where feedback on my travel writing workshop caught her attention.
Be a Travel Writer, Live your Dreams, Sell your Features is a long-winded title for SEO but a quick easy to read book for aspiring travel writers.
With so many self-help books for writers, was there really a gap? I thought so. Unlike most other guides to travel writing, this one focuses strictly on writing and selling travel articles as the easiest way to break into travel writing. It is peppered with real life anecdotes designed to entertain as well as inform.
Did I really sleep with a buffalo tied to my bed, pose with vipers and shake hands with the king of Bhutan? Yes, I did.
Anecdotes aside, the content was easy to source. As an extension of the travel writing workshop, the format was ready made; research, pictures, markets and style, approaching editors and growing your business.
Writing 25,000 words took me far beyond my comfort zone but as they say, 'anyone can eat an elephant one bite at a time.'
The best approach was to think of it one chapter at a time. In the final stages input from other professional travel writers, mostly from the Guild, added weight as well as words.
How long did it take to write? I was given three years but delivered within 12 months, with frequent breaks to pursue commissions and retain existing article markets.
It raises a crucial question. In these days of shrinking number of publications and poor rates of pay, should we really share the secrets to encourage competition?
I believe we should. Competition demonstrates confidence and keeps us on our toes. That's good for anyone.
Besides, if we look back at our own beginnings, most of us will remember how others, many of them established writers, pointed us in the right direction. It still happens today, of course, for there's a lot of talent out there. Through its annual competition for new travel writers and workshops led by members, the Guild certainly plays a significant role in promoting quality writing and securing the industry's future. It feels good to be part of it and pass on the baton.
Be a Travel Writer, Live your Dreams, Sell your Features will not benefit any half-hearted scribbler who gives up at the first or second rejection. On the other hand, new writers filled with passion and determination will always be successful, with or without this step by step guide. The book simply offers a short cut so they will reach their goal sooner rather than later, avoiding pitfalls while gleaning valuable advice on every aspect of the genre, so they too can live their dreams and enjoy 'the best job in the world', as described by Hilary Bradt in her generous endorsement of my book.
About the author – Solange Hando

Solange Hando is an award-winning travel writer, photographer and editor. She works as a freelance and has published over 1,000 features in 96 titles worldwide and on the web. She covers every continent but has expert knowledge on France and Bhutan.