With dozens of islands to choose from in the Seychelles, where do you start? After Mahe, Praslin and La Digue have been visited, this choice of three others will satisfy most in terms of price, quality, wildlife experience and environment, writes Geoff Moore of The Travel Trunk:
Cerf
Closest of the three is Cerf Island; a short boat ride from Eden Island Dock on Mahe will have you into their colonial-style reception building in 15 minutes. This is the lowest in cost of the three but the family run hotel L'Habitation is not short in quality, friendliness and old-world charm.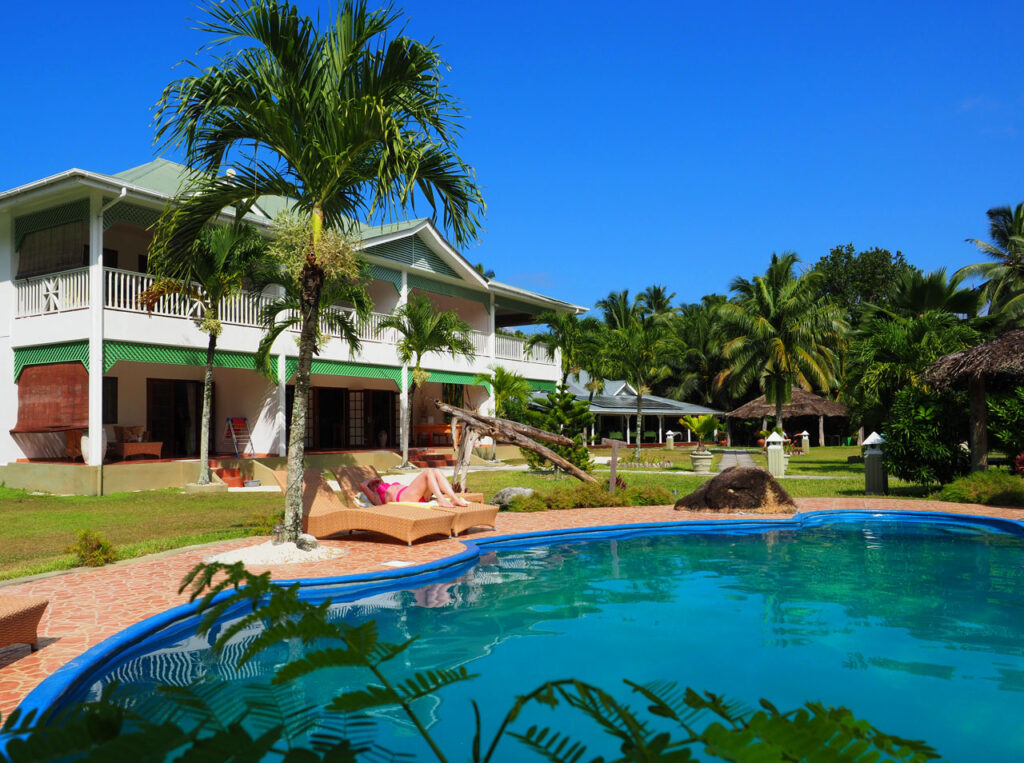 Located just on the edge of a marine park it gives its guests a simple but comfortable experience. Rooms are modest but functional, with a small safe, TV and fridge and air conditioning in the bedroom, and those on the first floor of the main building have extensive balconies. The sizeable bathroom was dated but certainly clean, and completed the set-up for an enjoyable three-day stay away from the bustle of Mahe.
Dinner is pre-ordered during the day and served from 8pm onwards. Other daytime meals, snacks and drinks are also taken in the open-sided restaurant too. The well-tended grounds are home to coconut palms, tropical flowers and a swimming pool.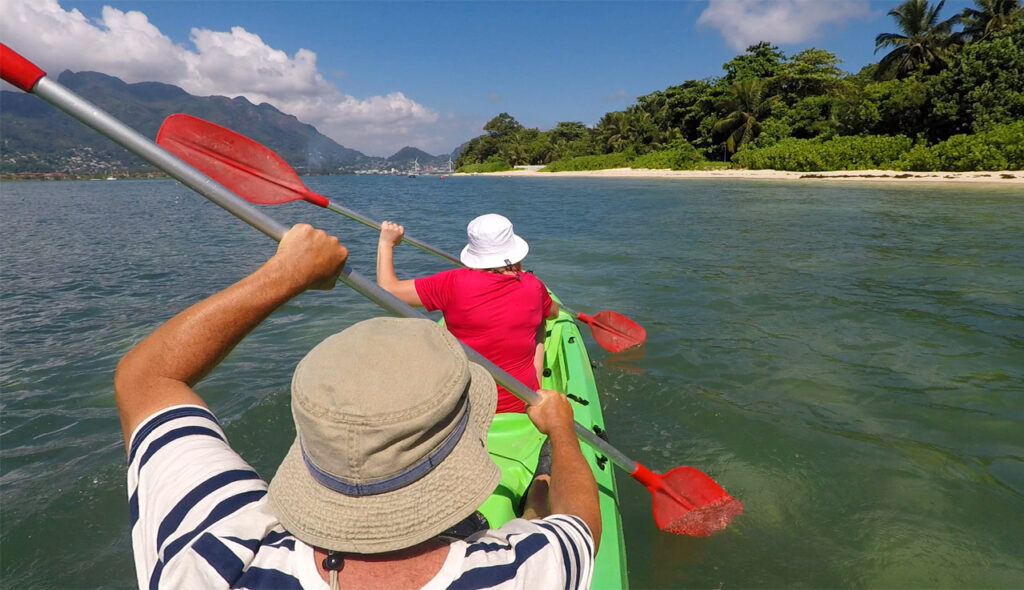 With the marine park on the doorstep of the hotel, it's easy to get on the water. Sign up for a kayak to explore more from the sea and even circumnavigate the island where another small hotel and a couple of guest houses are located.
For getting in the water, guided snorkeling tours out to the reef are possible, where many exotic species of fish can be seen.
seychelles.org/hotels/lhabitation-cerf-island-hotel
Silhouette
Topping out in terms of cost of the three islands visited is Silhouette. This is an island under the luxury Hilton brand.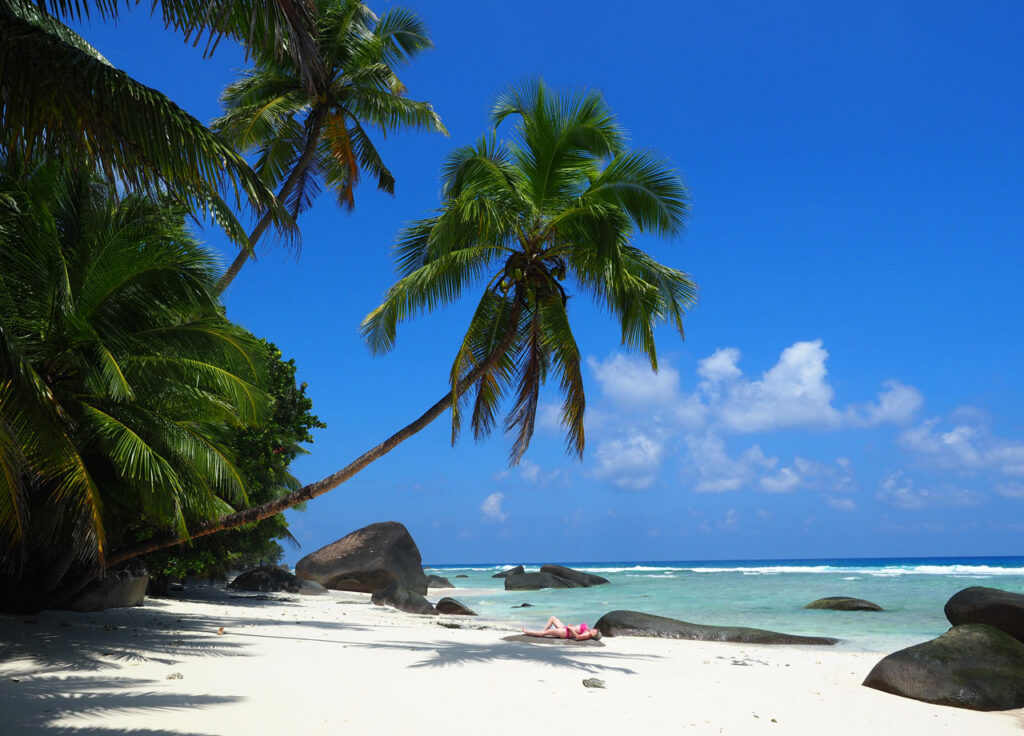 Accommodation there is in spacious individual bungalows described as garden rooms or beachfront rooms; some larger and even more luxurious ones come complete with plunge pools, as do some of the 'Hill Side' rooms.
They are all finished to a high standard with numerous gadgets, sumptuous sofas and polished fittings all contained under a cavernous wooden pyramid roof.
A bath and rain shower adjoin the bedroom with an exterior shower available for a shower 'au naturel' in the small private walled garden to the rear of the property.
There are no shortage of dining options here; as well as the main buffet-style restaurant, the cuisine options include Creole, Italian and Oriental. I really enjoyed dining on fish right on the beach at the 4th Degree.
The extensive beach that fronts the main part of the hotel gives guests plenty of space to find a quiet place to tan, swim or just enjoy the tropical splendor of a white sand Indian Ocean beach.
If this just one long beach is not enough, then this mountainous volcanic island has other beaches that can be sought out on foot. Guides at the hotel will take you on trails to more remote ones but several closer ones can be tracked down easily without them.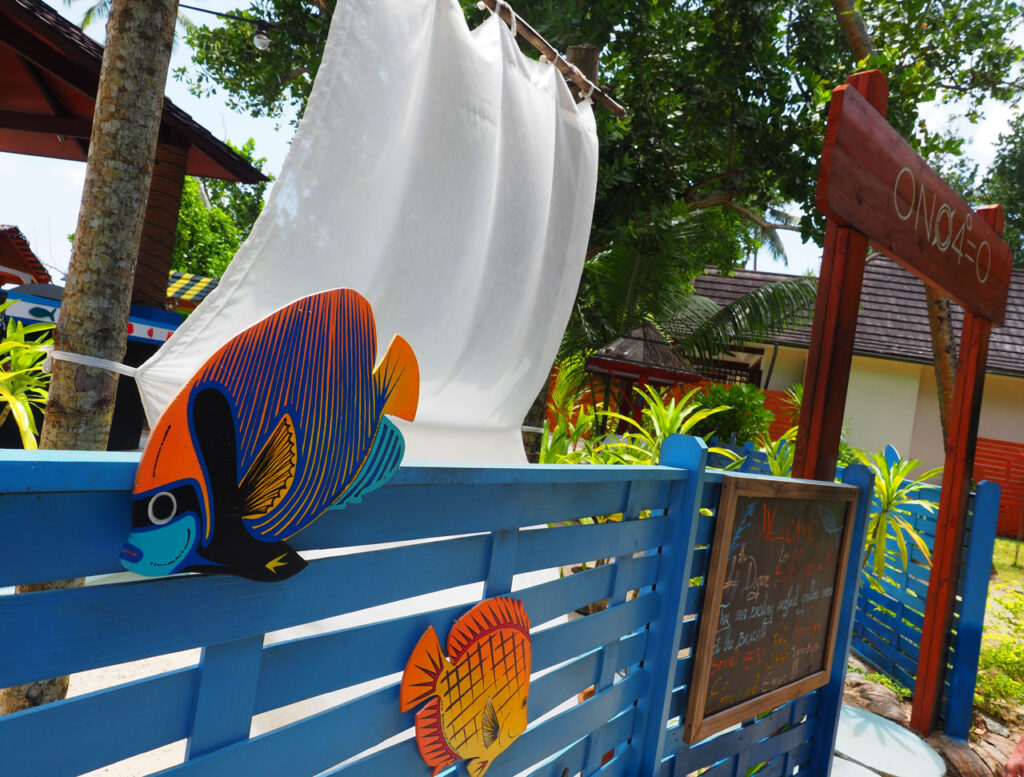 The highest peak on the island Mount Dauban (740 metres) is a challenge for more serious walkers, as it will take a trek of around six hours to complete, in tropical heat, so be warned but the resulting views are well worth it. Perhaps check out the rare Coco De Mare (sea coconut) that grow on the island too! A PADI diving school is on site and sport fishing trips can be taken whilst on the island so it's family friendly, too.
Various options are available on the island in terms of dining, whether you opt for half-board or full-board. Of course, you just cannot pop back to Mahe for a takeaway unless you hire the helicopter which does serve the island – but at around €600 euros each way you may find that a hotel meal deal is a cheaper option!
This is stylish luxury retreat with an excellent spa, lovely large modern pool and amazing service in a lush setting with options to be lively or just laze.
hilton.com/en/hotels/seychelles/hilton-seychelles-labriz-resort-and-spa-SEZLBHI/index.html
Bird
The furthest of the three islands is Bird Island; a 30-minute flight will get you to the mown-grass half-mile-long landing strip. This island is very different as it's a low 'sand cay' rather than the other two which are made of granite.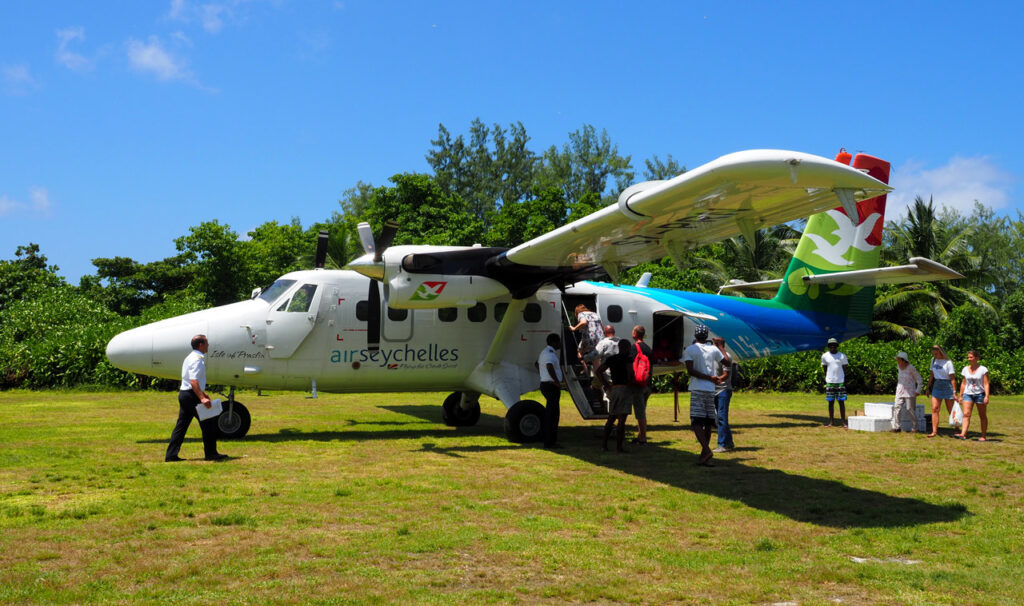 It's named accurately, as the birds rule the roost here. We humans are merely very casual and part-time visitors. At peak times, the birds number in their millions and stay for many months consecutively.
Nesting grounds take up a large area of the island but you can just as easily have a pair of birds nesting in a tree by your room or even on the ground. Encounters are often close and delightfully relaxed.
Charming delicate Fairy Terns find the most precarious places to lay their eggs but are so elegant when seen flying against an Indian Ocean tropical blue sky. Perhaps not as elegant but so very long-lived are the Giant Tortoises that slowly blunder around whole island. The star has to be Esmeralda the heaviest of its species in the world and in fact is male!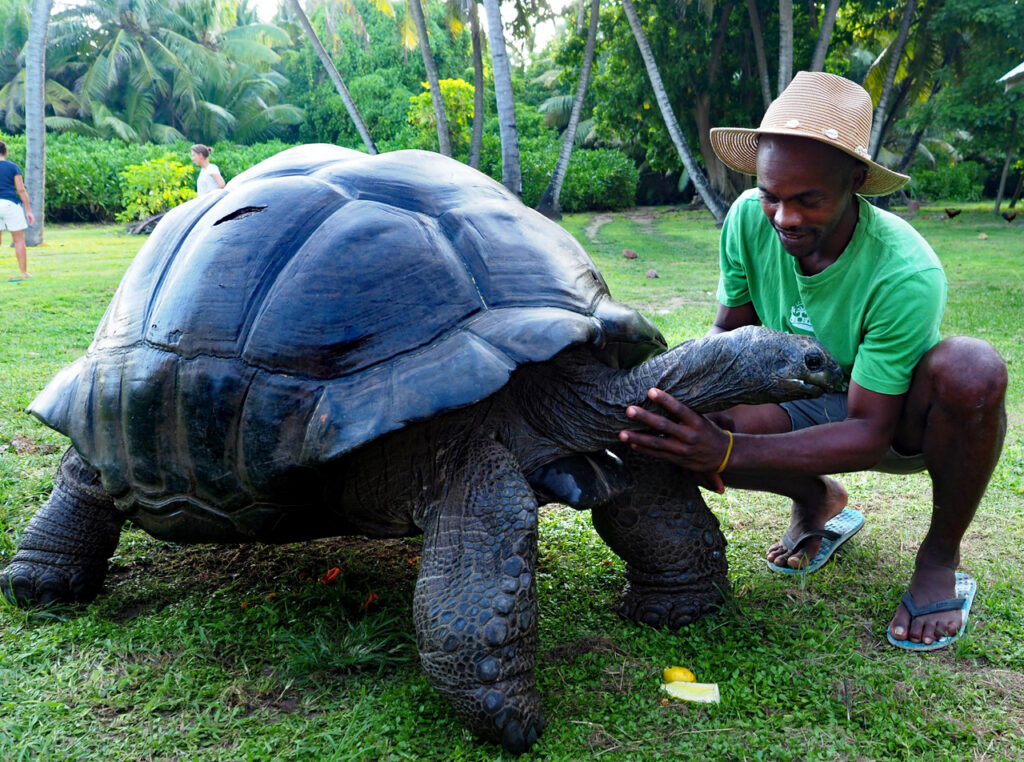 The extensive beaches and shallow reef that surround the island are great for snorkeling and there's no shortage of sunbathing beach space on Bird Island. With full-board only, breakfast, lunch, tea and dinner of tasty home-style cooking are taken in the main restaurant.
It's almost a camping safari experience on the island as the rooms are rather like wooden tents; a mosquito net-swathed bed and ceiling fan allow the noises of nature to percolate through the room. I once saw a tee-shirt referring to Bird Island that said 'I have slept with one million birds!' which is so very true, but perhaps not PC these days…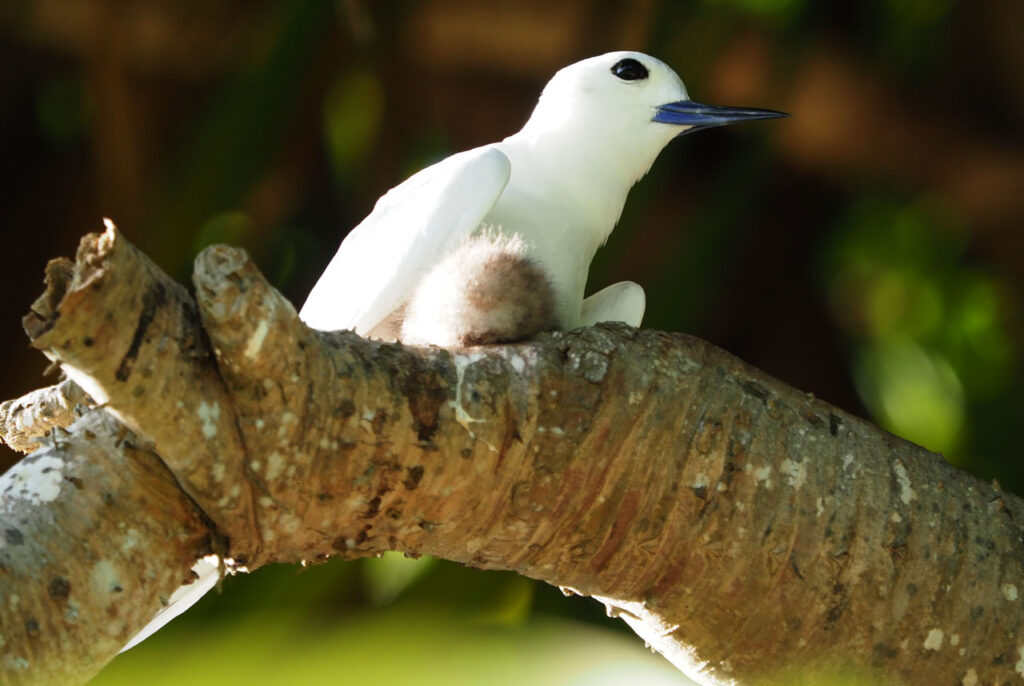 This private island, owned by the same family for a couple of generations, is such a restful and relaxing experience with their environmental passion somehow getting transferred to its guests.
You cannot help but adore the myriad of motion of the migrating birds that surround the island during your stay. It's an absolute privilege.
Award winning travel blogger, writer, videographer and photographer. Has a wealth of travel experience and has worked in Africa, the far East, America, Carribean and in much of Europe too. He has been a member of the the Guild for 14 years and worked as a board member for over two years. He is a life member of the N.U.J.
With video content now being so important he has expanded in that area currently he has 165 running on his Youtube channel. Geoff is very active in creating these videos that enhance not only his own website and blog, but are also being used and picked up by TV and production companies around the world too.