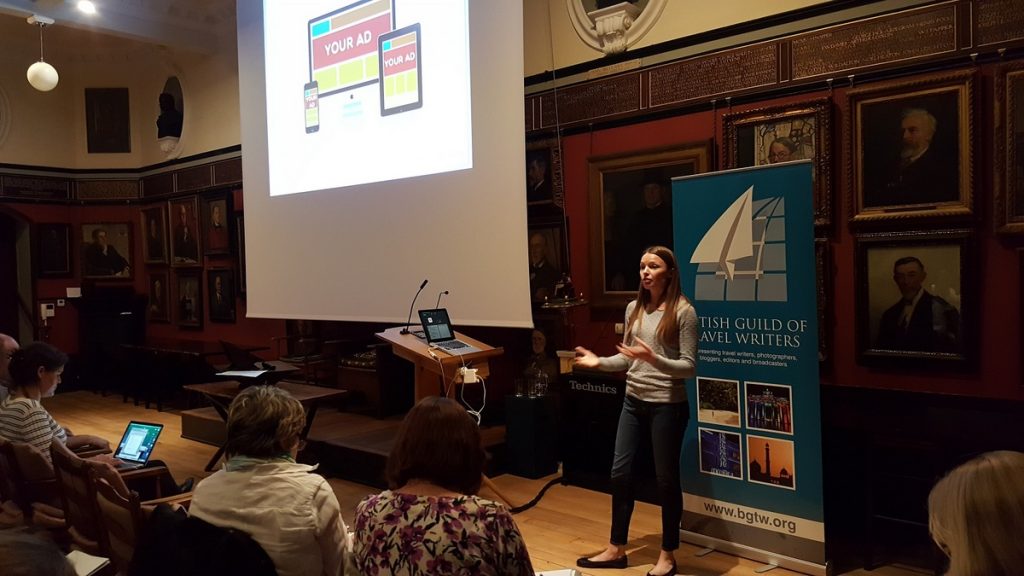 Whether by accident or design – I like to think the latter – there was a perfect match between the two presenters at the BGTW Masterclass on How to Monetise your Blog on Thursday evening at our regular venue, the Arts Workers Guild in central London.
Together they covered both the 'mindset' needed to be successful in the new online media market, and the detailed opportunities, methods and tools.
All those who attended went away afterwards feeling satisfied and satiated, and in some cases, exhausted from taking copious notes!
Terry Lee was the first to speak. Terry is one half of the husband & wife blog team behind LiveShareTravel.com. Sarah, his wife (who was in the USA attending the IPW trade show) is a guild member and with Terry is co-director of the CaptivateDigitalMedia.com blogger collective and UK Director of another collective, iAmbassador.com. So both are at the leading edge of the pro-blogger movement.
Terry made it very clear that in order to be financially successful as a blogger – and some top-end bloggers in the fashion, tech, and lifestyle sectors are earning huge sums of money – you have to treat it as a business. You have to have a business plan, you have to fulfill your clients' needs, and you have to behave professionally.
One thing he often notes about many would-be professional travel bloggers is a failure to recognise what their commercial assets are and what their value is. "The travel and tourism industry wants access to your audience," he said, "they are talking to you because they want what you have".
"You don't have to have huge numbers of followers or subscribers to be of value to them. For many companies 'engagement' is more important than numbers, and if you blog about a niche subject, your 'small' audience could be the very one they want to target".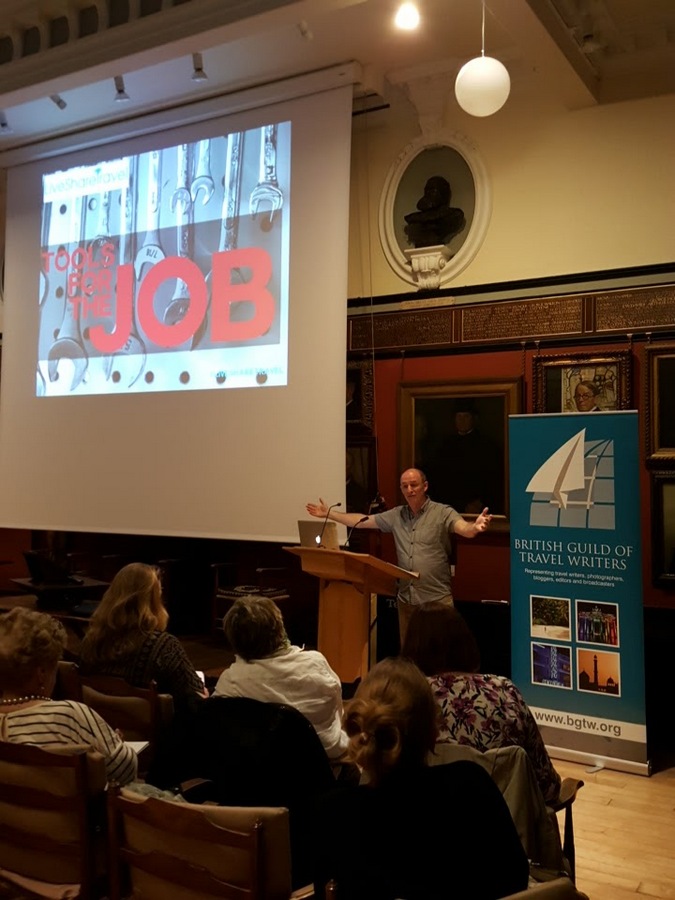 To illustrate the importance of having a small but engaged audience he pointed to the simple ad campaign his blog, LiveShareTravel ran a few years ago with the airport Meet and Greet parking company Meteor. The campaign was also being run in print and online on a number of regional & national newspapers. However, LiveShareTravel single-handedly delivered 10 times more bookings than all the other platforms put together, including the Mail Online with its millions of readers. "They get more readers in a day than our site gets in a year," he said, "but that first year our site delivered 701 bookings to Meteor. The Mail Online delivered 5. It's not about numbers [of visitors]. It's about having the appropriate audience".
Julie Falconer took over from Terry's inspirational presentation on the mindset needed, by explaining in detail all the many ways bloggers could use that mindset to make money.
Julie, originally from San Francisco, moved to London after leaving a career in finance with Goldman Sachs and a hedge fund. She started her award-winning blog ALadyInLondon.com in 2007 and turned it into a full-time job in 2010. Since then she has been featured in National Geographic Intelligent Travel, Lonely Planet, BA High Life, Time Out, Metro, and other leading travel and lifestyle publications. She is well known as a speaker in the social media conference circuit and is regularly cited as one of the leading Instagrammers in travel media.
She talked about the importance of establishing a brand supported with good design, good writing skills, good content – especially video – and good social media. When these are in place, she said, you can monetise your brand using any combination of strategies, which she then listed, starting with simple banner advertising.
Using Google banner ads (Adwords) is simple and automated, but not many people click on banners these days so it's not a big money-spinner. Affiliate ads can earn more – these are where you take a small percentage when a booking is made after clicking the ad or your site.
Visitors respond to text links more than banners so affiliated links in a post can work well, which leads to the next level of monetisation; sponsored posts (or "native advertising").
"Occasionally companies will want to sponsor you to host a post that they've written, but more & more these days they will commission you to write about their product or experience". Other partnerships might involve you hosting the entry for a competition they are running or you running your own competition for prizes supplied by them.
Increasingly, Julie said, companies are looking for partnership projects focused on your social media rather than your blog; writing about them on Twitter, Facebook, Pinterest, Instagram, etc.
Sometimes they might commission you to temporarily take over their social media account: "so you login to their Instagram account and post your photo. The idea being you bring your followers to their account". Or they may pay you to run a Twitterchat on their behalf.
Companies may pay you because you have specialised skills in content creation that can be used on your blog site and theirs. They might send you on a fam trip, which you write up, but then they'll also pay to use 20 of your photographs, or a video for their Youtube channel, or to live stream a Periscope (interactive video), or produce 360 degree images or host a podcast.
It's a good idea to develop multiple revenue streams. A lot of bloggers do consultancy work, Julie explained. Especially if you have been successful with a particular social media platform, people will pay to learn about that. Or if you are good at blog maintenance, coding or design, you can sell those skills to companies and other bloggers. Public speaking at conferences and events like this Masterclass are also ways to 'leverage your brand'.
And there are other spin-off products. A lot of bloggers have a newsletter that they make money through, with affiliate links, advertising, competitons and sponsored content. E-books on your particular area of expertise are a good way to make extra money, and a number of bloggers develop travel product such as tours (standalone or co-branded with a tour operator) or expert-guided excursions in a particular destination.
All in all Julie was able to offer dozens of practical ideas and examples of ways bloggers can build a brand and make a living from it.
Both Terry & Julie were clear on the issue of editorial control & ethics. Always be transparent with your audience on sponsored posts, even on social media (use #sp #spon or #ad), and be clear with sponsors what you will write about, what you won't write about (eg. casinos) and what you will do in the event of a bad experience. "I always disclose everything, even if I get it for free [not paid]," said Julie, "there's no need to be squeamish about this; people are used to reading 'I was sponsored' on posts. There's not as much stigma about that. It's a common thing and a legal requirement now".
---
The BGTW runs Masterclasses for up to 100 people, and Workshops for around 12-20 around the year. Both are open to members and non-members for a small fee. Details are on the BGTW website.
Cross-over journalist from trad to new media. Specialised in travel journalism as an independent local radio presenter/producer in the '80s and national radio (Classic FM) 1992–99. Now owner of specialist niche blog Mechtraveller.com . Regular speaker at travel blogging/ SM conferences.  Former BGTW Chair & Vice-Chair.