Last week Norwegian Cruise Lines (NCL) took possession of their latest cruise ship, Norwegian Bliss, during an on board signing ceremony at which ownership was transferred from the Meyer Werft shipyard to NCL and their respective flags were changed.
An hour later the first guests – mostly journalists and agents, including half a dozen members of the BGTW. I was one of them – started embarking for the two-night inaugural transfer to Southampton where she would pick up her first real guests.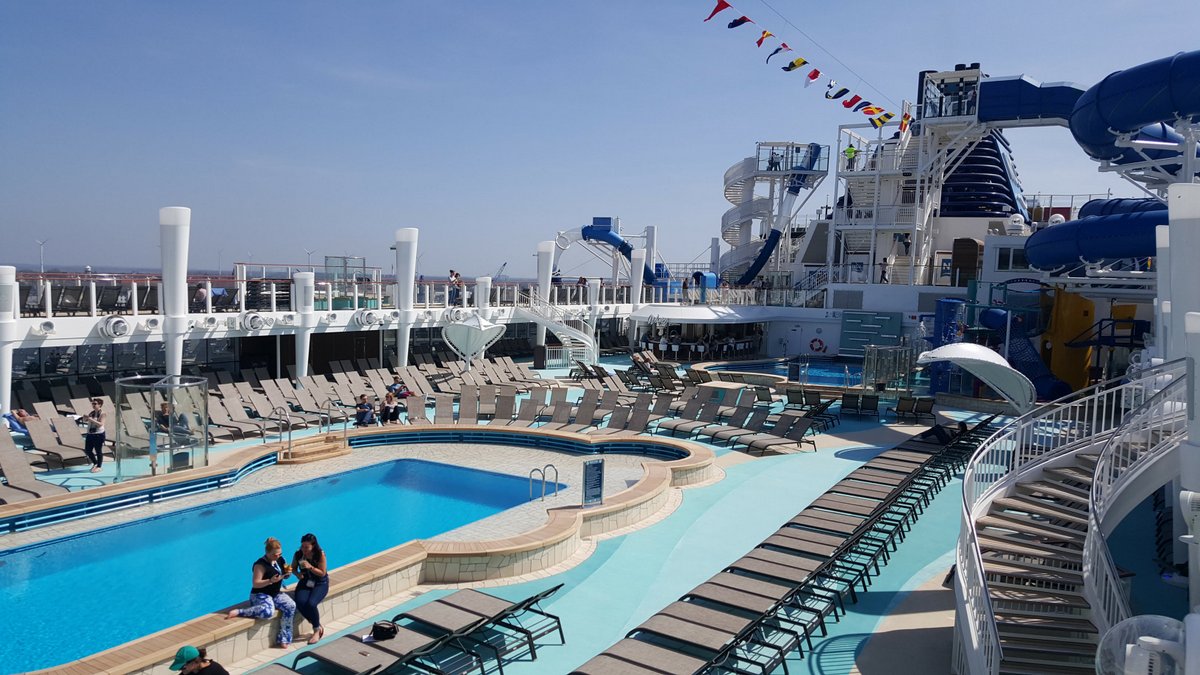 A public letter to the occupant(s) of Suite No 14812
So sorry to have got there first, especially if you were on the "maiden cruise", but they sneaked a bunch of agents and journalists on board for the transfer from Germany to Southampton, so as NCL VP Harry Sommer pointed out, we were the very first to try out the beds and pretty much everything else on board, and I can tell you, there's a lot for you to enjoy on your cruise.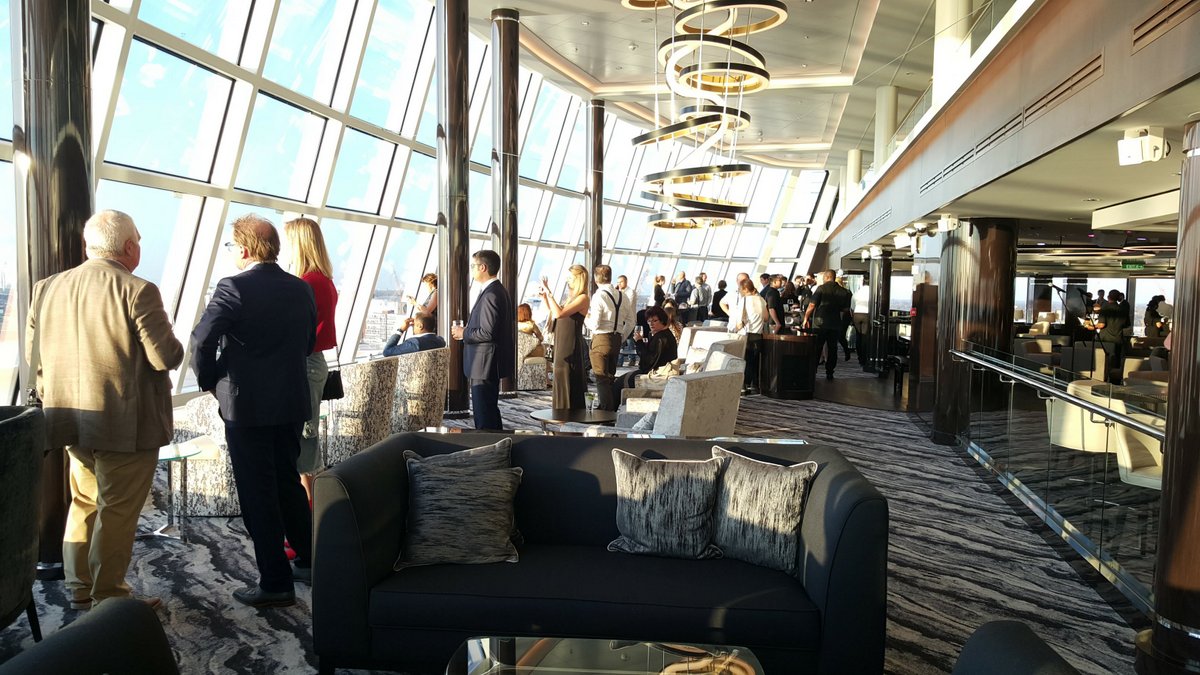 For a start, your suite. As you know, it's a Mini Suite with Balcony, full of thoughtful design touches.
These include the USB sockets by the bed to charge your phone and a room safe with a light inside!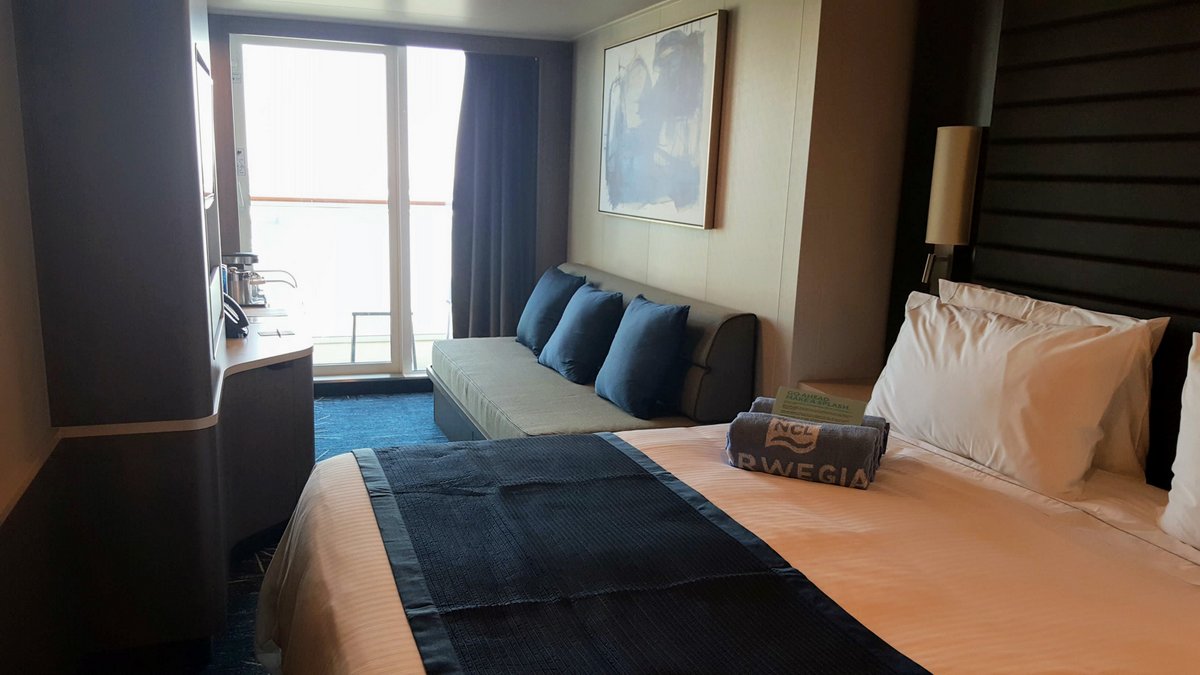 There's also the balcony with an interesting view of the Ocean Loops flume – a transparent section of tube hangs overboard about 10m above you and 4m away from the ship, enabling you to watch terrified guests as they whizz past 48 metres above the sea.
But you won't spend much time in your suite. You'll want to explore the ship and all she has to offer.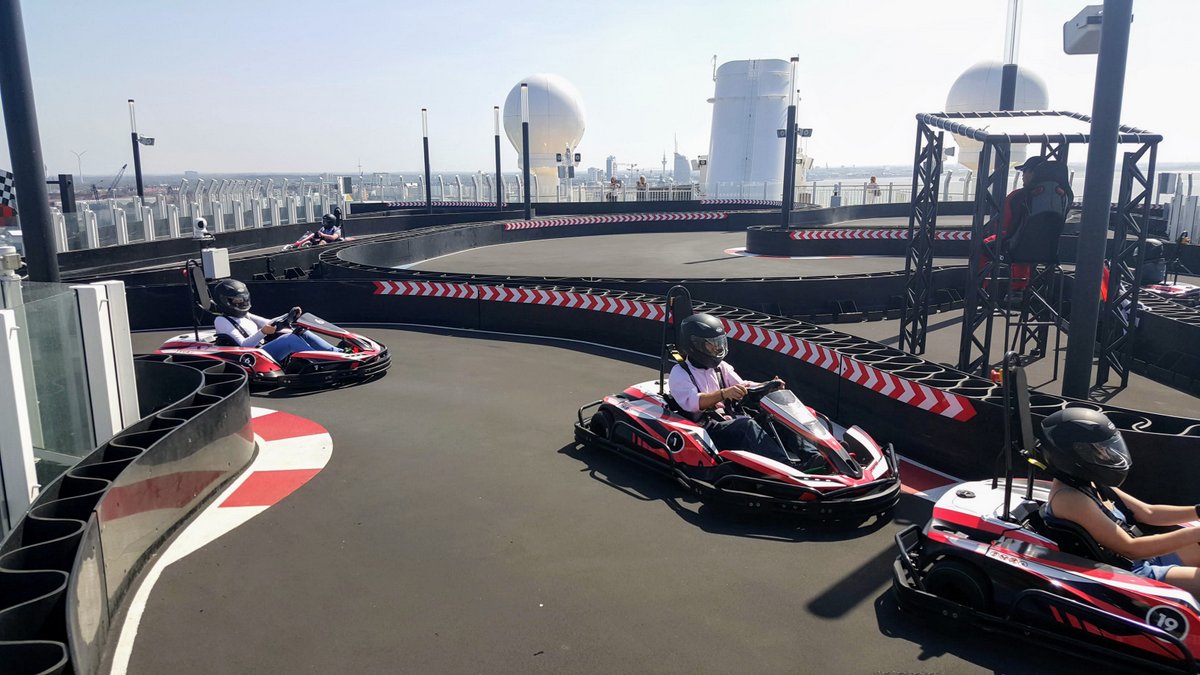 Bliss's big three new attractions on the upper decks are: the flume I just mentioned (get released through a trap in the floor, loop the loop and pass quickly by your stateroom!); a Laser Battle complex (like indoor paintball, but without the paint); and their star attraction, The Racetrack where would-be Lewis Hamiltons can race for victory at speeds up to 30 mph in electric go-karts on the largest racetrack at sea – a third of a kilometre!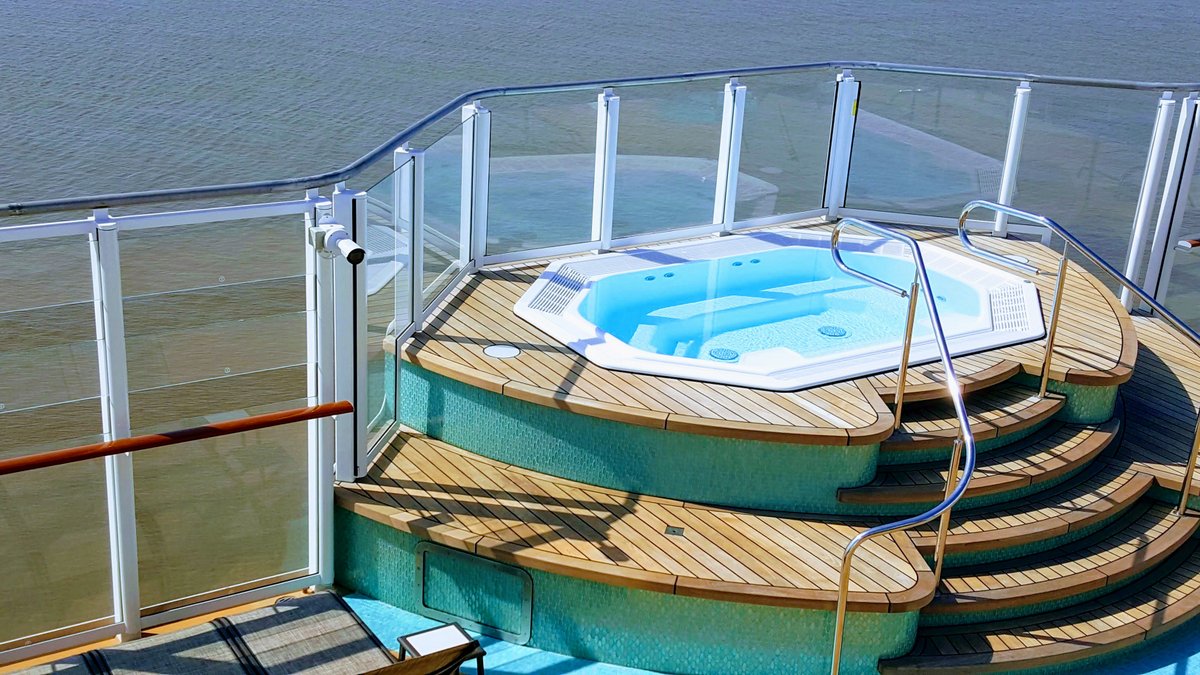 After that, you'll need to chill by a pool, or in one of the six infinity hot tubs.
You're not staying in The Haven, NCL's exclusive luxury complex with its own pools, butler service and 80 lavish suites, so you'll probably hang out by the main pool, but here is my tip.
If you pay a little extra you can join the Vibes Beach Club and get access to a private area of loungers, hot tub and bar. Your lounger is yours for the day. What's not to like? Oh, and say 'Hi' to Ruby, one of the smiliest bartenders on the ship!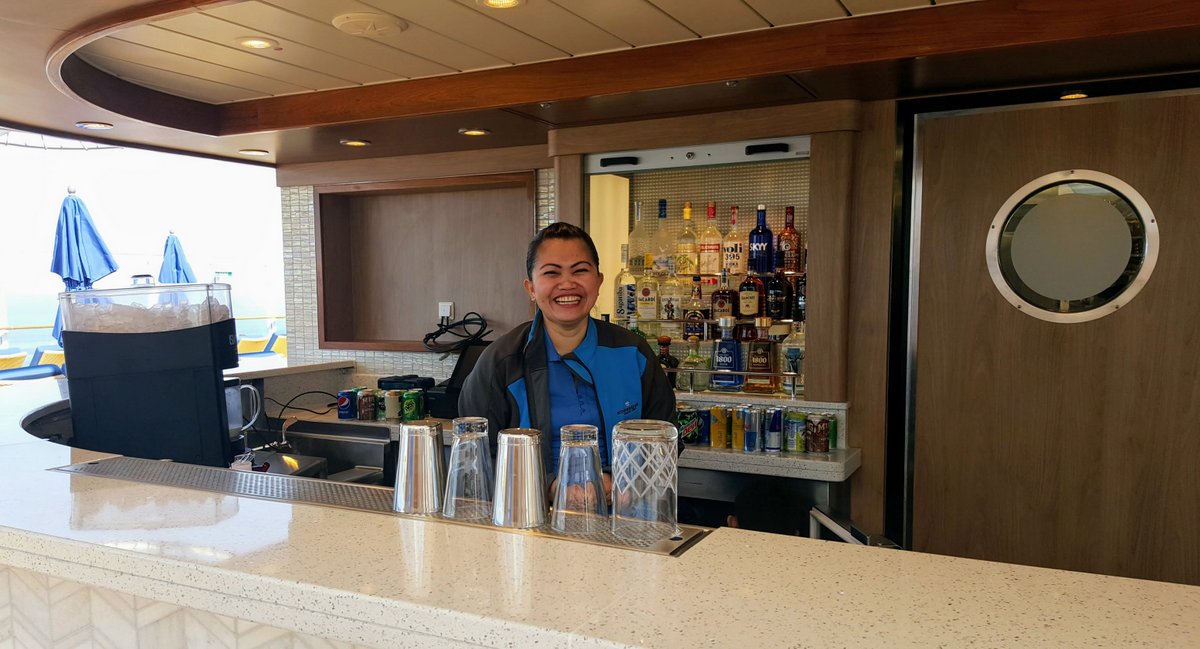 As you know, NCL ships offer 'freestyle dining'. The idea is that you can decide which of the 27 dining venues on board you want to eat at, just as if you were at home.
Make a reservation or turn up at your restaurant of choice – for example Los Lobos (Mexican), Cagney's (Steakhouse), Ocean Blue (Seafood), Teppanyaki (Japanese), Le Bistro (French), or well known brands like Food Republic or "Q" Texas Smokehouse.
Once you've dined you can take in a show. Bliss has two main productions: the first is the Tony Award-winning Broadway Musical "Jersey Boys", which tells the story of Frankie Valli and 1960s band, The Four Seasons, with all the famous hits including "December 1963 (Oh What a Night)," and "Walk Like a Man". Trust me, you'll love it!
The second is "Havana", an in-house production produced exclusively for NCL by Tony Award-winning director and choreographer Warren Carlyle, which tells the fictitious story of a family-run nightclub through dancing, music and spectacular costumes.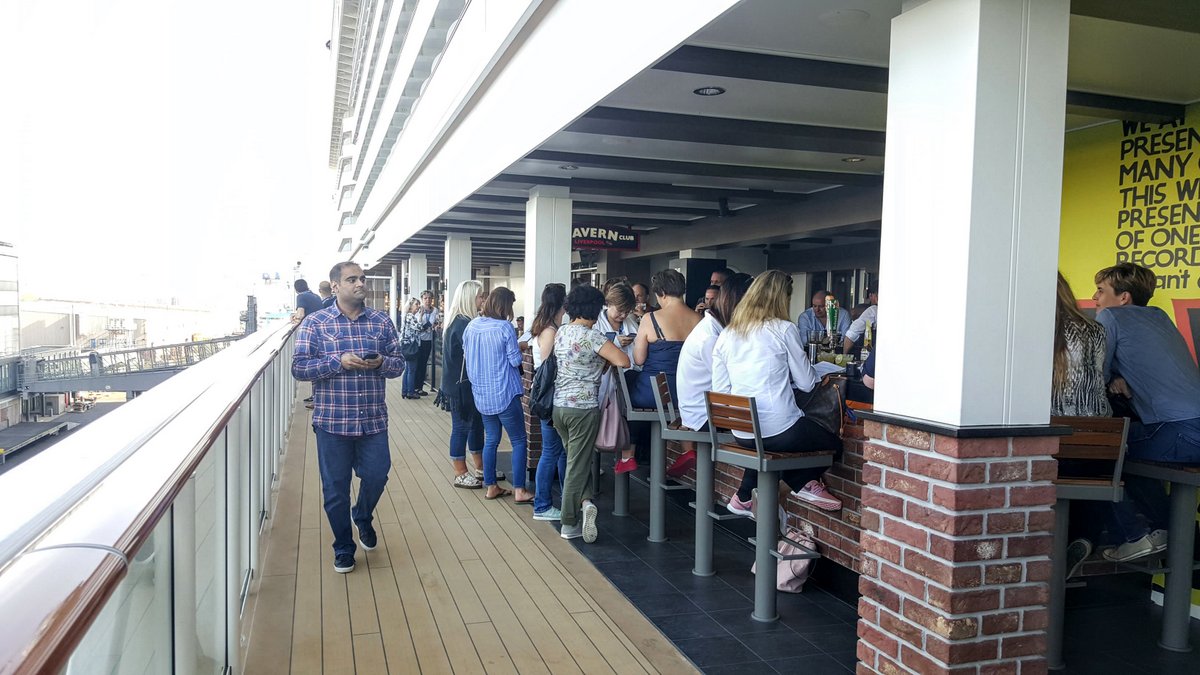 After that, if it's warm enough I'd recommend a stroll past the eateries & bars on the Deck 8 promenade. If it's chilly do the same inside. There are 14 bars & lounges on Bliss to try out.
Then, if it were me, I'd head for the Cavern Club for a night cap while watching the excellent Beatles tribute band.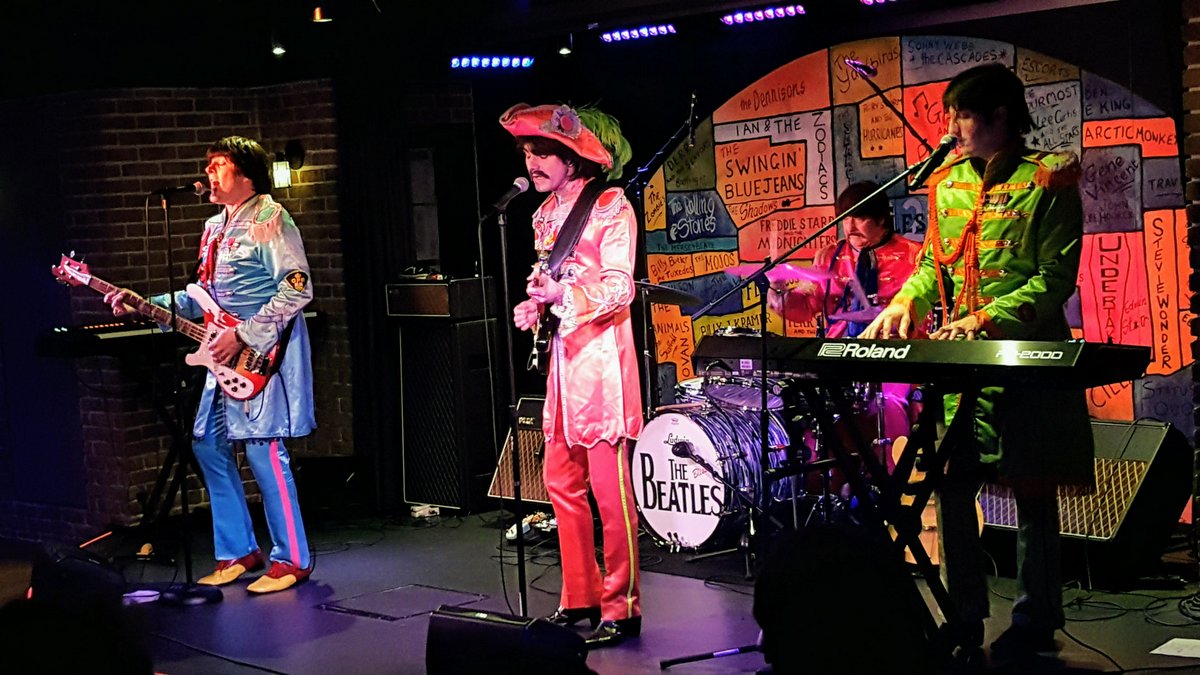 Anyway, pace yourself. You have a whole cruise to enjoy. I only had a 2-night snapshot. I'm tempted to return to suite 14218 when Bliss starts her regular cruises in Alaska. Perhaps you'd leave me some notes?
Declaration
Alastair (and five other BGTW members) was a guest of Norwegian Cruise Lines.
Cross-over journalist from trad to new media. Specialised in travel journalism as an independent local radio presenter/producer in the '80s and national radio (Classic FM) 1992–99. Now owner of specialist niche blog Mechtraveller.com . Regular speaker at travel blogging/ SM conferences.  Former BGTW Chair & Vice-Chair.