I broke my phone. As in I actively, with intent, broke my phone. Never one to do things by halves, in a fit of hormonal rage (yoga is not working), as ten consecutive very bad things had happened in a few days, I smashed the mobile to the floor and then picked it up, realising the screen wasn't broken so I did it again until it was. Having paid out £65 and waited over a week to get back online again, I felt a menopausal break was needed and as The Atlantic Hotel in Jersey is listed as one of the three main hotel staycation breaks, I booked myself in for a couple of days of R and R.
So early one Friday morning, after a train to Gatwick and 30- to 50-minute flight, depending on the wind, I found myself at Jersey airport.
I could smell the salt in the air. A few twists and turns past smaller seaside villas with names like Avoca and Butterweed, and franglais street names, reminded me how close we were to the French coast. We arrived at the first harbour with small boats, none of them fishing, and no kiss-me-quick activities. All were very quietly buzzing, with silver light bouncing off the boat hulls, in the late November afternoon as we moved towards St Helier.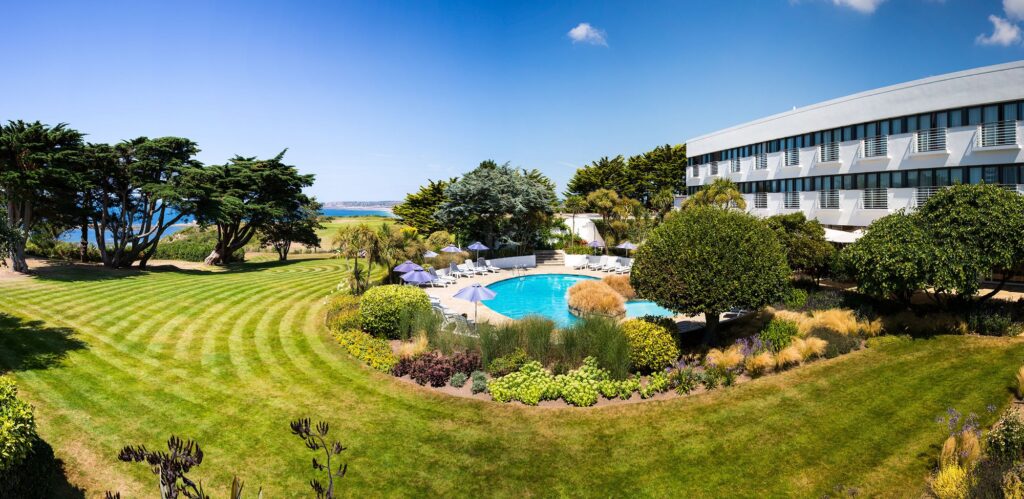 Jersey, famous for its fragrant potatoes, its Durrell Zoo, its long eye-lashed cow (very jealous), is enchanting even in — and I would guess at, especially in — the winter months. Fewer tourists, fewer cars, and more dramatic thanks to the Atlantic. The hotel is allegedly one of the best in the UK for views of ocean storms. It's difficult not to get stirred.
Yes, the sky-scraping banking headquarters, which has made a mini-Square Mile of the shoreline capital of St Helier, casts a grubby shadow over what is otherwise an incredibly beautiful island, but as the chef at the Atlantic, the multi-award-winning Will Holland, told me as we walked one morning scavenging for seaweed to add to his phenomenal menu, "The real wealth of Jersey is the 45-mile coastline walk."
The Atlantic Hotel is four-star, but has the service and style of a five-star hotel. Boutique in size, staff are efficient and elegant, the hotel, on a hill looking out over towards the ocean and lighthouse, makes clever use of space and light, feeling more like a stylish lighthouse on the inside.
There's even a large pond which is half-in, half-out of the reception area, with loads of gold fish and two very large koi karp which reminded me of the mystic and eccentric animals in the Studio Gibli enchanted film, Spirited Away. Their huge mouths come to the surface as you walk by, as if to whisper words of wisdom like 'don't eat the seabass'. One looks eerily like Michael McIntyre.
As for getting around, although you can hire a car, Jersey is a walking island. You walk everywhere. There are no buses that go around the entire island – you need to hop off and on about three – but it is a wonderful place to coastal walk. With all that local gin and wonderful local wine, you'll probably need to go with public transport or walk anyway.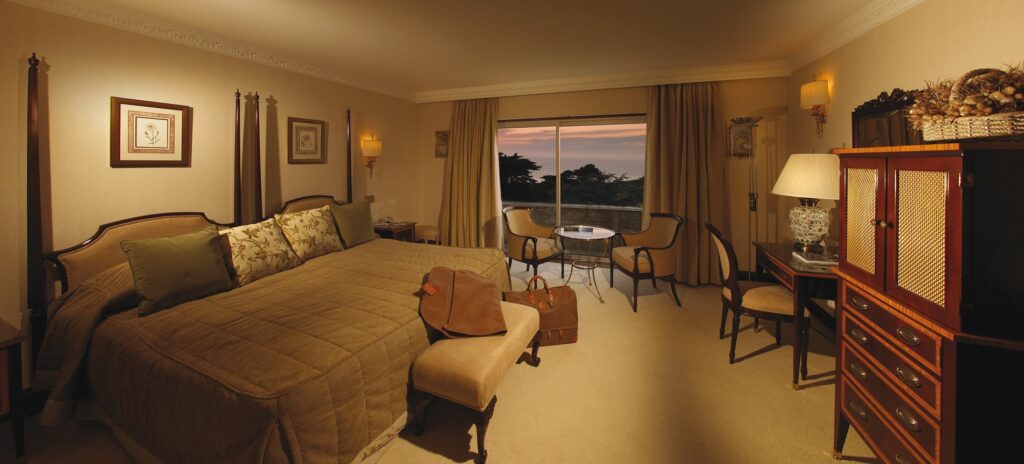 On the longest day of the year, hundreds come here to walk around the 45 miles, starting at dawn, some ending at dusk. I managed just five hours, but saw incredible wildlife. It's the sort of place to make you want to get a book and find out about birds. And Will said I could eat all the seaweed as long as it hadn't been out of the sea too long: 'Just follow the tide out.' I also waited to clean it when back in my hotel room just in case some dogs had got there first.
The hotel has a small gym, heated indoor and outdoor pool and a sauna for one (at a squeeze, two) and a small gym where you can do yoga if you so wish, or a treadmill. The rooms are stylish, spacious, well thought out and the views of the Atlantic Ocean are exceptional. Surrounded by parklands and golf course, it's easy to feel you could just stay and chill indoors, — but, whatever the weather, go outside and walk.
I walked occasionally along the road, dodging another type of animal — the mamil (middle-aged men in lycra) on a bikes, realising they could have been in their lycra the day before, just on their surf boards.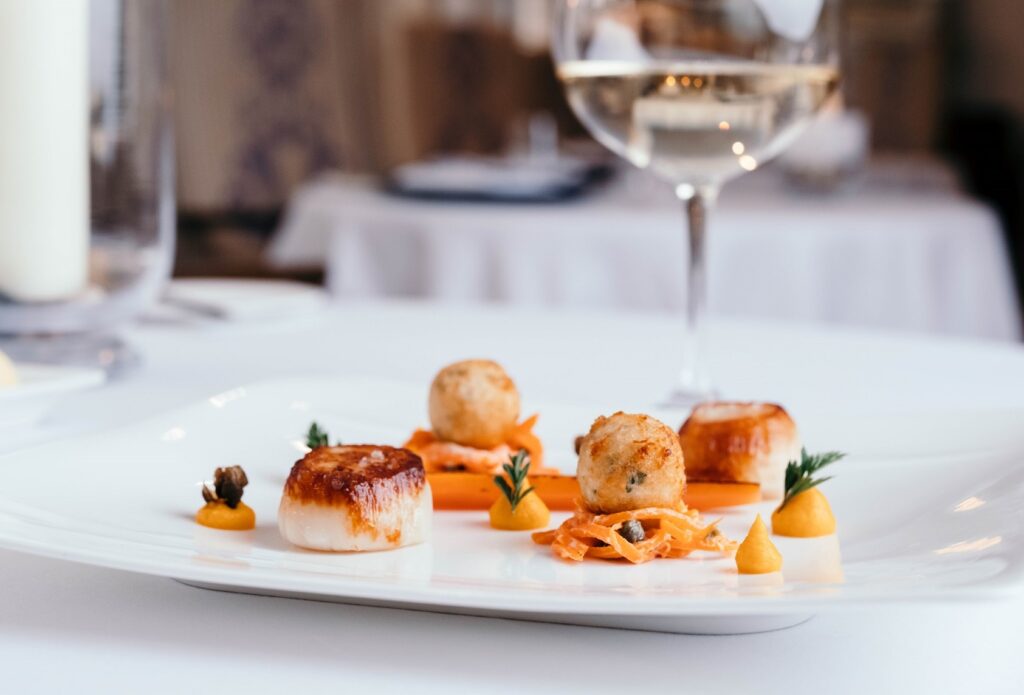 Breakfast early (starts at 7.30am) and start early to make the most of the shorter winter days. There's fewer daylight hours, but also fewer visitors, which is a plus. Sunday lunch at the Atlantic is popular at £32 a head or tea and cake for £10 is excellent value and the produce is local and seasonal.
As for the Atlantic, it is a hotel for lovers of brisk country coastal walks; dramatic, tear-jerking scenery; fabulous food; interesting conversation with charming and sincere staff; and some very interesting art work (I'm told not local but good all the same).
I recommend visiting the Atlantic before it gets its Michelin Star because I am sure it will soon. It is excellent value for a long weekend or a midweek break and wonderful if you like those dramatic coastal walks. I for one was completely Spirited Away by the Atlantic, its staff, and its rugged and enchanted coast.
And don't forget to talk to the animals. Just not the two-wheeled ones in lycra.
Multi - award winning journalist, TV and radio broadcaster, and best selling novelist of seven titles, as well as author of travel books Have Toddler Will Travel and A to Zen of Travel. Former presenter of Jazz FM Travel Guide, reporter for Classic Fm Travel Guide, presenter BBC Holiday Programme and presenter Who's Been Sleeping In My Bed for Sky TV, and anchor for I Want That House Revisited for ITV.