How do whales breathe? (Through a blowhole). How did Bluetooth get its name? (From a rune stone). What does the word 'lego' mean? (Play well).
These are just some of the unusual facts that we learned on an action-packed family trip to Denmark. With me, two daughters and two grandchildren under 10, making an age range of 70 years to cater for, southern Jutland, home of the first Legoland, had it all.
Although the famous theme park was the main reason for choosing the area, many other not-to-be-missed attractions were only a short distance away along quiet roads. So Vikings and whale-watching were on our list too. Throw in a range of smart shops, excellent child-friendly restaurants and everyone was happy.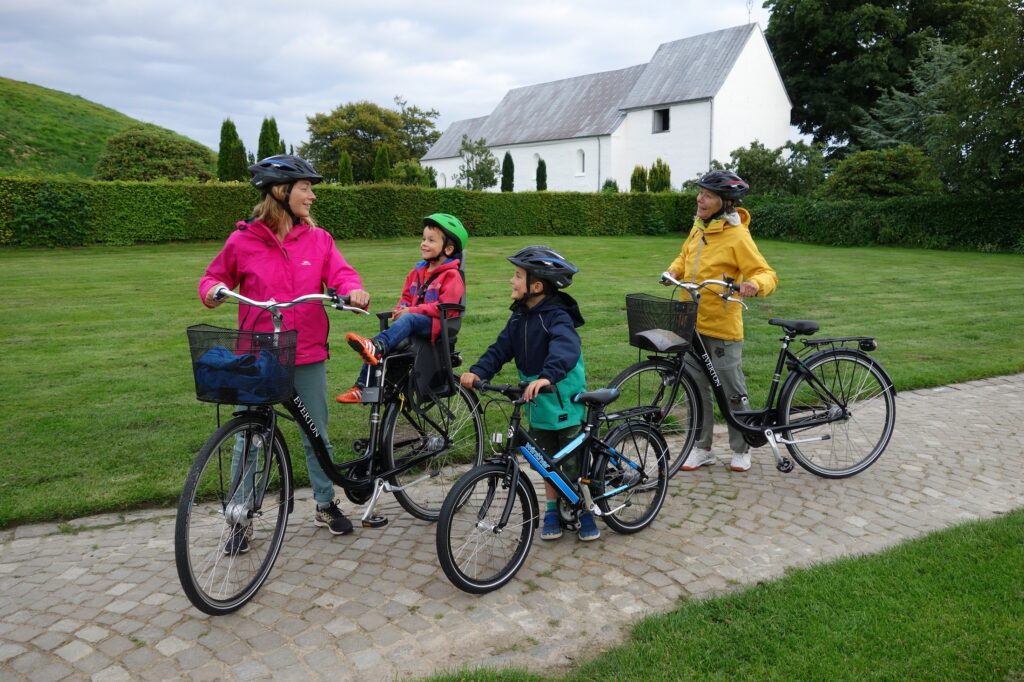 Hotel Legoland in Billund immediately thrilled my grandsons, sporting a life-size Lego Darth Vader, a storm trooper and C3PO in the foyer. Boxes of Lego were in the rooms and it was also an ultra-convenient place to stay. You just walk over a bridge into the theme park itself.
Like its off-shoot at Windsor, it centres around Miniland, a model village built with Lego but there are also plenty of exciting rides and adds-ons devoted to Lego's more recent franchises. The Star Wars tableaux are complete with puffs of smoke, Ninjago World has a laser maze and there's a wild -west gold mine and watersplash.
By tea-time I was ready to bail out when the boys dragged their mother off for yet another ride. Retreating, I relished the calm of my surprisingly spacious hotel room overlooking the park. The standard of the hotel's main restaurant was unexpected good too centering on an all-age buffet which featured local specialities, a carvery and plenty of child-appeal dishes like Lego-shaped chips and make-your-own pancakes. There was also a first-class wine list.
A short stroll from the hotel took us to Lalandia, Europe's largest indoor water park, which topped even Legoland for the boys. Cue granny retiring to a sun lounger by its outdoor pool, while the others threw themselves down an array of waterslides.. One named the Tornado whooshes you down a vertical drop on a giant rubber ring. My daughters both professed it being the most "terrifying" thing they had ever experienced.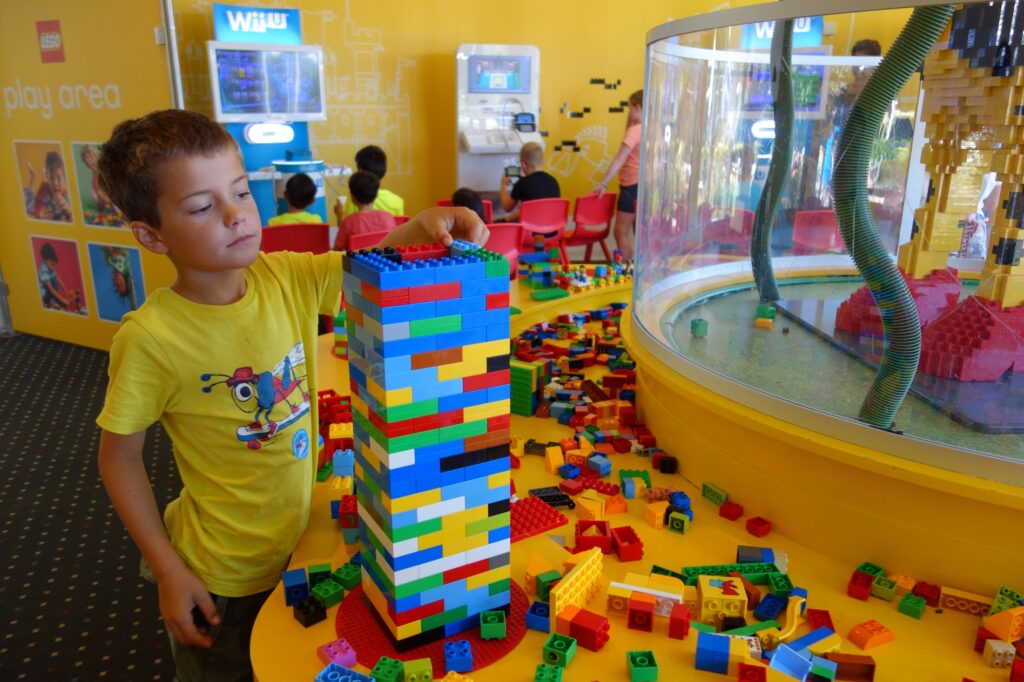 In complete contrast, whale-watching was another highlight of the trip. Middlefart on Jutland's east coast is situated on a broad 3-mile wide inlet which is home to one of the worlds' highest concentrations of porpoises, the smallest whales.
Boarding Adventura, a 70-year old wooden ketch there, 8-year old Herc was thrilled to be invited by the rugged captain to help steer us out from the quay. Alexi (6) was handed binoculars and told to look out for the black backs of porpoises as they popped up out of the still blue water. 'There!' he shouted excitedly only minutes later.
During the two-hour voyage, the chatty crew of modern-day Vikings told us how the boat once transported live eels from Norway to smokeries around Middlefart. We learned from a life-size stuffed whale how baby whales learn to swim, what they like to eat and when they sleep. We heard how whale oil was once used in street lamps and fishermen would corral them into nets by banging on the water with their oars. Afterwards the boys spent ages in Middlefart's tiny whaling museum glued to a touch screen, trying to corral their own shoals of porpoises.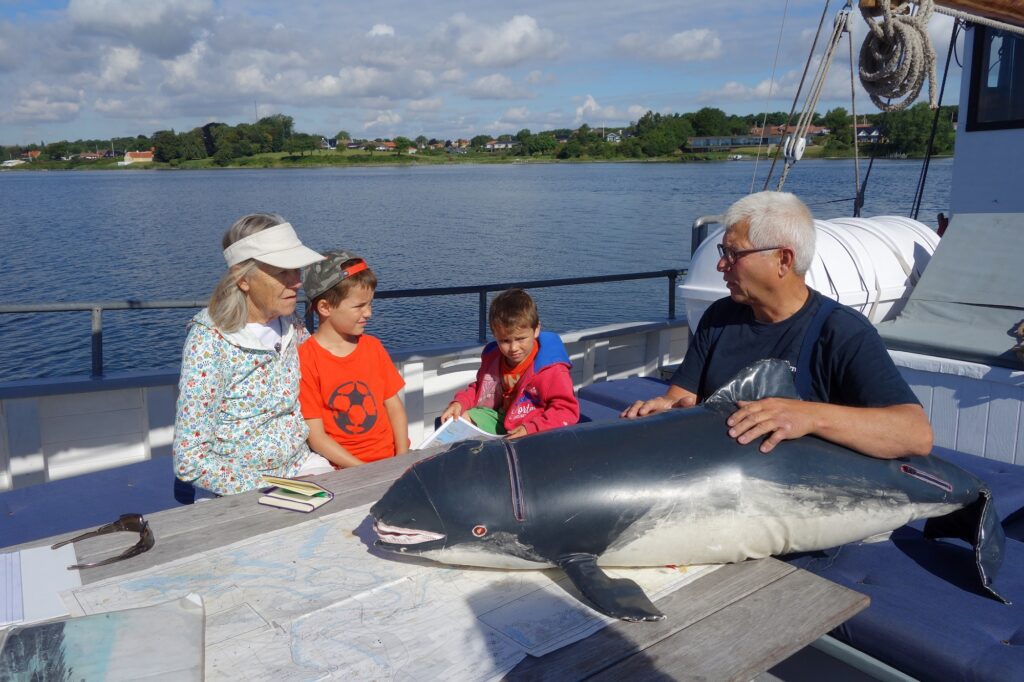 Having moved on to stay at Vejle nearby I was pleased to have some interestung shops to browse in along this pleasant little town's bustling pedestrianised high street, treating myself to lunch at a superb fish restaurant beside the marina. Meanwhile the boys spent the day at the nearby Gorilla Park, climbing trees with ropes and pulleys between a series of wobbling platforms high in a beech forest.
We headed next to Ribe, a market town near the west coast, where, we were soon to learn, Vikings set up a market around 1300 years ago. We stayed at the Ribe Byferie Resort there, a holiday village of dinky little gabled self-catering cottages. In its reception building were table-tennis, computer games and a sauna..
Bike hire was part of our package and we cycled along a trail through golden wheat fields to the Ribe Viking Centre. An old village of thatched huts has been recreated there, and you can watch costumed silversmiths, blacksmiths and falconers at work. The boys signed up for a warrior training session, donning real helmets, shooting bows and arrows and sparring with shields and swords. Afterwards perched on wooden shaving stools, they learned how to whittle willow, each proudly producing a fiercely pointed stick.
I was more interested in exploring medieval Ribe itself, so pedalled back to see how the real town matched up to the one I'd previously seen built in Lego. Actually it is just as picturesque with narrow cobbled streets and colourful half-timbered buildings around an impressively large church. Cafes spill out onto the cobbles, interspersed with tempting but expensive boutiques.
Museums are not the boys' thing on holiday so, nearing the end of our trip, we promised them only a brief visit to the new Kongernes Viking Centre in Jelling. In fact we ended up spending several hours there. Its clever digital displays, lighting and sound effects which vividly present the long history of the Vikings proved to be right up their street.
In particular, techno-mad Herc was delighted to discover that the famous Viking king, Harald Bluetooth, got his nickname because of a discoloured front tooth and that 1000 years later the digital symbol was based on squiggles of his name found on a rune stone.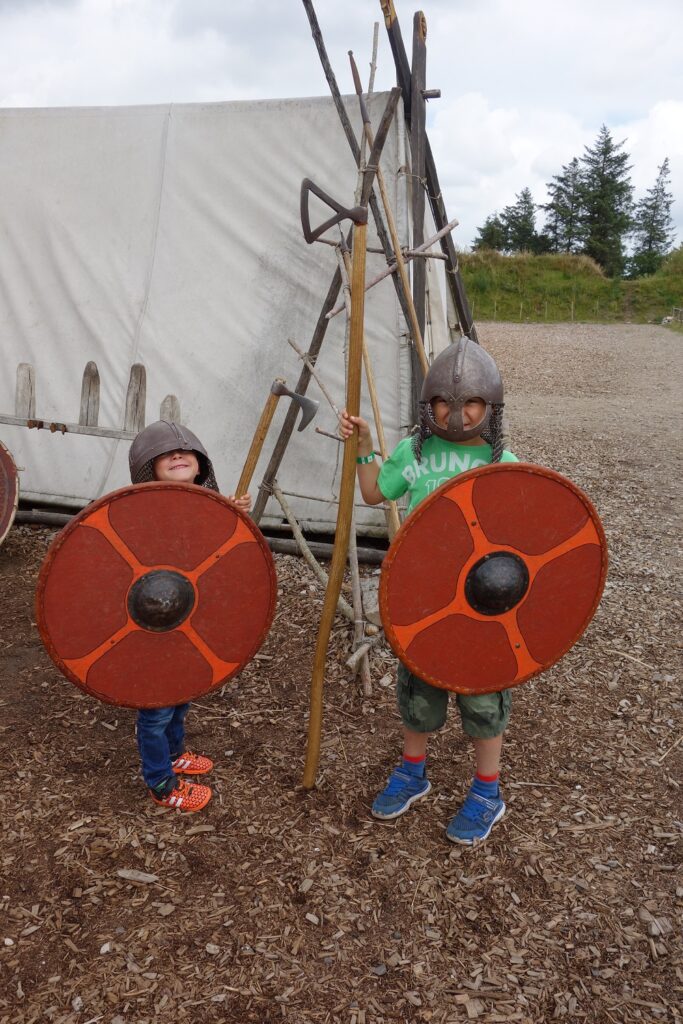 Jelling's 'real' treasure is two huge grassy mounds where the first Vikings were buried.. Rows of white pillars mark the boundaries, shaped like a ship, of the10th-century settlement there, now a UNESCO World Heritage Site.
In the end we stayed until closing time, before enjoying a typically Danish gourmet fish supper at the Jelling Kro Inn. Then we hired bikes for a memorable spin down the hill to a forest-lined lake in time to see a glorious sunset over the flat mirror-like water, very much my thing, where we enjoyed ice-creams from a kiosk beside the lake.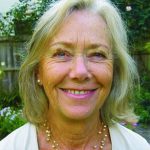 Long and wide-ranging experience in travel journalism for newspapers and magazines with particular emphasis on France, Germany and the UK. Now specialising in 3-generation family holidays. Married to Guild associate member John Harrison.