As ceremonies to mark the centenary of the Great War continued, veteran Guild member John Ruler found a corner of a foreign field that revealed a distant family connection…..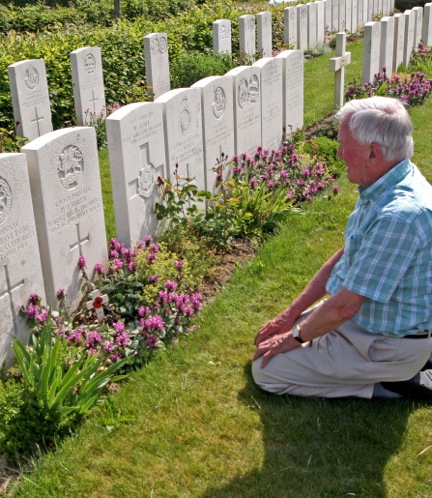 Two years ago I planted a Remembrance cross at the grave of Herbert John Ruler. It was a name which meant nothing to me other than that my late aunt had mentioned vaguely that a distant relative had apparently been killed in France. I knew no more than that until Sheila Enfield (nee Ruler), from Maidstone, Kent, confirmed a family link after spotting my name as the author of the Bradt guide to Nord-Pas de Calais.
A few months later I joined her and her brothers at the beautifully maintained cemetery at Bailleul to pay homage to someone whose name bears an uncanny resemblance to my own, Alexander John Ruler. Also present were French colleagues from Le Nord tourist board.
An eager young reservist, Herbert John Ruler joined the British Forces in France on September 7, 1914. He died, aged only 18, on October 26. Five days earlier a shell had fractured his skull.
'I think Uncle Bert would have been gobsmacked at such a gathering,' said Sheila. ' But we need to make sure that he and so many others are never forgotten.'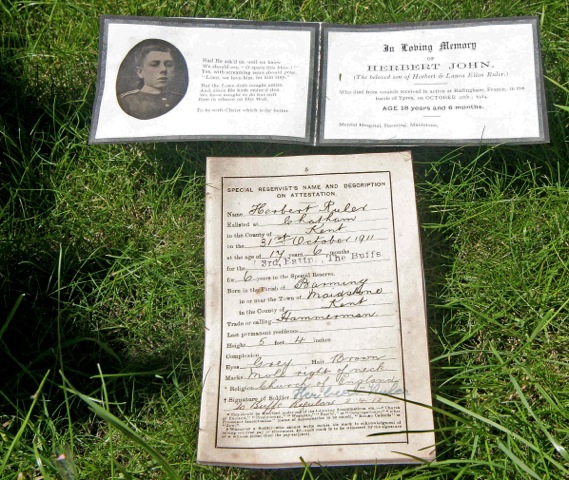 For me, it was time to plant a cross and reflect on the fact that 100 years on 'Uncle Bert' died at the same age that I went into National Service. You feel guilt and even anger that his life was so cruelly cut short at Radingham during the First Battle of Ypres, 10kms west of Lille.
But as a result I have newly found relatives with whom, I'm sure, had he been alive today, Herbert John would have proudly shared a beer. I also know that he was born in Barming, Kent, and enlisted in the 3rd Battalion the Buffs (also known as The East Kents) at Chatham in October 1911 – for six years in the Special Reserve.
He subsequently enlisted in the East Kent Regiment at Canterbury in April 1912 for seven years in the army and five in the reserve. His trade was recorded as being a hammerman and blacksmith.
The story does not quite end there. I also have documents from a further branch of the family showing that an Ernest Ruler also enlisted, again with the East Kent Buffs. This stated he had a mole on the back of his neck. Herbert John likewise had a mole on the right of his. And, no I don't, but yet another coincidence leaves me determined to find how what happened to Ernest …
John Ruler is joint author with fellow guild member, Emma Thomson, of the top-selling Bradt guide to the World War I Battlefields. A larger freshly updated second edition will be published early next year.