This is not a journey to a far flung corner of the world such as the Chilean port of Valparaiso, among the many favourite destinations I have visited over the years. Now I meander through my adopted home of Kinsale, Co Cork, Ireland taking me along streets whose intensely colourful facades are similar to those of Valparaiso.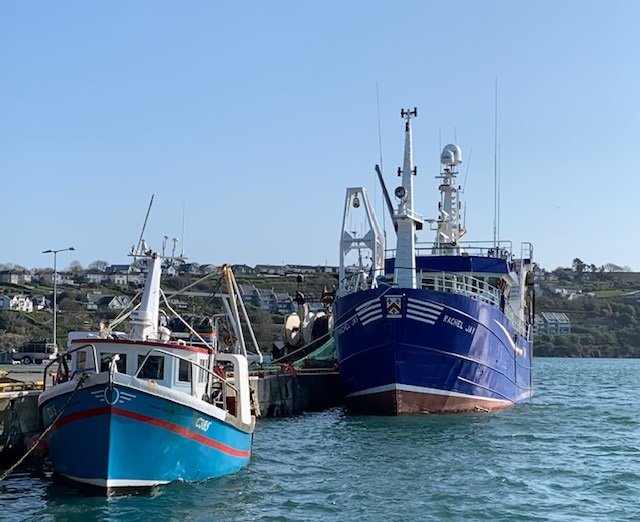 Keeping within the strict limitations imposed to prevent the further spread of COVID-19 my journey of discovery began from the front steps of my home. Travelling around the world in 2km (the Irish government's allowed limit for outdoor exercise during Ireland's COVID-19 lockdown) my travels took me to the Caribbean, Antarctica, Japan and to when Kinsale was an important maritime trade hub.
At every turn in a town today on the international map as a tourism centre, you'll find snapshots of the past, reminders that our journeys can be memorable without jetting off to faraway destinations. Kinsale has been in the throes of this worldwide ongoing shutdown, shops, bars and restaurants sadly shuttered by the coronavirus when the tourism season should be kicking off in earnest.
Only 20 metres from my front door every day I pass the remains of the Carmelite Abbey, established by hermit monks who fled Saracen persecution in the Middle East and helped treat Lepers here during the 1300s.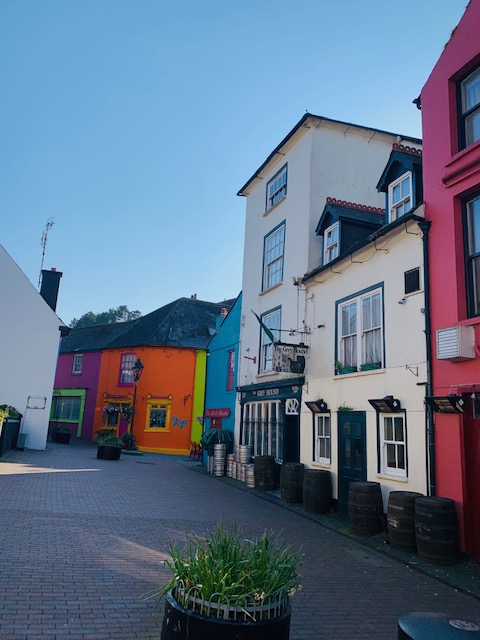 I descended the flights of steps known as' Sallyports' ,formerly sentry points to stop smuggling and monitor the comings and goings of soldiers and civilians.
Part of the original wall still stands, not as ancient as one of Ireland's oldest surviving churches, St Multose built in 1190, whose spire is visible from my bedroom window. Dating back to medieval times Kinsale's fishing port and yachting centre marks the start or finish of the Wild Atlantic Way, depending on which direction you're headed.
Kinsale's main thoroughfare Pearse Street used to be a deep water quayside where ships from all over the world were unloaded. Travelling fishwives skinned and gutted massive catches in the historic fish market building on Long Quay, now part of the award winning Blue Haven Hotel
Ships landing fees and taxes were paid at the Norman built Desmond Castle, where the British interred rebels captured at sea during the American War of Independence. It also served as a workhouse, a disease isolation facility and a wine museum.
Famous Kinsale natives – and there were many – included Anne Bonny, a notorious 17th century female pirate who pillaged her way around the Caribbean.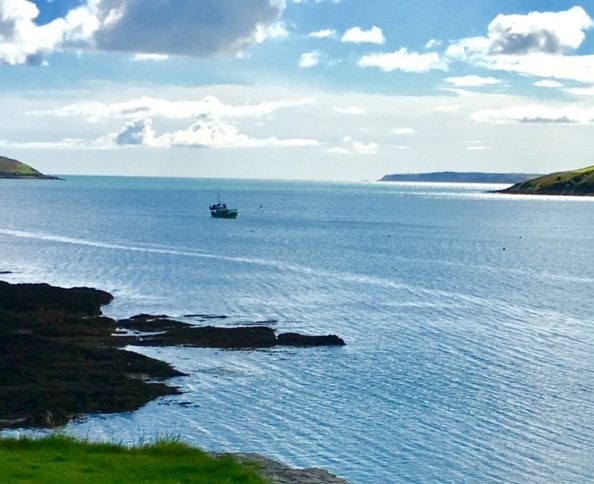 Another notable, whose boots are on display at Kinsale Museum, Patrick Cotter O'Brien stood at 8ft 3 ins and died young, exploited for his extraordinary size at freak show fairs.
Less well-known is the name of John William Fenton, born in Kinsale in 1828, who wrote the Japanese National Anthem. After joining the British military like his father before him he was posted to Japan after it became a constitutional monarchy to protect foreigners who were threatened by Samurai diehards opposed to their presence. Bandmaster to the British 10th foot Regiment in the 1860s he convinced Japan's leaders that as a world nation the new country should have a national anthem . He composed and wrote it.
The McCarthy brothers, renowned Kinsale born explorers and members of Ernest Shackleton's trans Antarctic expeditions are commemorated in bronze sculptures and plaques overlooking the marina and harbour. The elder brother Mortimer, was on the 'Aurora', an ill-fated expedition to the South Pole, ending his days in New Zealand in 1967. The younger Timothy made an epic 800- mile voyage in an open boat to fetch help after Shackleton's 'Endurance' was trapped in pack ice, for which he was awarded the Polar medal. He died in 1917 after the British naval vessel he served on was torpedoed during World War One.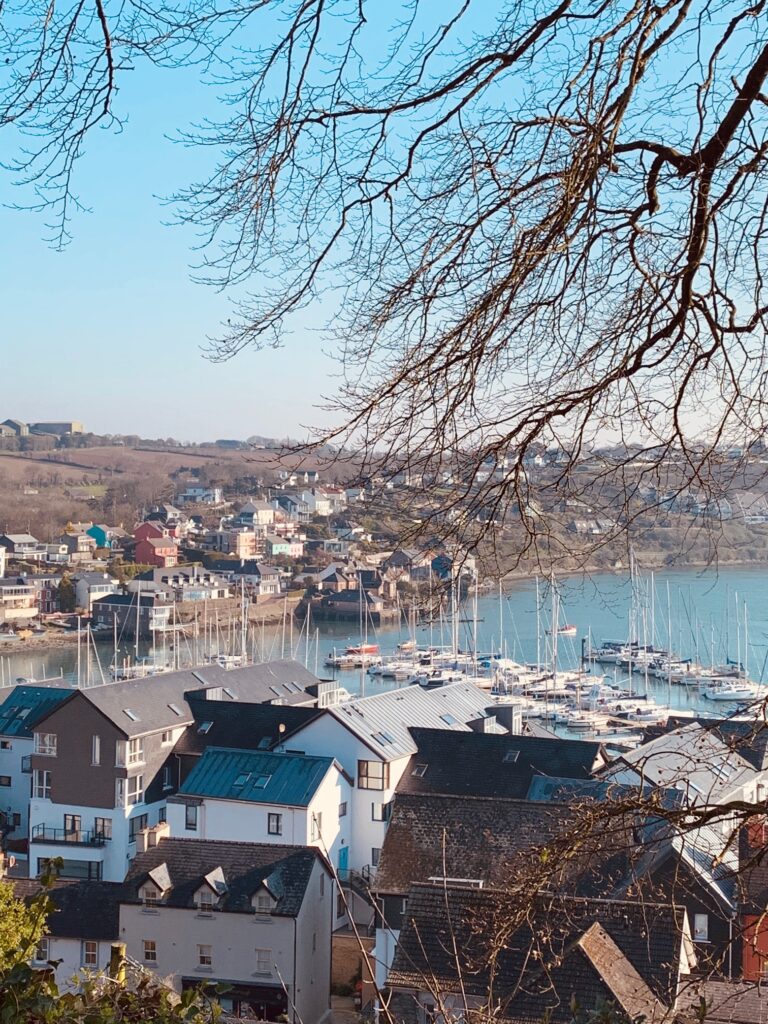 Enjoying the tranquil view of the harbour, lulled by the gentle sound of the yacht spinnakers, I sat on one of the many benches that line the pier.
On a normally busy weekend tourists chill out here and on the picturesque Milk Market, snacking and posting photos of the brightly coloured shop facades.
One of Ireland's most photographed sights, Stone Mad Gallery, is a favourite stop off at Newman's Mall after you've followed the many marked walking trails, traversing the Georgian district lined with lovely craft shops, galleries, restaurants and cafes. Offering a takeaway 'provisions' bag during lockdown St Francis is an award winning café on Short Quay, home to the town's weekly market.
I was tempted to strike out on the gorgeous Scilly Walk, Kinsale's most popular town walk taking you along the curve of the sheltered bay with a good chance of spotting seals. The path rises and then descends into the hollow of narrow cobbled Summer Cove, a former smugglers enclave and home to The Bulman Pub a popular gastro pub. On the summit of the next hill is Charlesfort, an enormous beautifully restored star shaped fortification that commands outstanding views of the bay.
In the extraordinary unprecedented spring of 2020 that was a world too far to reach – one that exceeded my around the world in two kilometres mission. But once our world re-opens it's a treat that once more awaits us.
(All photos by Isabel Conway, currently Ireland's Travel Extra Travel Writer of the Year.)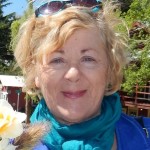 I have been a professional journalist for  over 30 years, full time travel writer 6 years. Four times Ireland Travel Writer of the year award winner, twice long haul award winner.