With the unveiling of top tourism honours for a new railway, a project to connect the horrors of the Great War with the misery of current conflicts – and a new walking route through one of the world's crucibles of political turmoil, the British Guild of Travel Writers annual gala awards dinner hit its usual pitch perfect high notes.
After a year in which the bleakness of events has impinged on the world of travel from many quarters, this was an event to bring people together. Sue Ockwell, founder and managing director of Travel PR reminded the 320 guests of travel's capacity to promote peace and harmony. And there was even a poem, from the Guild's own laureate, expressing the travel writer's dilemma – the opposition of the banal and the profound and the difficulty of saying what we want to say in an age of increasing superficiality.
An impressive array of talent from the travel industry, its associated media – traditional and digital – and even the diplomatic world, in the person of the Egyptian Ambassador, gathered at the Savoy Hotel on the eve of World Travel Market for what has become an unmissable event.
There to collect the Guild's Wider World Tourism Award (see below) on behalf of three Bedouin tribes in the Sinai was Sheikh Ahmed. The UK Government had at first refused him a visa, but the combined efforts of the Guild and the British Embassy in Cairo had succeeded in reversing the decision.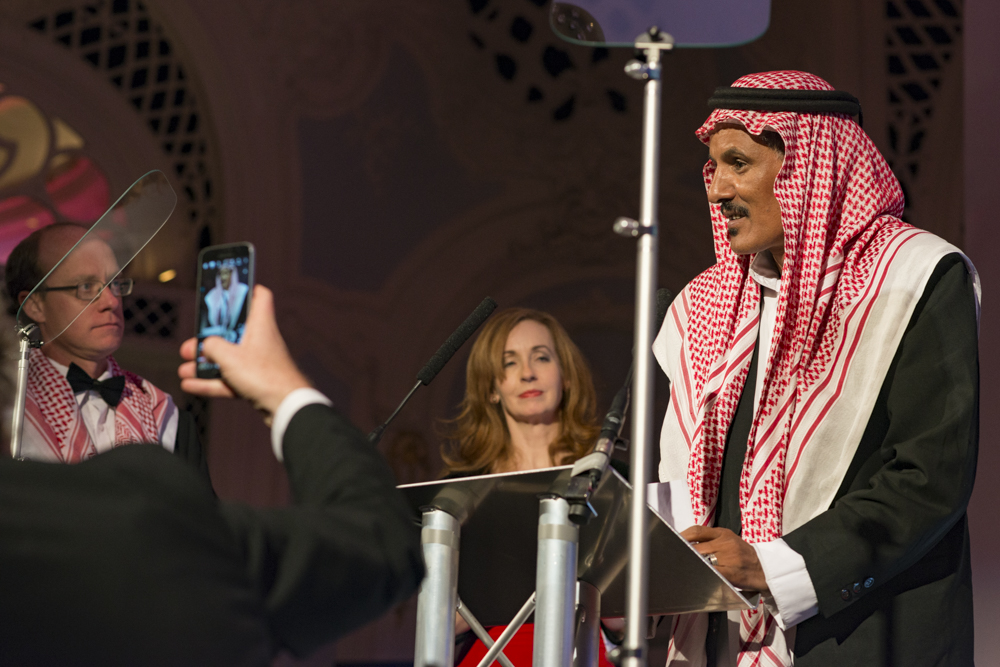 Our main sponsor was Rixos Hotels, which has seen a 25% increase in guests from the UK at its Turkish hotels despite the general downturn in tourism to Turkey. The company has ten properties there, with a total of 9000 rooms, and two in the Red Sea resort of Sharm el Sheikh. Antalya based Rixos also has hotels in the United Arab Emirates, Croatia (Dubrovnik) and Switzerland. Aiming to provide "an innovative brand of hospitality that blends the past and the present" through "a quintessential, luxury holidays experience", it was confident enough to open a new theme park this summer in its home city of Antalya. Called Land of Legends it incorporates what it claims is Europe's largest aqua park. Land of Legends is a collaboration between Rixos World Parks and Entertainment, Dragone Productions, world leading brand in cultural creativity and Emaar Properties PJSC. And attracted 500,000 visitors in its first three months.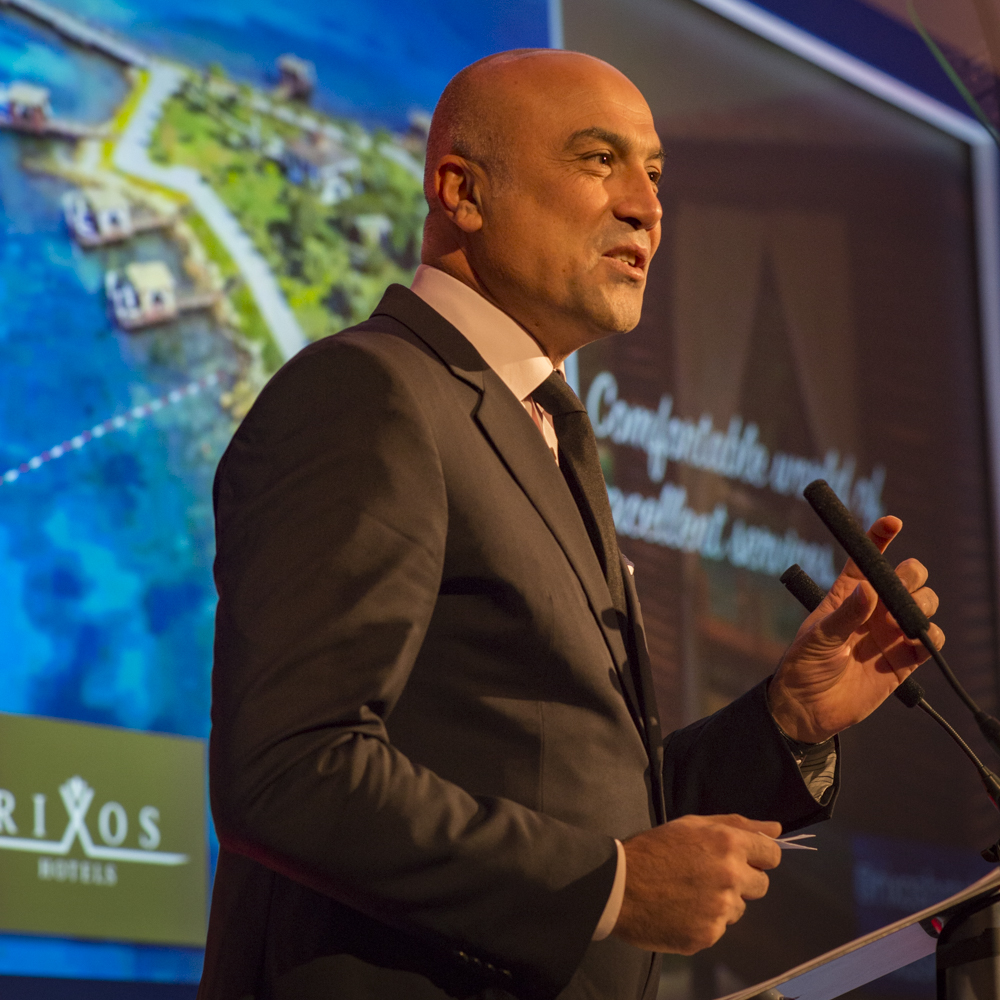 The evening's Champagne reception was sponsored by Nice and the Cote d'Azur. It has been a desperate year for Nice but Anne Pedersen, head of public relations at Atout France, took to the stage to tell the 320 guests how that city of art and fine eating is battling to move on after the Bastille Day atrocity on the Promenade des Anglais. Some things about France, she said, remained reassuringly the same: French joie de vivre, its diversity of experiences, landscapes and gastronomy. The Cote d'Azur and Nice remained glittering stars by the Mediterranean. The Nice Convention and Visitors Bureau had launched a social media campaign inviting visitors and lovers of the "Queen of the Riviera" to share their best moments and memories in photos videos tweets and music at #NiceMoments.
Sponsor number three – Aarhus, Denmark's second city – is looking forward to what may be a more immediate boost. Next year it will be a European City of Culture.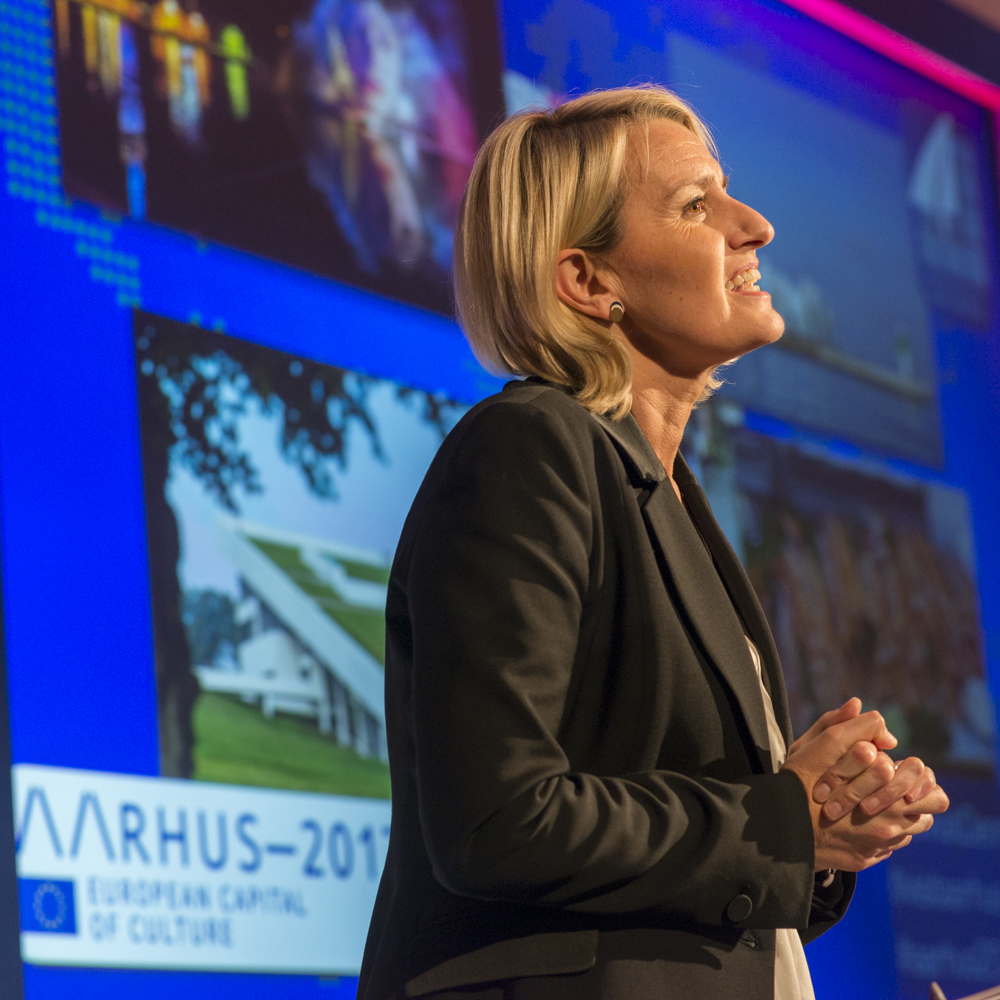 Rebecca Matthews, managing director of Aarhus 2017 reminded guests that, while they might have difficulty pronouncing its name, Lonely Planet had ranked the city "second best destination in Europe" this year. It was a place so friendly and welcoming it had long been known as the City of Smiles. As an adopted Dane she had found it a vibrant young community – with an average age under 36, "the coolest city in the happiest nation on earth".
She listed some of the more than 400 events taking place during its year as a Capital of Culture. For example:
British Artist-in-Residence for the year will be musician, artist and activist Anohni, formerly Antony Hegarty of Antony & the Johnsons, who promises "a vibrant interweaving of human identities in sound and vision".
Top UK choreographer Wayne McGregor and the Paris Opera Ballet will transform Jonathan Safran Foer's novel Tree of Codes into dance, with music composed by Jamie xx and scenography by Olafur Eliasson.
There will be collaborative projects with the Hay Festival, the Manchester International Festival and Hull's programme as 2017 UK City of Culture.
And there will be a unique retrospective of two of Scandinavia's greatest artists in an exhibition that puts works by Denmark's Asger Jorn side by side with Norway's Edvard Munch.
*Encouraged by the prospect of magnificent prizes, the 320 guests were urged to dig deep in their pockets for raffle tickets, with the £4067 proceeds going to this year's chosen charity, Survival International. Its founding trustee, the travel writer Robin Hanbury-Tenison, described the charity's beginnings and some of its work to help peoples evicted– or threatened with eviction – from their native lands by governments and big business.
**The three winners of the Guild's 2016 Tourism Awards were:
Best UK project – the Borders Railway between Edinburgh and the Scottish Borders, built on a line axed by Beeching nearly a half century ago and opened in September 2015.
Best European project – Coming World Remember Me at Ypres in Belgium, where visitors are moulding 600,000 clay sculptures for a huge land art installation in what was once No Man's Land between the Great War battle lines. Each figure bears a dog tag with the name of a victim.
Best Wider World project – the Sinai Trail, a 200 kilometre walking route between the Gulf of Aqaba and St. Catherine, designed to make Egypt's wilderness accessible for responsible tourism, create jobs and highlight the traditional knowledge of the Bedouin.
**Top Guild members' awards winners were:
Photographer of the Year (sponsored by Fuji): Rudolf Abraham, whose varied portfolio of high quality images included an ultra wide angle shot of London's Lord Mayor arriving in his carriage. "Superb reportage", according to the judges,"giving a strong sense of place and occasion".
Travel Writer of the Year (sponsored by Travel PR): Pol O Conghaile, for a portfolio of articles including "Manta Rays in the Maldives" which, the judges said, communicated the writer's genuine love for the creatures he was seeing and showed the quality of Guild members' writing.
For a full list of Tourism and Members' Awards – and their sponsors – see our separate article, headlined "The Glittering Prizes.
Reflecting the way the BGTW has embraced new media, chair Alastair McKenzie said he was keen spread the message that the Guild had become a mixture of traditional travel media and digital influencers. So, in the hope of a deluge of social media mentions, he had brought in a professional Twitter trending team. Wi fi log ins, and key Twitter handles and hashtags were on screen and on tables.
An old sub editor I worked with was find of claiming everything worth saying could be written – as with Twitter – on the back of a postage stamp. But with aid of the ultimate kitsch souvenir – a snow globe with a miniature Eiffel Tower inside – Lonely Planet poet in residence Kirstie Pelling suggested the instant nature of the internet presented travel writers with a problem. In thought provoking verse she asked them to imagine being commissioned to write something new about that Paris icon. They might begin with the lines "World's highest earning pylon. Je suis Orlando/Eiffel Tower leads the world in rainbow".
Her poem concluded: "You see deep into the globe/and beyond the glow/and write features as unique as a perfect flake of snow".
* For a full list of raffle prizes and their donors, see separate story headed: Charity Raffle prize generosity raises £4067.
**For a full list of Tourism and Members' Awards winners and their sponsors, see separate post headed: Glittering Prizes.